WebinarNinja
Was ist WebinarNinja?
WebinarNinja ist eine All-in-one-Webinar-Plattform, die die Arbeit für dich erledigt. Diese Software ist auf Konversionen ausgerichtet und macht es einfach, zu unterrichten, zu vermarkten und zu verkaufen.
WebinarNinja wurde für Ergebnisse optimiert, für Nutzer jedoch vereinfacht. Veranstaltende können sich auf die Präsentation konzentrieren, nicht auf die Software. Enthält integrierte Startseiten, E-Mail-Sequenzen und Folienvorlagen.
Wer verwendet WebinarNinja?
Leistungsstarke Webinare für Schulungen und Coaching
WebinarNinja – Details
WebinarNinja
2015 gegründet
WebinarNinja Kosten
Startpreis:
83,00 $/Monat
Ja, kostenloser Test verfügbar
Ja, Gratisversion verfügbar
WebinarNinja bietet eine Gratisversion und eine kostenlose Testversion. Die kostenpflichtige Version von WebinarNinja ist ab 83,00 $/Monat verfügbar.
Preismodelle
Kostenlose Testversion
WebinarNinja – Details
WebinarNinja
2015 gegründet
WebinarNinja – Videos und Bilder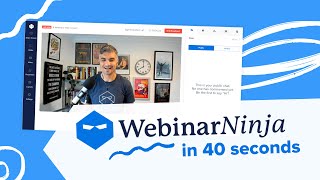 WebinarNinja – Bereitstellung und Support
Kundenbetreuung
E-Mail/Helpdesk
FAQ/Forum
Wissensdatenbank
24/7 Live-Support
Chat
Einsatz
Cloud, SaaS, webbasiert
Mac (Desktop)
Windows (Desktop)
Linux (Desktop)
Chromebook (Desktop)
Android (mobil)
iPhone (mobil)
iPad (mobil)
Training
Live Online
Webinare
Dokumentation
Videos
Funktionen von WebinarNinja
API
Aktivitäts-Dashboard
Alarmfunktion / Benachrichtigungen
Angebot in sozialen Medien
Anpassbare Vorlagen
Anrufaufzeichnung
Aufzeichnung bei Bedarf
Befragungs-/Umfragemanagement
Benutzer-Management
Berichterstattung / Analyse
Berichterstattung und Statistik
Bildschirm teilen
CRM
Chat / Messaging
Content-Management
Dateitransfer
Dokumentenspeicher
Drittanbieter-Integration
E-Mail Erinnerungen
Echtzeit-Daten
Elektronische Abstimmung
Engagement-Tracking
Erinnerungen
Eventplanung
Filesharing
Kalenderverwaltung
Konferenzschaltungen
Kontaktmanagement
Kundenspezifisches Branding
Live-Chat
Meeting-Management
Mobiler Zugriff
Multi-Hosts
Präsentations-Streaming
Q&A Management
Registrierungs-Management
Social-Media-Integration
Terminplanung
Umfragen & Feedback
Umfragen/Abstimmungen
Veranstaltungsmanagement
Video-Management
Video-Streaming
Video-Unterstützung
Videoanruf-Aufzeichnung
Videokonferenzen
Vorlagen-Management
Webinars bei Bedarf
Wechselseitige Audio & Video
Whiteboard
Rick R.
Owner in USA
Verifizierter Nutzer auf LinkedIn
Informationsdienst, 2-10 Mitarbeiter
Verwendete die Software für: Mehr als 2 Jahre
Best Value For Our Webinar Needs
Kommentare: Overall I'm extremely pleased with WebinarNinja. They offer all of the services and features my business needs at an affordable price.
Vorteile:
My business has used WebinarNinja for a little over two years now. I've tried just about all options for doing webinars and WebinarNinja is the only one that supports all or our needs. One of the biggest things we needed was the ability to play video over a webinar and WebinarNinja handles that like a champ.
Nachteile:
Sometimes navigation inside the backend is a little confusing but they have an extensive knowledge base that has lots of step by step on how to do most all things.
In Betracht gezogene Alternativen: MeetCheap und GoToMeeting
Warum WebinarNinja gewählt wurde: Doesn't support all of the features we needed, ie no video over the broadcast and webinar automation. Plus the price for GoToWebinar is way out of our budget.
Zuvor genutzte Software: GoToWebinar
Gründe für den Wechsel zu WebinarNinja: The price, the features, the ease of use.
Leigh S.
Principle in Argentinien
Verifizierter Nutzer auf LinkedIn
E-Learning, 2-10 Mitarbeiter
Verwendete die Software für: Mehr als 1 Jahr
There are so many things I like about WN, but ultimately, I don't think I can use it.
Kommentare: Overall, I had a good experience with the interface and those who work at WN. Good customer service goes a long long way, so I won't just walk away. I got my WN account through an AppSumo deal and it's for life, so I will most definitely try it again and see what happens as they continue to develop and update it. But for now, I'm going to try other options.
Vorteile:
The support is excellent. Really responsive and they go out of their way to answer questions, help with updates and anything you need. Even when I've asked about features they don't yet have, they listen and take it seriously for potentially adding to the functionality. I also love that all pre and post webinar e-mails are set and ready to go. No extra work on my part. And the integrations work well and seamlessly.
Nachteile:
It's a bit clunky to use and the audio and video pop in and out. It seems to be a glitch that appears differently for different users and admin. The signup page templates aren't as robust as I need them to be. I want to add a checkbox for my GDPR sign up, but right now I can't. There is GDPR option requiring users to check a few boxes. I think this probably turns users away. Which is fine if they're in the EU. But most of my clients are in the US and don't need that level of approval. I contacted WN about adding GDPR optional by webinar and they said they'd discuss it with the development team. I appreciated their response, but all these issues mean I won't be able to use WN for all my webinars and so I'm lookinig for another option..
In Betracht gezogene Alternativen: Restream, ClickMeeting, GoToWebinar, Zoom Meetings, WebinarJam und Zoom Video Webinars
Warum WebinarNinja gewählt wurde: Anymeeting worked well but when they updated their interface, it stopped working on my internet. I live in Argentina. I had no choice but to change.
Gründe für den Wechsel zu WebinarNinja: Price for one. And it had the functionality I needed. (GDPR happened after I chose it.) At the time, I wasn't doing as many webinars as I am now, so the issues I had weren't as much of a problem.
Paul L.
Chairman in Australien
Verifizierter Nutzer auf LinkedIn
Unternehmensberatung, 2-10 Mitarbeiter
Verwendete die Software für: Mehr als 2 Jahre
Tech that has stood the test of time
Kommentare: I've been with WebinarNinja for more than six years (May 2015) and have tried many platforms before and since. This product has stood the test of time and keeps getting better. The company engagement with their client base is exceptional and has always been that way. Coupled with a tech solution that works and it is a wining formula
Vorteile:
The many different formats of automated, live and hybrid webinars provides a perfect toolbox for hosting and delivering content to people at different stages of your flywheel.
Nachteile:
There is already a lot of integration, nonetheless (and I'm being pedantic) I'd like to see more integration options... yes I know that's why there are things like Zapier but then I would like to see the functionality provided through that connector expanded.
Antwort von WebinarNinja
letzten Monat
Hi Paul, Thank you so much for this wonderful review! This inspires us and keeps us motivated to continue improving the app. We're not stopping anytime soon. :) Wish you all the best! - CJ Maratas Head of Customer Support
Duncan J.
Head of Marketing in Australien
E-Learning, 51-200 Mitarbeiter
Verwendete die Software für: 1-5 Monate
Quelle: SoftwareAdvice
If you're thinking about using WebinarNinja - DON'T!
Kommentare: This is without a doubt the worst webinar software around and I have used a large range of them. This is the first negative review I have ever written - it's that bad. If you're thinking about using WebinarNinja - DON'T! It will cost you and likely embarass you in front of your webinar registrations. We signed up in December and created a webinar series with just under 1,000 registrations (their absolute limit). Long story short - without notice or email (they say they sent one email but we never received it) WebinarNinja put itself into PLANNED maintenance mode minutes before our second webinar was about to kick off. So they essentially let us schedule a webinar (which we did months in advance) during a maintenance period and then did absolutely nothing to move it, alert us, change things etc. What is worse is that they still sent out all emails - webinar is in 24 hours, webinar is in an hour, webinar is now to our 1,000 registrations. They clicked through and got error messages, some got into the platform full of error messages and we began to get lots of emails from confused customers trying to join. WebinarNinja's Phillipines based teams response? "Oh dont worry you can reschedule it - you'll just need everyone on the series to opt in again".... So we had to cancel that webinar, the next one was up a week later and we were very worried the same thing would occur to our customers - we went back and forth with their team and they promised it would be fine. But come the
Vorteile:
We chose WebinarNinja as it offered the ability (or we thought it did) to run Webinar Series. We got to webinar #2 before having major issues with the software.
Nachteile:
They took the software into planned maintenance mode during our scheduled webinar time without telling us (or without removing the webinars scheduled during that period) and continued emailing registrations that it was on including that "it was on now" even though the platform was riddled with error messages, unable to have a webinar launched on it and caused hundreds of confused customers. One week later, still major issues so we had to cancel the series.
In Betracht gezogene Alternativen: GoToWebinar
Warum WebinarNinja gewählt wurde: Our software did not run webinar series where a registrant signs up to weekly webinars.
Zuvor genutzte Software: Demio
Gründe für den Wechsel zu WebinarNinja: They offered webinar series and claimed to be good. Unfortunately they weren't.
Antwort von WebinarNinja
vor 10 Monaten
Hi Duncan, As the co-founder I want to apologize if you did not have a great experience. Our mission is to have our members and their attendees have a wonderful experience with WebinarNinja. Respectfully, I must correct you. We did notify all users via multiple channels about the scheduled maintenance. The accusation that we did not is false. We sent emails, we had in-app messages, banners alerting members of the maintenance well in advance. This did happen. With that said, the fact that you had a bad experience and were affected is still a concern for us and is taken very seriously. We understand how important this is to you. Your feedback is heard, and we will continue to improve our service. That is our commitment. - Nicole Baldinu
Angelika C.
CEO Managing Director. Coach, Mentor in Bahamas
Gesundheit, Wellness & Fitness, Selbstständig
Verwendete die Software für: 6-12 Monate
Great small Company with personalized attention and great features
Kommentare: I promote my group coaching and online services, and I know that as soon as I have practised a bit more, it will convert nicely.
Vorteile:
It is easy to use and intuitive. Gives me all of the features that I need at the. moment. I'll definitely upgrade as soon as I have used a few more webinars in the Starter Plan.
Nachteile:
Nothing, really. Maybe I have not used every option yet and therefore have not run into any no-likes :-)
Antwort von WebinarNinja
vor 3 Monaten
Angelika, thank you so much for leaving us this feedback! We're really happy to know you're finding WebinarNinja easy to use and that it meets your needs - awesome! All the best with those upcoming webinars, I'm sure you'll crush them! :) - Nicole Baldinu co-founder WebinarNinja