Was ist Propy?
Einfaches Verfolgen und Verwalten aller Phasen von Immobilientransaktionen. Mit einer zusätzlichen Sicherheitsebene nimmst du dir den Stress beim Ausfüllen von Papierkram und konzentrierst dich mehr auf den Abschluss von Geschäften. Funktionen wie Kommissionsverwaltung, E-Signaturen, MLS Integration, Cloud-Storage, nutzerdefinierte Analyseberichte und mehr. Vereinfacht die Verwaltung deiner Immobilientransaktionen und erhöht deine Produktivität.
Wer verwendet Propy?
Plattform zur Verwaltung von Immobilientransaktionen für Makler und Agenten, mit automatischen Benachrichtigungen, E-Signatur, Analysen, Compliance-Verfolgung und mehr.
Propy – Details
Propy
2017 gegründet
Propy – Details
Propy
2017 gegründet
Propy – Videos und Bilder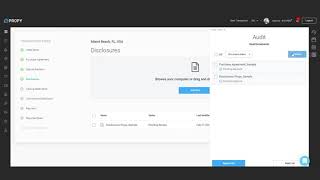 Kosten ähnlicher Produkte wie Propy vergleichen
Startpreis
Nicht verfügbar
Nicht verfügbar
2.500,00 $/Jahr
Nicht verfügbar
Propy – Bereitstellung und Support
Kundenbetreuung
FAQ/Forum
Wissensdatenbank
Telefon-Support
24/7 Live-Support
Einsatz
Cloud, SaaS, webbasiert
iPhone (mobil)
iPad (mobil)
Training
Persönlich
Live Online
Webinare
Dokumentation
Videos
Funktionen von Propy
Agent-Management
Aktivitäts-Dashboard
Aktivitäts-Verfolgung
Alarmfunktion / Benachrichtigungen
Aufgabenmanagement
Berichterstattung / Analyse
Buchhaltung
CRM-Integration
Chancenmanagement
Compliance Management
Dealmanagement
Dokumentenmanagement
Dokumentenspeicher
Drittanbieter-Integration
E-Mail Marketing
Elektronische Unterschrift
Filesharing
Formularverwaltung
Kommunikationsmanagement
Kontaktmanagement
Leadmanagement
Leistungskennzahlen
Mobile App
Pipeline-Management
Prognose
Provisionsmanagement
Statusverfolgung
Transaktionshistorie
Transaktionsmanagement
Vertrags-/Lizenz-Management
Verwaltung von Auflistungen
Vorlagen-Management
Workflow-Management
Zeitverfolgung
Durchschnittliche Bewertung
Preis-Leistungs-Verhältnis
---
Nutzerbewertungen nach Bewertung
---
Nutzerbewertungen nach Unternehmensgröße (Angestellte)
<50
51-200
201-1.000
>1.001
Sara H.
Transaction Coordinator in USA
Immobilien, Selbstständig
Verwendete die Software für: 1-5 Monate
Propy Has Read My Mind!
Kommentare: The first thing that stands out is the customer service level far exceeds anything I've experienced with any software out there. I've tried multiple tools and the staff at Propy is hands down the most attentive, service oriented company I've dealt with. Since blockchain began, I envisioned something that would become a "one-stop-shop" type tool and it's like they have read my mind! I would highly recommend this software to anyone in real estate.
Vorteile:
I love the fact that the staff listens to what users would like and implements these things. Propy is a tool that can be used no matter what your position is within a transaction, solves the unique issues that Independent TCs have when working with multiple agents/brokerages. Propy Integrates multiple tools seamlessly, and understands the full transaction!
Nachteile:
So far, I can't say that there is anything I don't like about the software. I'm excited for the future because I know that additional tools are being added. Once these are done, this is going to be the only tool I'll need.
Immobilien, 2-10 Mitarbeiter
Verwendete die Software für: 1-5 Monate
This Is the Next Wave of Transaction Management Software!
Kommentare: I may be a little biased because I have known Propy team members for a few years now, but having that relationship I can certainly vouch for not only their work ethics but their willingness to listen to feedback in order to make this the best product on the market for agents. I'm excited to be part of such a wonderful, collaborative effort!
Vorteile:
All-around ease of use. I love the checklists and being able to link disclosures so there is no backtracking. I have saved hours on this alone! The Offers Management feature is a must for all properties receiving multiple offers - the line item view and functionality almost guarantees transparency to my sellers, and the organization of information at our fingertips for quick reference and decision making is like no other platform I've ever used.
Nachteile:
There are small Docusign features that need to be worked out on both the signer's and agent's side but I'm confident they are quick fixes!
Michael S.
Broker in Bulgarien
Immobilien, 11-50 Mitarbeiter
Verwendete die Software für: 1-5 Monate
We became a paperless brokerage thanks to Propy
Kommentare: Propy absolutely lived up to my expectations for turning us into a completely paperless brokerage.
Vorteile:
Our primary issue was paper filing, organization, and distribution to our clients. With Propy, it's easy to upload any file and turn it into an electronic document, and my entire team and our clients adore the system. My clients can also easily understand how to use the software and access the documents they need to see, without having to deal with documents that don't pertain to their specific field.
Nachteile:
There is a bit of a learning curve in the beginning, especially when the system is going through constant updates. I appreciate the almost daily updates, but it can cause some issues coming back to a slightly different platform.