Was ist Thortspace?
Collaborative 3d mind mapping that enables breakthrough thinking wherever and whenever it is most needed.
Wer verwendet Thortspace?
Education, accelerated learning, presentations, storytelling, mental health, entrepreneurship, business development, individual use, knowledge management, insight generation and problem solving.
Wo kann Thortspace bereitgestellt werden?
Cloud, SaaS, webbasiert, Mac (Desktop), Windows (Desktop), Android (mobil), iPhone (mobil), iPad (mobil)
Über den Anbieter
Gooisoft
2012 gegründet
Chat
Erhältlich in diesen Ländern
Vereinigtes Königreich
Über den Anbieter
Gooisoft
2012 gegründet
Chat
Erhältlich in diesen Ländern
Vereinigtes Königreich
Thortspace – Videos und Bilder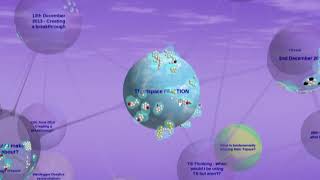 Kosten ähnlicher Produkte wie Thortspace vergleichen
Thortspace Funktionen
Anpassbares Dashboard
Arbeitsablaufbogen
Aufgabenmanagement
Brainstorming
Content-Management
Dashboard
Daten-Import / -Export
Datenvisualisierung
Diskussionen / Foren
Drag-and-Drop
Gruppenmanagement
Ideenfindung
Ideenmanagement
Katalogisierung / Kategorisierung
Kommunikationsmanagement
Modellierung & Simulation
Notizen verwalten
Priorisierung
Präsentations-Tools
Roadmapping
Studentenportal
Stundenplan-Management
Suchen / filtern
Szenarioplanung
Visuelle Entdeckung
Volltextsuche
Werkzeuge zur Zusammenarbeit
Wissensbasis-Management
Zielsetzung / Nachverfolgung
Zugriffskontrollen / Berechtigungen
Alternativen für Thortspace
Bewertungen über Thortspace
Sandro Roberto
Assistente Administrativo in Brasilien
Verifizierter Nutzer auf LinkedIn
Bürgerliche & soziale Einrichtungen, 51-200 Mitarbeiter
Verwendete die Software für: 6-12 Monate
Colaboração de pensamentos, ideias e ótimo trabalho é o lema do Thortspace
Vorteile:
Intuitivo, fácil de utilizar, consegue englobar todos os funcionários da instituição na busca de um melhor direcionamento, ideias, motivação, fazendo com que o trabalho mais motivador. O mapa 3D dos pensamentos construtivos é incrível, tornando esse processo de colaboração inovador e desafiador ao mesmo tempo. Temos tidos excelentes ideias, contribuições, motivação no trabalho. Pensando juntos temos construído o nosso futuro, graças ao Thortspace
Nachteile:
No momento tem sido excelente e não há nada que não goste nele
Dasaratha
Professor in Indien
Hochschulbildung, 5.001-10.000 Mitarbeiter
Verwendete die Software für: Mehr als 2 Jahre
What can you do with Thortspace?
Kommentare: The software is easy to use, engaging, and looks good when shared in social media. The appearance of spheres on social media is a key factor that drives my use of Thortspace. The Thortspace team is responsive, and many ideas are shared by the user community.
Vorteile:
It is a visually engaging software. I have experimented with many tools over the years, and use Thortspace for the following reasons: 1) the distinctive look of connected spheres, 2) how spheres look when shared on Facebook, Twitter etc., 3) support for multiple ways of categorizing same information, 4) selecting and organizing information into journeys for users. Unlike users who fill the sphere with many thorts, my preference is for a small number of thorts in a sphere. I like to include more text in groups rather than on individual thorts because it is more readable. I like to use Thortspace for storytelling. The point is that there are many ways to use Thortspace that are discovered over time. Thortspace user community on Facebook is a useful resource for discovering ways to use the software.
Nachteile:
While I do not need bi-directional links for all uses, there are situations when I would have liked to have that functionality. I would like to be able to specify colors using codes rather than just selecting from a set of pre-defined colors. Finally, being able to edit thorts in web browser would be very useful in some applications that I would like to develop.
Antwort von Gooisoft
vor 3 Jahren
Thank you very much for reviewing Thortspace mindmap mind mapping software. That is very helpful and kind of you.
Rohit
CEO in Indien
Verifizierter Nutzer auf LinkedIn
Medienproduktion, 2-10 Mitarbeiter
Verwendete die Software für: 1-5 Monate
The 3D Mind Mapping Giant
Vorteile:
1. It's intuitive and easy to use. 2. Leaning mind mapping has never been that easy. 3. It's available in almost all platforms (including Android) 4. Gives free trials
Nachteile:
There isn't anything particular I don't like about this software but I think the UI could have been improved and there should be more stress on letting the user learn how to use the application. It's sometimes too complicated to grasp what's happening.
Antwort von Gooisoft
vor 2 Jahren
Ok. Thanks.
Grundschul- & Sekundarbildung, Selbstständig
Verwendete die Software für: Mehr als 1 Jahr
Thortspace Multi Uses
Kommentare: I started using Thortspace as I was looking for a mindmapping tool to use personally and in my work with children.
It is a platform full of wonderful surprises.
Vorteile:
Thortspace is a great multi purpose platform. I have discovered lots of creative ways to use it including : creating space in my mind and feeling less overwhelmed by writing ideas in the thorts, typing in simple family menu plans created by my children, thus reducing family stress! dictating ideas for stories when out and about which allows for wider and deeper thinking working collaboratively on a book - chapters and random ideas shared presenting a talk about Growing Teenagers using the Journey facility creating a story journey called Project Oak Leaf which had hyperlinks to a Youtube video and other relevant documents which I shared in a Primary School. The children loved the 3D display and the way the spheres could be linked together, in this more complex presentation. mapping out a business start up idea for clarity and coordination capturing key points from shared conversations in a simple cluster The spheres can saved, published, shared and embedded into websites.
Nachteile:
It takes time to get used to. Fluency develops with practice. It is best to begin with simple ideas and then build on the skills to create visually interesting and thortful arrays and stories. There are short and simple training videos to assist
Antwort von Gooisoft
vor 3 Jahren
Thank you very much for reviewing Thortspace ! :-)
Verifizierter Rezensent
lawyer in Türkei
Verifizierter Nutzer auf LinkedIn
Rechtsberatung, 2-10 Mitarbeiter
Verwendete die Software für: Mehr als 2 Jahre
Create perfect ideas
Kommentare: I use thorthspace for anything that i need to think about. It is really a useful application.
Vorteile:
I like to use thortspace, it is an amazing application. Thortspace provides to collect and see all the ideas together, make relations between them and also let for recognising relations that you have never thought. The application helps to think and see troigh different windows, and open new windows in the mind.
Nachteile:
I dont want to say it doesnt worth but the price looks expensive. Out of this, i dont have any dislike.