Was ist Callbridge?
Callbridge ist eine Video- und Audio-Meeting-Lösung. Zu den Funktionen gehören nutzerdefiniertes Branding, Transkriptionen mit Stimmungsanalyse, KI-gesteuerte Meeting-Zusammenfassungen und hohe Sicherheit und Privatsphäre. Ohne zeitlichen Beschränkungen für Meetings. Mit der Möglichkeit zur Bildschirm- und Dokumentenfreigabe, Besprechungsaufzeichnung, Kommentierung, Laserpointer, Nebenräume, Webinar-Modus und 1.800 Einwahlnummern.
Wer verwendet Callbridge?
Konzerne, Unternehmen, Einzelpersonen und Wiederverkäufer. Das Unternehmen bietet eine Vielzahl erschwinglicher Tarifpläne, die den Anforderungen jedes Teams gerecht werden.
Wo kann Callbridge bereitgestellt werden?
Cloud, SaaS, webbasiert, Mac (Desktop), Windows (Desktop), Linux (Desktop), Windows (On-Premise), Linux (On-Premise), Chromebook (Desktop), Android (mobil), iPhone (mobil), iPad (mobil)
Über den Anbieter
Iotum
Ansässig in Los Angeles,, USA
2000 gegründet
Telefon-Support
24/7 Live-Support
Chat
Erhältlich in diesen Ländern
Kanada, Vereinigte Staaten, Vereinigtes Königreich
Über den Anbieter
Iotum
Ansässig in Los Angeles,, USA
2000 gegründet
Telefon-Support
24/7 Live-Support
Chat
Erhältlich in diesen Ländern
Kanada, Vereinigte Staaten, Vereinigtes Königreich
Callbridge – Videos und Bilder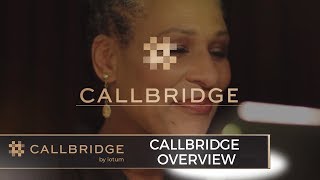 Kosten ähnlicher Produkte wie Callbridge vergleichen
Callbridge Funktionen
Aktivitäts-Dashboard
Anmerkungen
Anrufplanung
Audio- / Videoaufnahmen
Aufzeichnung
Automatische Transkription
Automatisches Framing
Berichterstattung / Analyse
Berichterstattung und Statistik
Bildschirm teilen
Bildschirmaufnahme
Brainstorming
Content-Management
Desktop-/Browserfreigabe
Dokumentenmanagement
Drittanbieter-Integration
Echtzeit-Bildschirmfreigabe
Echtzeit-Chat
Elektronische Abstimmung
Eventplanung
Filesharing
HD-Audio/-Video
Host-Steuerung
Kalenderverwaltung
Kommunikationsmanagement
Konferenzschaltung
Kontaktmanagement
Kundenspezifisches Branding
Live-Chat
Marken-Management
Meeting-Management
Mobile Bildschirmfreigabe
Mobiler Zugriff
Privater Chat
Präsentations-Streaming
Präsentationsmanagement
Sprachanrufe
Videokonferenzen
Werkzeuge zur Zusammenarbeit
Zugriffskontrollen / Berechtigungen
Zwei-Wege-Audio und -Video
Alternativen für Callbridge
Bewertungen über Callbridge
Mike
Digital Marketing Specialist in Kanada
Verifizierter Nutzer auf LinkedIn
Computer-Software, 51-200 Mitarbeiter
Verwendete die Software für: 6-12 Monate
Callbridge is the best conferencing tool for online meeting
Vorteile:
Callbridge is an easy to use all-in-one audio and video conferencing tool that I use to meet with team members, clients and prospects. It has a browser-based technology so you don't have to download anything and it's very easy to set up. It has a bunch of features like screen sharing, meeting recording, whiteboards and ets and it's my default video conference software.
Nachteile:
I use it daily and have not found any specific aspect that I don't like. It has been excellent for my needs and meetings.
Bürgerliche & soziale Einrichtungen, 11-50 Mitarbeiter
Verwendete die Software für: Mehr als 1 Jahr
In Betracht gezogene Alternativen:
Great for Small Business or Organizations
Kommentare: Initially, we had problems with sound quality. This was eliminated with the use of headsets. The service CallBridge provides is great.
We use teleconferencing about 25 times a year with less than 20 participants. CallBridge has fulfilled our needs admirably at low cost.
Vorteile:
Simple to use. Great quality sound and video. Ability to use computer or phone to join the conference. A lot of local call-in numbers across the country and world with more being added often.
Nachteile:
Maximum participants is 100 online and 100 phone-in. Not enough for our AGM.
Antwort von Iotum
vor 2 Jahren
Thank you for taking the time to give us your review, Greg! We're very happy that you liked the conferencing experience on Callbridge!
Frieda
President in Kanada
Non-Profit-Organisation Management, 2-10 Mitarbeiter
Verwendete die Software für: Mehr als 1 Jahr
In Betracht gezogene Alternativen:
Streaming issues
Kommentare: We don't use the system very often, and typically it works OK, however, lately, it's been VERY difficult to the point that we may no longer want to use it. We had an Annual General Meeting on Nov 17, and EVERYONE (26 participants) was freezing all the time, some people could not hear us, and voting (hands up) was impossible to assess as the chair of the meeting. We had another committee meeting yesterday Dec 13, with 5 participants only, and the echoing was impossible. So we switched to a Zoom meeting and had no problems at all. On another note, when copying the meeting details, why does it not copy the title of the meeting, but only the organization name?
Vorteile:
Initial training we received was adequate.
Nachteile:
Participants freezing and echoeing even double echo
Religiöse Einrichtungen, Selbstständig
Verwendete die Software für: 6-12 Monate
Grateful to use Callbridge four times a week
Kommentare: We are grateful for this product and I have no trouble recommending it. May I recommend that new users know how to teach their members how to mute and unmute themselves considering that land line phones have different features.
I am aware that people have left our call because of background noise. I should state that we never use the video feature. Many of our members have been very grateful to be able to participate in our services during a time when they could not attend a local church so for that we are immensely grateful.
Vorteile:
I can open a meeting from my cell phone in less than 60 seconds. With the touch of three points I am fully running. The ease of access is commendable. Several have remarked that they like being able to dial a local number to access our call even though they are in different provinces.
Nachteile:
My greatest challenge is when I open the meeting and I am aware that others are on the call but no one can hear me. I leave the meeting without ending the meeting, come back in, enable my speaker, unmute everyone, again and again. There are times when I do not have to do this but there are times when I do it three and four times. Sometimes the other people on the call can hear me saying hello but I do not hear their response back and there are times when they do not hear me but they know I am on because they hear the automated voice saying that the calls are on muted, now unmuted, and muted etc. Several times I have ended the meeting and begin at the beginning to start a new meeting. What surprised me was that when I would "End of the meeting", and start a new meeting, that I would re-enter the same call that the other people had not left. So even though I ended a call and started a new one but the people had not left the first call, I was able to join them without them having to dial-in again. We are not sure why but different members will have different sound quality. Some tell us that there is static on the line while others are saying their sound is perfect. Land line users seem to have better reception. While using my laptop I can still have the same problems but I found it disturbing when in the middle of a call my camera turned on without me touching my computer. This last Sunday during our service a member texted me advising me to mute everyone but nothing worked.
Antwort von Iotum
letztes Jahr
Thank you so much Kelly!
Sara
Contracts, rights, and administration manager in Kanada
Verlagswesen, 11-50 Mitarbeiter
Verwendete die Software für: Mehr als 1 Jahr
Easy to use and super supportive!
Kommentare: My overall experience with Callbridge has been excellent. The support staff is always extremely helpful when you have questions. They are also always improving it by considering feedback as I have seen the addition of some suggestions members of our team have made.
Vorteile:
Callbridge is very easy to use. I really appreciate that it does not need to be downloaded to your computer, you can use it from your browser very effectively which makes it much easier when setting up meetings with external contacts. The recent addition of the google calendar add on feature is also very appreciated as it has streamlined our meeting scheduling process.
Nachteile:
When we first started using Callbridge there were occasional technical issues when external contacts were trying to join the call, it would sometimes stop them from connecting to audio. The technical support team however was always extremely responsive and investigated all of these issues thoroughly. A small thing that I would love to see happen is the ability to remove your own video from your screen when in gallery view (an option that I know exists on other video conferencing platforms) as I find I sometimes distract myself when in a galley view meeting.
Antwort von Iotum
letztes Jahr
Your support is so appreciated Sara!