Das könnte dich auch interessieren:
Was ist Doxford?
Software für die Buchung und Verwaltung von Haustier-Tagesstätten. Effizient für Hundeausführer, Haustierbetreuer und Trainer.
Alles, was du brauchst, an einem Ort. Kunden- und Haustierdaten, Rechnungsstellung, Zahlungen, Buchungskalender. Terminplanung, Hochladen wichtiger Dokumente. Terminanforderungsseite. Finanzberichte.
Das System mit großartigen Funktionen bietet dir die Möglichkeit, deine Kunden und deren Haustiere im Auge zu behalten. Bedienung, Vornehmen von Änderungen und Anpassung an dein Unternehmen sind einfach.
Wer verwendet Doxford?
Haustierunternehmen wie Hundeausführer, Trainer, Pfleger und Betreuer.
Doxford – Details
Doxford
Doxford – Videos und Bilder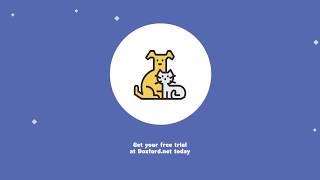 ▶︎
Doxford – Details
Doxford
Kosten ähnlicher Produkte wie Doxford vergleichen
Startpreis
34,90 $/Monat
35,00 $/Monat
25,00 $/Monat
15,00 $/Monat
Doxford – Bereitstellung und Support
Kundenbetreuung
E-Mail/Helpdesk
FAQ/Forum
Telefon-Support
24/7 Live-Support
Chat
Einsatz
Cloud, SaaS, webbasiert
Android (mobil)
iPhone (mobil)
iPad (mobil)
Funktionen von Doxford
API
Abrechnung & Rechnungsstellung
Aktivitäts-Dashboard
Alarmfunktion / Benachrichtigungen
Anpassbare Formulare
Anpassbare Vorlagen
Automatisierte Terminplanung
Belegmanagement
Berichterstattung und Statistik
Bestätigung / Erinnerungen
Dokumentenmanagement
Dokumentenspeicher
Drag-and-Drop
Drittanbieter-Integration
E-Mail Erinnerungen
E-Mail Marketing
Echtzeit-Berichterstattung
Elektronische Zahlungen
Erinnerungen
Inventarverwaltung
Kalender-Synchronisierung
Kalenderverwaltung
Kreditkartenbearbeitung
Kundendatenbank
Kundenhistorie
Kundenmanagement
Kundenportal
Kundenspezifisches Branding
Mehrere Benutzerkonten
Mehrere Standorte
Mitarbeiter-Management
Mitarbeitermanagement
Mobile Pflege
Online-Buchung
Provisionsmanagement
Rabattmanagement
Rechnungsmanagement
Reservierung-Management
Reservierungs-Management
SMS-Nachrichtenversand
Service-Katalog
Social-Media-Integration
Suchen / filtern
Terminplanung
Terminverwaltung
Verfügbarkeit-Management
Verkaufsberichte
Verkaufspunkt POS
Wiederkehrende Aufgaben
Wiederkehrende Termine
ACH Zahlungsabwicklung
Abrechnung & Rechnungsstellung
Aktivitäts-Dashboard
Alarmfunktion / Benachrichtigungen
Anpassbare Formulare
Aufgabenplanung
Automatisierte Terminplanung
Berichterstattung und Statistik
Dokumentenmanagement
Drag-and-Drop
Drittanbieter-Integration
E-Mail Erinnerungen
E-Mail Marketing
E-Mail-Management
E-Mail-Vorlagen
Elektronische Zahlungen
Erinnerungen
Eventplanung
Formularverwaltung
GPS Check-in / Check-out
Integration in die Buchhaltung
Kalender-Synchronisierung
Kalenderverwaltung
Kontakt-Datenbank
Kreditkartenbearbeitung
Kundendatenbank
Kundenmanagement
Kundenportal
Kundenportal
Kundenspezifisches Branding
Live-Chat
Lohn- und Gehaltslisten-Management
Mitarbeiter-Management
Mitarbeitermanagement
Mobile Benachrichtigungen
Mobiler Zugriff
Rabattmanagement
Rechnungsmanagement
Rechnungsverarbeitung
Reservierungs-Management
Schlüsselverwaltung (IT)
Social-Media-Integration
Teamkalender
Terminplanung
Terminverwaltung
Verkaufspunkt POS
Webseitenintegration
Website-Management
Wiederkehrende Termine
Wiederkehrende- / Abonnement-Abrechnung
Verifizierter Rezensent
Sheet Metal Worker in Kanada
Verifizierter Nutzer auf LinkedIn
Baumaterial, 501-1.000 Mitarbeiter
Verwendete die Software für: 1-5 Monate
Simple software
Kommentare: Great for keeping your business organized and productive.
Vorteile:
All in one for managing your pet based business. Keeping track of your clients alone makes this software invaluable. 24/7 customer support.
Nachteile:
Haven't found any software issues in my time using it yet. Maybe a few more customization options would be nice.
Antwort von Doxford
vor 2 Jahren
Thank you for such a nice review. We're working on the system every day, so there's gonna be many more valuable features really soon!
Einzel- & Familiendienstleistungen, Selbstständig
Verwendete die Software für: Mehr als 1 Jahr
In Betracht gezogene Alternativen:
Best Pet Sitting Software I've Found
Kommentare: I don't often write reviews however I feel like this one deserves a special mention because it's really good and it is getting better every day. I like the visuals and the graphics and the thought behind it. The software maker is really easy to contact with any suggestions and feature improvements and he has already implemented quite a few things I suggested. It's nice because you can tailor it exactly to your needs which saves you time. With other ones I didn't like the design and it wasnt customisable so I couldn't change much, but this is great! You can tell that the software [SENSITIVE CONTENT HIDDEN] genuinely cares about making it just right for your business needs. It's saved me so much time as before I was doing everything manually by hand.
It has pet info, client info, payments, calendar, invoicing, email templates, booking system, vaccine parts, legal disclaimer sections, check in/out, etc etc. I went through a lot of software trials before deciding on this one and I've now been using it for about a year. They have a trial you can do first, which is what I did. Hope that's helps someone in their pet sitting business.
Vorteile:
I really like the design, colours, customisability and features. The customer service is second to none. It has absolutely everything you need to run a good pet sitting business all in one place.
Nachteile:
There are a few improvements to the booking system that the software [SENSITIVE CONTENT HIDDEN] is still working on. At the moment I use youcanbook.me for the meet and greet part but other than that I use Doxford. But probably within a week of writing this they'll be perfect as whenever I contact him he makes changes really fast to get it better! That's one of the things I like so much about Doxford is how much he listens and perfects it to my company's needs
Alexander G.
Practice manager in USA
Tierarzt, 11-50 Mitarbeiter
Verwendete die Software für: Kostenlose Testversion
Not enough time with it
Vorteile:
It was easy to keep up with appointments that were last minute
Nachteile:
I don't think that I had enough time to see anything significantly wrong with the program
Jana R.
Dog Sitter in USA
Einzel- & Familiendienstleistungen, Selbstständig
Verwendete die Software für: 1-5 Monate
Exactly what I needed!
Kommentare: I was looking for something very specific & Doxford fit the bill completely. I wanted something affordable for a 1 person team. I knew going in that I wanted text notifications, reports with pictures and notes, plus the ability to track payments. I also needed to easily manage my schedule and be able to customize my services to each clients needs. All that while being able to access this from any device! Doxford still checks all of those boxes for me months later!! I actually went down almost the entire list on Capterra for pet sitting software, and tested them. Took me a month, so I did my research and found Doxford to be the best and most affordable for all of those things I needed. Doxford's calendar view shows me everything going on that day, week and month- it's perfect! Prior to using Doxford I was having to use a physical calendar and two apps on my phone. It was ridiculous! Now, I can glance at the calendar and know who is paid up, what appointments are confirmed and when I have openings! AMAZING! One thing I didn't know I would want, that Doxford offers, is that I can have complete pet profiles with feeding instructions, medications and personality descriptions. I like having all that info right at my finger tips in the software, so I don't have to dig through paperwork or try to remember everything on my own. It's SO HELPFUL when you can see your notes from a past stay to refresh your memory on boarding a particular dog.
Vorteile:
I love that I can easily view and manage my schedule online from anywhere. My customers get text notifications with a link to their check in report with pictures. I like how I can actually customize the reports a little bit too, so I can check off meals or medications that have been given. Everything is so nice and streamlined for me because all the information I need is in one place. Saves me time and my customers love it! Also, their support team is on top of everything, so its nice knowing someone has your back!
Nachteile:
I do wish I could have multiple owners receive text message alerts. As of right now you can only have the notifications sent to one phone number. However, I told the dev about this wish and it may be in the works. Any time I have brought up a feature idea to the support team they are all ears. I can tell they love what they do.
Cassandra R.
GroomerOwner in USA
Tierarzt, Selbstständig
Verwendete die Software für: 1-5 Monate
In Betracht gezogene Alternativen:
Growing groomer
Kommentare: So far my experience has been good. I have made suggestions that the company has implemented and used my ideas.
Vorteile:
Doxford is a less expensive software to use. It is a growing service so being patient with the lack of features is important but for the price it does what you need it to. They have been amazing at listening to suggestions. I think the program has the potential of being a great program to use.
Nachteile:
I miss some features such as taking credit cards with the program, having confirmation texts sent to customers to respond and we know they confirmed their appointment.