Was ist ZeuZ?
ZeuZ ist ein cloudbasiertes und On-Premise-fähiges, DevOps-fähiges und KI-unterstütztes Framework für Automatisierungstests. Der skriptlose und einfach zu bedienende Testerstellungsprozess ermöglicht es jedem, anspruchsvolle Workflows für Web, Mobile, Desktop, APIs, IoT (Internet of Things) und Cloud-Dienste zu erstellen und zu testen.
Tester und Entwickler können automatisierte Tests in einem beliebigen Browser erstellen und diese lokal oder aus der Ferne ausführen. Sie können diese Tests parallel auf iOS, Android, Windows, Mac, Linux, Chrome, Safari, Firefox, Edge und vielen mehr planen oder ausführen.
Wer verwendet ZeuZ?
Da ZeuZ die am einfachsten zu bedienende automatisierte Testplattform ist, kann jeder in wenigen Minuten komplexe Workflows erstellen. Der Kundenkreis reicht von Start-ups wie KeyFree bis hin zu großen Unternehmen wie BlackBerry.
ZeuZ – Details
ZeuZ Automation Testing
2013 gegründet
ZeuZ Kosten
Starting Price:
50,00 $/Monat
Ja, kostenloser Test verfügbar
Keine Gratisversion
ZeuZ bietet keine Gratisversion, aber eine kostenlose Testversion. Die kostenpflichtige Version von ZeuZ ist ab 50,00 $/Monat verfügbar.
ZeuZ – Details
ZeuZ Automation Testing
2013 gegründet
ZeuZ – Videos und Bilder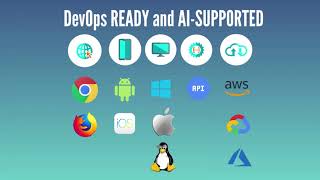 ZeuZ – Bereitstellung und Support
Kundenbetreuung
E-Mail/Helpdesk
FAQ/Forum
Wissensdatenbank
Telefon-Support
24/7 Live-Support
Chat
Einsatz
Cloud, SaaS, webbasiert
Mac (Desktop)
Windows (Desktop)
Linux (Desktop)
Windows (On-Premise)
Linux (On-Premise)
Chromebook (Desktop)
Training
Persönlich
Live Online
Webinare
Dokumentation
Videos
Funktionen von ZeuZ
AB-Tests
API
Aktivitäts-Dashboard
Aktivitäts-Verfolgung
Alarmfunktion / Benachrichtigungen
Anforderungsbasiertes Testen
Anforderungsmanagement
Anpassbare Berichte
Automatisierte Terminplanung
Benutzer-Management
Berichterstattung und Statistik
Beurteilung-Management
Compliance Management
Daten-Import / -Export
Datenerfassung und Übertragung
Datenextraktion
Datenspeicher-Management
Datenvisualisierung
Drag-and-Drop
Drittanbieter-Integration
Echtzeit-Analytik
Echtzeit-Berichterstattung
Echtzeit-Daten
Echtzeitüberwachung
Fehlerverfolgung
Keyword-Driven Testing
Kundensegmentierung
Leistungsmanagement
Management von Softwaretests
Modellbasiertes Testen
Parametrisierte Tests
Performance-Tests
Problem-Nachverfolgung
Problemmanagement
Prognosen
Qualitätssicherung
Rollen-basierte Genehmigung
Sicherheit testen
Statische Analyse
Testskript-Bewertungen
Unicode-Compliance
Unterstützt parallele Ausführung
Verschieben und kopieren
Versionskontrolle
Visuelle Analytik
Werkzeuge zur Zusammenarbeit
Workflow-Management
Zusammenfassende Berichte
hierarchische Ansicht
Überwachung
Adam K.
Head of Product & Development in Kanada
Verifizierter Nutzer auf LinkedIn
Informationstechnologie & -dienste, 11-50 Mitarbeiter
Verwendete die Software für: Mehr als 2 Jahre
Finally found an end to end solution
Vorteile:
Our software products have web applications plus native iOS and Android that all needs to talk together. We struggled to find a tool that would integrate across the entire stack until we found zeuz. We've been using it for two years and found their service to be very good, and when we evolved our products and needed new functions they helped us find them or worked with us to add them. Have and would recommend trying zeuz if you want to harness the power of automation in your QA team.
Nachteile:
As we were new to automation we struggled at first but I don't think that was the fault of the tool.
Nii-narh K.
Director in Kanada
Telekommunikation, 2-10 Mitarbeiter
Verwendete die Software für: Mehr als 1 Jahr
Great fora range of people, those who are not technical all the way to expert/Dev teams.
Kommentare: We are a small company which is based online, our website and app was going through development slowly due to bugs and development issues. We asked some other companies about website and software testing but the price was astronomical. We came upon Automation Solutionz and had a demo with there team, at first it looked too complex and built for large corporations and enterprises. With very little training we realized how simple it was to use the software and even used their Project Management section. The ZeuZ software helped us save on cost and do things that a small company like ours would never have thought possible.
Vorteile:
- Tested our Android app, Apple app, and website using the same test cases - No coding was necessary for our testing needs - Easy to change test cases when we changed our process flow - Cut down our development time saving us on cost - Ran daily automated test sets - Streamlined our bug fixes - Very short ROI - Used the ZeuZ Project Management to run our development and daily company activities
Nachteile:
- As a small company, at first it was daunting to use ZeuZ, but within a matter of hours it was easy to use for even our non-technical people. - Moved our development over to the ZeuZ project management, for our small company at first the implementation was difficult but that was not because of the software.
In Betracht gezogene Alternativen: TestProject, Zephyr Enterprise und Ranorex Studio
Gründe für den Wechsel zu ZeuZ: Price, ease of use, great support, and highly competent staff.
Neil P.
President in Kanada
Informationstechnologie & -dienste, 2-10 Mitarbeiter
Verwendete die Software für: 1-5 Monate
Highly responsive
Vorteile:
NVP Software Solutions is in the business of evaulating Testing Life Cycles and managing large test projects. As such our main interest is in the ability to report progress and ensure stakeholders are kept informed of testing progress. Our interest in ZeuZ is to provide a platform to our clients to help them in their automation. The fact that everything is in a database (unlike some other products) means that almost any report can be generated.
Nachteile:
Interface is still evolving. Need to make sure that existing functionality is not lost.
Zoheil K.
QA & Release Manager in UK
Verifizierter Nutzer auf LinkedIn
Automotive, 51-200 Mitarbeiter
Verwendete die Software für: 1-5 Monate
Fantastic software at a great price
Kommentare: Zeuz has helped and is helping us transform our testing capabilities from a fully manual set up to an automated approach. This helped us improve the quality of our software and safe valuable resource time on other tasks.
Zeuz also provides fully trained testing experts at an additional cost that is definitely worth it as the resource is highly capable and provides great extra coverage to our testing needs.
The produce is very easy to use and best of all it can do so much - it really is a comprehensive tool that can cater to all possible testing needs of a company.
Vorteile:
- wide range of features/uses - built to be used in the most smart/efficient way - lots of integrations and possibilities - works for web, mobile and native apps - extremely competent staff
Nachteile:
The software keeps improving and I've seen several updates whilst working with Zeuz already.
In Betracht gezogene Alternativen: mabl, Perfecto, Kualitee, Applitools und TestProject
Gründe für den Wechsel zu ZeuZ: Wide range of coverage for platforms, devices, browsers Price Additional options
Informationstechnologie & -dienste, 11-50 Mitarbeiter
Verwendete die Software für: 6-12 Monate
Very robust test automation platform - and we tried many
Kommentare: I am a CTO of a custom development shop in Toronto. My job is to create a robust multi-platform architecture and deliver innovative solutions for Fortune 1000 customers. To achieve this, we use ZeuZ for test automation across mobile, web, and APIs. I work with our developers, designers, and QA team and we have about 20 projects running at the same time. Since ZeuZ can handle multiple projects and mutiple platforms from one interface, we are able to test and assess each and every project with ease.
Vorteile:
ZeuZ is perfect for companies that have many projects on the go or need one solution that does it all. We selected ZeuZ as our QA lead tried many test automation platforms, none were as easy and as powerful as ZeuZ. Previously we had to use 3 different products, 3 different syntax languages to learn. I was also forced to have testers specialize in just one platform, but with ZeuZ, I can leverage all of my resources to test across mobile, web, or API.
Nachteile:
As with any complex and mature software, there is some learning curve. But once you get past that, the full potential of ZeuZ is at your hands.