Was ist Visual Components?
Visual Components offers a complete toolkit from manufacturing planning to industrial automation with a powerful and easy-to-use 3D simulation software. With over 20 years in business, Visual Components is one of the pioneers of the 3D manufacturing simulation industry. Visual Components started with a humble goal – to make manufacturing design and simulation technology easy to use and accessible to manufacturing organizations of all sizes and has retained the same philosophy in their product.
Wer verwendet Visual Components?
Designed for manufacturers, machine or robot builders, and system integrators, it helps view material textures, configure layouts, and analyze collisions while designing visual components.
Wo kann Visual Components bereitgestellt werden?
Windows (Desktop), Android (mobil), iPhone (mobil)
Über den Anbieter
Visual Components
1999 gegründet
Erhältlich in diesen Ländern
Finnland
Sprachen
Nicht vom Anbieter bereitgestellt
Über den Anbieter
Visual Components
1999 gegründet
Erhältlich in diesen Ländern
Finnland
Sprachen
Nicht vom Anbieter bereitgestellt
Visual Components – Videos und Bilder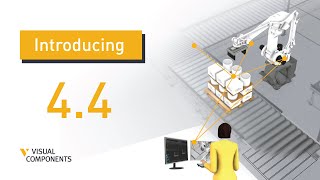 Kosten ähnlicher Produkte wie Visual Components vergleichen
Visual Components Funktionen
3D-Imaging
Agentenbasierte Modellierung
Berichterstattung / Analyse
Direkte Manipulation
Diskrete Event-Modellierung
Dynamische Modellierung
Grafische Präsentation von Daten
Mathematische Modellierung
Präsentations-Tools
Stochastische Modellierung
Alternativen für Visual Components
Bewertungen über Visual Components
Erik A.
Project Manager, Simulation & Visualisation in Schweden
Maschinenbau oder Wirtschaftsingenieurwesen, 11-50 Mitarbeiter
Verwendete die Software für: Mehr als 1 Jahr
A Swedish review of Visual Components
Kommentare: Very positive
Vorteile:
The versatility of the software has been a pleasant surprise. It has a lot of functionality and you can program pretty much anything in Python. There is also a vibrant community that has made great addons.
Nachteile:
Sometimes the CAD import requires some additional work, it often help to go through CAD softwares, but that takes a bit more time.
Andreas A.
Technical sales support in Schweden
Industrieautomation, 201-500 Mitarbeiter
Verwendete die Software für: Mehr als 2 Jahre
Versatile simulation software with unsurpassed CAD data support
Kommentare: The software helps me to quickly extract different components and create a preliminary layout. It wasn't until recently I really understood the importance of defining the components. If you put in the extra time to create frames in the right places of the component then the software will do a lot of the grunt work for you, and there are great tools for snapping and aligning that speeds up the process. Creating custom components has become increasingly easier the last couple of years and the programming of the components is really visual and hands on. I think one pretty unique thing that separates Visual Components from other simulation software is that it's being used in such a wide variety of applications, and even though some scenarios don't exist "out of the box" they're usually possible to script thanks to the API.
Vorteile:
You can throw basically any CAD model into the software and it will handle it with ease. The CAD data simplification tools are easy to use and can drastically increase simulation performance. Being able to present layouts and simulations in 3D PDFs, high quality renderings or lightweight animation format makes it easy to distribute content to anyone.
Nachteile:
One could wish that the user interface would become a bit more responsive. I usually experience a slight latency when switching between tabs and that can get a bit frustrating when a certain task requires a lot of back and forth between tabs.
Verifizierter Rezensent
Industrial Engineer II in USA
Verifizierter Nutzer auf LinkedIn
Maschinenbau oder Wirtschaftsingenieurwesen, 1.001-5.000 Mitarbeiter
Verwendete die Software für: Mehr als 1 Jahr
In Betracht gezogene Alternativen:
Does less than we hoped
Vorteile:
Easily drop in Solidworks models and get a true sense of the layout vs. 2D AutoCAD. We purchased VR goggles so the user can be "dropped into" the cell to feel it out. We attended a training and it really helped us get up and going.
Nachteile:
Animating the cell takes more time invested than the reward reaped from seeing it animated. The data we need is better gathered from a 2D simulation vs. a 3D so that it is more accurate/exact. Also the female operator wears heels, has an inch of midriff showing, and a large chest - it is weird.
Miha P.
Researcher in Slowenien
Bildungsmanagement, 201-500 Mitarbeiter
Verwendete die Software für: Mehr als 2 Jahre
In Betracht gezogene Alternativen:
Education and industry use
Vorteile:
The software has the best 3D user interface and exellent tools for programing of production logic.
Nachteile:
Since it is 3D can run slow in you progra it to calculate different what-if scenarios.
Toni L.
Project manager / Lecturer in Finnland
Forschung, 201-500 Mitarbeiter
Verwendete die Software für: Mehr als 2 Jahre
Long-time user review
Kommentare: We've been using Visual Components products for over a decade and have been very satisfied with the software. We are using the software in research and development, education and training, and business cases with companies. Due to its multipurpose nature, we are continuously facing new possibilities where we can use Visual Components and achieve more sophisticated solutions.
Vorteile:
The overall flexibility and customizing possibilities make the software very powerful for various domains. High-level visual representation capabilities extend the software use range also to marketing and selling functions.
Nachteile:
Visual Components doesn't provide a standalone simulation model player. Therefore, if one wants to share a simulation model with a customer, and the customer needs to play simulation dynamically and change the parameters of the model, then the customer needs to purchase a license for the software. Only recorded 3D animations can be shared and played without additional costs.