Lokales Produkt
Was ist Seobility?
Seobility is your All-in-One SEO tool covering on-page, backlinks and rankings.
Seobility crawls and checks your complete website and provides a comprehensive report with found errors and optimization suggestions.
Regular, scheduled crawls keep track of your optimization. You will also be notified in case of problems that may harm your rankings.
Also, Backlink analyses, Keyword Research tools and Rank Tracking features, as well as the TF*IDF tool for content optimization complete the package.
Wer verwendet Seobility?
Business owners, SMBs but also bigger companies and online shops. Freelancers and agencies will also have a great toolsuite for supporting their clients.
Seobility – Details
Seobility
2011 gegründet
Seobility – Details
Seobility
2011 gegründet
Seobility – Videos und Bilder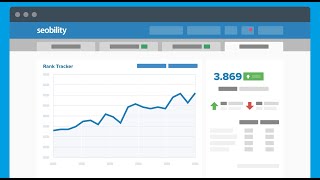 Kosten ähnlicher Produkte wie Seobility vergleichen
Startpreis
50,00 $/Monat
119,95 $/Monat
99,00 $/Monat
49,00 $/Monat
Seobility – Bereitstellung und Support
Kundenbetreuung
E-Mail/Helpdesk
FAQ/Forum
Telefon-Support
Chat
Einsatz
Cloud, SaaS, webbasiert
Android (mobil)
iPhone (mobil)
iPad (mobil)
Funktionen von Seobility
AB-Tests
API
Aktivitäts-Dashboard
Alarmfunktion / Benachrichtigungen
Analytik / ROI-Verfolgung
Anpassbare Berichte
Anpassbare Vorlagen
Backlink-Monitoring
Benutzer-Management
Berichterstattung und Statistik
Content-Management
Dashboard
Datenvisualisierung
Drittanbieter-Integration
E-Mail Marketing
Echtzeit-Aktualisierungen
Echtzeit-Benachrichtigungen
Echtzeit-Daten
Geplante / automatisierte Berichte
Google Analytics Integration
Kampagnenanalysen
Kampagnenmanagement
Keyword Monitoring
Keyword-Recherche Tools
Klick-Tracking
Konversionsraten-Optimierung
Kundenspezifisches Branding
Leistungskennzahlen
Leistungsmanagement
Link-Management
Lokalisierung-Automatisierung
Mehrere Kampagnen
Mehrere Standorte
Mehrsprachig
Mobile Keywords
SEO-Management
Social-Media-Integration
Stichwort-Nachverfolgung
Trend-Analysen
Visuelle Analytik
WYSIWYG-Editor
Web-Traffic-Berichterstattung
Website-Analytik
Website-Management
Werbemanagement
Wettbewerbsanalyse
Wirtschaftsprüfung-Management
Workflow-Management
Zielseiten / Web-Formulare
Überwachung
AB-Tests
API
Aktivitäts-Dashboard
Aktivitäts-Verfolgung
Alarmfunktion / Benachrichtigungen
Anpassbare Berichte
Berichterstattung und Statistik
Besucher-Nachverfolgung
Besuchermanagement
Content-Management
Daten-Import / -Export
Datenvisualisierung
Drag-and-Drop
Drittanbieter-Integration
Echtzeit-Analytik
Echtzeit-Benachrichtigungen
Echtzeit-Berichterstattung
Echtzeit-Daten
Echtzeitüberwachung
Engagement-Tracking
Etikettierung
Für Webseiten
Geotargeting
Kampagnenanalysen
Keyword-Recherche Tools
Konversion-Tracking
Konversionsraten-Optimierung
Kundenaktivitäts-Tracking
Kundenerlebnis-Management
Kundensegmentierung
Kundenspezifisches Branding
Leistungskennzahlen
Leistungsmanagement
Link-Management
Mehrsprachig
Problemmanagement
Risikokarten
SEO-Management
Stichwort-Nachverfolgung
Verhaltens-Tracking
Visuelle Analytik
Warnungen / Eskalation
Warnungen zu Problembereichen
Web-Traffic-Berichterstattung
Website-Analytik
Website-Management
Wettbewerbsanalyse
Widgets
Wirtschaftsprüfung-Management
Überwachung
Siehe die vollständige Software zur Webseitenoptimierung Liste
Johannes M.
Marketing Manager in Deutschland
Computer-Software, 51-200 Mitarbeiter
Verwendete die Software für: Mehr als 2 Jahre
Gutes SEO Tool für die Optimierung der Website
Vorteile:
Die Nutzung des Tools ist intuitiv und die empfohlenen Maßnahmen sind klar und verständlich. In jeder Rubrik sind entsprechende Erklärtexte, die den Kontext verdeutlichen. Das ist für den SEO-Profi überflüssig, aber für Unternehmen, die Ihren SEO-Erfolg selbst verstehen und nachverfolgen wollen, ist Seobility eine super Lösung.
Nachteile:
Manche Hinweise und Optimierungsvorschläge beziehen sich auf Elemente, die eigentlich keine Fehler sind, sondern vielleicht nur etwas unkonventionell programmiert wurden. Das ist aber dem Tool nicht anzulasten. Eine Verbesserungsmöglichkeit wäre, solche Fehler ignorieren zu können.
Paul O.
Technical Director in Südafrika
Verifizierter Nutzer auf LinkedIn
Informationstechnologie & -dienste, 2-10 Mitarbeiter
Verwendete die Software für: Mehr als 1 Jahr
In Betracht gezogene Alternativen:
Seobility is a great starting place for SEO
Kommentare: We were looking for a basic plan to get clients of ours onto to show them the benefit of signing up for a SEO tool. About 50% of our clients signed up for the monthly contract. Without the free option this would not have been possible, and it is much better than some other products out there that don't allow you to test for free.
Vorteile:
The free and premium plans are well priced for what you are getting. There are a lot of SaaS out there that promise the earth, Seobility delivers well.
Nachteile:
As with all SEO SaaS options, the prices are out of touch for the definite benefit that they provide. Start with the free account and then once you have played with the software, upgrade to get more of a benefit. This may not be the best platform for you, and you will know once you have tested it out.
Antwort von Seobility
vor 2 Wochen
Thanks for your review and the great feedback, Paul. Much appreciated!
Tristan K.
Webdesigner in Deutschland
Design, Selbstständig
Verwendete die Software für: Mehr als 1 Jahr
Easy to use SEO software with a lot of usefull features.
Kommentare: Great. Easy to work with, also when you have no experience with SEO or any other Tools. The SEO check tells you exactly what you need to do/improve.
Vorteile:
Competitor Analysis. I wanted a software to help me track keywords and keep an eye out on competitors. Seobility helped me with this as it weekly keeps me posted about changes in rankings. Also the newsly introduced Keyword research tool helped me find and ranking on new keywords.
Nachteile:
The competitor ranking is not that advanced as SEranking, but overall good to work with.
Martin V.
Software Engineer in Nordmazedonien
Computer-Software, 11-50 Mitarbeiter
Verwendete die Software für: Kostenlose Testversion
Great micro tool.
Vorteile:
Really easy to use. Helpful keyword monitoring. Gets the job done.
Nachteile:
It would be better if analysis went more in depth. Can feel really shallow some times.
Stuart R.
Director in Australien
Gesundheit, Wellness & Fitness, 2-10 Mitarbeiter
Verwendete die Software für: 6-12 Monate
A great service that provides all the things you expect of SEO analysis and a few things you don't
Kommentare: I've been pleasantly surprised by Seobility and it's capacity to surface actionable items on my site over time such as performance issues, as well as site structure & individual page content problems. All whilst giving easy to understand updates on where my pages are currently ranking in search engine results.
Vorteile:
Ability to rescan your site when you decide it's important to, rather than waiting for your SEO tool to get to its scheduled scan is great to check site changes. Alerts for technical issues such as hosting and structural issues with site or page layout are critical for making sure your site remains in top shape.
Nachteile:
It can sometimes be awkward to locate and correct problems that are listed with site copy, however this is common to all SEO reporting tools. There are sometimes suggested changes that are not possible to make due to the platform / page designer / third party inclusions used on your website. It'd be great if these could be marked as "ignore" (particularly when they are replicated on multiple pages) & this "ignore list" could be reviewed periodically.