Was ist SportsPlus?
Sports management software for sports clubs, leagues, associations, teams, coaches, players, and parents. Mobile-friendly, and secure all in one sports platform to manage player registrations, online payments, schedules, teams, leagues, tournaments, fields, members, and website. In-built team management app for all organization teams to manage team communication, live chat, schedules, roster, player availability, volunteers, and pictures. Integrated player portal to manage player performance.
Wer verwendet SportsPlus?
Youth and amateur sports organizations and all of its members. Sports clubs, leagues, associations, teams, coaches, officials, players, and parents.
Wo kann SportsPlus bereitgestellt werden?
Cloud, SaaS, webbasiert, Mac (Desktop), Windows (Desktop), Linux (Desktop), Android (mobil), iPhone (mobil), iPad (mobil)
Über den Anbieter
Thapos
Ansässig in SAN RAMON, USA
2014 gegründet
Telefon-Support
24/7 Live-Support
Chat
Erhältlich in diesen Ländern
Schweden, Türkei, Vereinigte Staaten
Über den Anbieter
Thapos
Ansässig in SAN RAMON, USA
2014 gegründet
Telefon-Support
24/7 Live-Support
Chat
Erhältlich in diesen Ländern
Schweden, Türkei, Vereinigte Staaten
SportsPlus – Videos und Bilder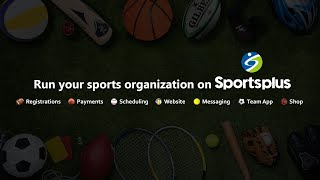 Kosten ähnlicher Produkte wie SportsPlus vergleichen
SportsPlus Funktionen
In-Game-Analytik
Kommunikationsmanagement
Registrierungs-Management
Team-Management
Terminplanung
Website-Management
Zahlungsabwicklung
Alternativen für SportsPlus
Bewertungen über SportsPlus
Emily M.
emilymadison634@gmail.com in USA
Sport, 2-10 Mitarbeiter
Verwendete die Software für: 6-12 Monate
In Betracht gezogene Alternativen:
Turned out to be a good decision to go with SportsPlus
Kommentare: Now everybody in the club uses SportsPlus. SportsPlus saved us a lot of money by giving us a good payment processing rate.
Vorteile:
We have been using SportsPlus for about a year. Other than a few minor issues, overall, it is working well for us. Now all the coaches adopted it, and they use it regularly. The scheduling part works well. The organization schedulers add the schedules, then the team coaches can independently manage them on their own. Also, the team app and mobile app comes for free. Now all the teams are using the mobile app. As an admin, it gives me full control over all the teams.
Nachteile:
Nothing much. Initially, during the first few weeks, we had a few minor issues which were addressed by the support. We need to customize certain email message templates which they are going to provide. I wish there are most templates for the website.
Ron W.
Sports Coordinator in USA
Erholungseinrichtungen & -dienstleistungen, 11-50 Mitarbeiter
Verwendete die Software für: Mehr als 1 Jahr
City Parks & Rec department review of SportsPlus
Kommentare: We use SportsPlus to organize our City Park & Recreation programming from adult and youth sports leagues, classes, camps and events. We did not have an online registration or payment system until SportsPlus, we were using Excel and Outlook to communicate and manage our programs. SportsPlus has allowed us to manage over 2200 athletes, 10 sports leagues some in both youth and adult (football, soccer, basketball, volleyball, softball, baseball, lacrosse, dodge-ball, corn-hole and pickle-ball), 40 summer camps, and over 40 classes with 3 different administrators not to mention about 200 coaches and volunteers. SportsPlus has made all the above possible with only 2 full time employees because of what this program can do.
Vorteile:
SportsPlus offers it's entire programming at a good cost, it does not nickle and dime you to death with having to purchase modules. It does everything that a sports program should do like take online registration and payment, organize staff, athletes, teams, games, practices and events. Then if offers more like reminders to parents, coaches and referees of games or practices and up coming events, the system even offers athlete fitness levels and parents able to volunteer for game snacks or car pooling and if you don't need that feature, you can turn them on or off with a button. The programmers are always willing to help and improve the system they get a 5 star rating for customer service. SportsPlus also have an app which allows parents and coaches information right on the field, I even make my coaches use the mobile app to give the referees the roster prior to games so no more "I forgot the roster at home" and the system can be locked down to where only admin can add players to teams, there is even a player card section. They added a section for me to assign referees to games, they even made it to where my referees get reminder emails with the parents and coaches for games. It is the only program you need. They know that people are navigating toward mobile devices and apps they have been working on improving their app to stay ahead of the curve, the parents can view all their kids schedules (even subscribe to their SportsPlus calendar all their kids schedules in 1 place)
Nachteile:
Just like every sports application program it took some time to get familiar with, it was not easy, but the programmers made huge improvements to the system over the last year and a half to make things easier. Even with the extra time it took to get familiar with SportsPlus, once you have it down it was worth the time you save by only having to use the 1 program for everything.
Religiöse Einrichtungen, 11-50 Mitarbeiter
Verwendete die Software für: 1-5 Monate
In Betracht gezogene Alternativen:
Better Customer Support
Kommentare: I like teh product but with better customer support the product would get 4s and 5s.
Vorteile:
The software is great! Easy to use for the most part.
Nachteile:
Customer support has been very difficult. The same agent helps every time when he is available. Support is unavailable to help per issue so you have to schedule live tutorials. Customer service never calls you back!!
Tyronne F.
President in USA
Sport, 201-500 Mitarbeiter
Verwendete die Software für: 1-5 Monate
Movement of PAID Accounts
Vorteile:
The Calendar schedule the registration of players that get imported to the correct teams
Nachteile:
We need the feature that if a PAID PLAYER has registered in the wrong group, you need the function to transfer this entire profile to the destination Group to include the fees that have been paid. You allow it for a user that has not paid to be transferd. Also When you move that account it removes itself completely from the source team and appears in the destination team ( A COMEPLETE TRANSFER OF RECORDS ) Need this option ASAP. SportsConnect allowed for thiss.
Antwort von Thapos
vor 3 Monaten
Dear Tyronne, Thank you for sharing your SportsPlus experience. I sending your feature request (the ability to transfer a player) to the product team. We will let you know when the feature is made available. Thanks, SportsPlus Team
Wendy M.
Program Coordinatoe in USA
Sport, 1.001-5.000 Mitarbeiter
Verwendete die Software für: Mehr als 2 Jahre
Sports Plus - Incredible Value and Easy to Use
Kommentare: We've had a great experience. App is user friendly.
Vorteile:
We are a baseball organization and I enter 75 or more teams a season. Uploading game schedules is easy. This is user friendly for all our players and families to find their game schedules and standings.
Nachteile:
I wish it was easier to add scores in on an iPhone. When I go into schedules and updates scores from my phone, the list or games doesn't show the teams. You have to click to see which teams. I'm sure it has to do with too much info on screen for an iPhone. Often if I am adding one score I have to click on several score buttons to find the right team to enter. Minor thing. I just like to enter as they come in instead of doing it once.