Was ist 10Web?
10Web's AI website builder is part of 10Web's Automated WordPress Platform. It is the next-gen website builder with AI assistance.
The use of AI technology allows our users to create an infinite amount of site templates based on any existing website in just a few minutes. All it takes is a simple copy-and-paste of the URL and you'll get a beautiful and fully functional website that can be customized through our drag-and-drop editor powered by Elementor.
Wer verwendet 10Web?
Website developers, freelancers, agencies, and small to medium-sized businesses.
Wo kann 10Web bereitgestellt werden?
Cloud, SaaS, webbasiert
Über den Anbieter
TenWeb
2017 gegründet
24/7 Live-Support
Erhältlich in diesen Ländern
Vereinigte Staaten
Über den Anbieter
TenWeb
2017 gegründet
24/7 Live-Support
Erhältlich in diesen Ländern
Vereinigte Staaten
10Web – Videos und Bilder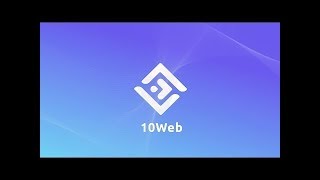 Kosten ähnlicher Produkte wie 10Web vergleichen
10Web Funktionen
Automatisches Aktualisieren
Bearbeiten in Echtzeit
Berichterstattung / Analyse
Daten-Import / -Export
Drag-and-Drop
Medienbibliothek
Online-Shop-Designer
SEO-Management
Vorgefertigte Vorlagen
Zielseiten / Web-Formulare
Christopher J.
CEO in USA
Verifizierter Nutzer auf LinkedIn
Marketing & Werbung, 2-10 Mitarbeiter
Verwendete die Software für: 6-12 Monate
Wordpress Done Right
Kommentare: All in all, it's a newer company and if you're willing to tolerate a bit of bugginess here and there you have the opportunity to get grandfathered in on some amazing prices. As an early adopter, I expect this kind of stuff. What matters is a strong team and ongoing improvements which 10web does very well.
Vorteile:
I love how this software brings me functionality offered elsewhere at about 10% of the price. Google hosting is HUGE and these guys offer it at what I believe to be the most competitive pricing around. The features of the manager are fantastic, including credential-less login, automatic updates, automatic backups and great speed boosting features
Nachteile:
One of the things I was most excited about is the massive array of plugins you get, as the makers of 10web were Wordpress developers before. Unfortunately lots of these plugins aren't fully functional and tend to be a bit buggy. This includes the migration plugin, which oftentimes flat out doesn't work. Fortunately [SENSITIVE CONTENT HIDDEN] and the support team are getting better and better everyday to work out the kinks.
Noelia R.
Owner in Mexiko
E-Learning, 2-10 Mitarbeiter
Verwendete die Software für: Mehr als 1 Jahr
In Betracht gezogene Alternativen:
Easy and reliable software for professional webpages
Kommentare: Really nice look and feel of webpages
Vorteile:
It is easy to install and understand. I has many options to choose the building plugins that work the best for each one. Then, everything could be as easy as drag and drop. It is reliable and secure.
Nachteile:
Since it works with a lot of plugins (which is good), there are some plugins that don't work properly after updates. So we need to change the plugin or to use a previous version.
William S.
founder in USA
Marketing & Werbung, 11-50 Mitarbeiter
Verwendete die Software für: 6-12 Monate
Advanced Tech Not So Advanced
Kommentare: I subscribed to their agency account about 6 months ago due to their claim that they guaranteed speeds over 90. After transferring 18 sites to their hosting, we quickly realized they could not guarantee to achieve the speeds, and their 10web plugins created major problems on most of our websites. Anytime we tried getting support, we got the run around instead of Hours upon hours of chat support trying to explain the issues. Waiting for email replies that never were responded to. We removed all of our websites with the exception of 3 sites which we didn't want to disturb by migrating it to another hosting provider after all the issues we had with 10web. Fast forward months later, 10 web offers the LTD AI web builder. Against my own good judgment, I decided to evaluate the builder and decided to purchase the $400 agency plan. That's when the problems started again. First they tell me they cannot add the AI subscription to my current account because their tech doesn't allow for that function. Hmmm advanced AI tech but can't get a subscription added to an account..ok. They then tell me that I need to create a new account with a different email address. So I created another account and even with the new account, the 10web platform would not let me register for new service. After an hour of chat support, their solution was to create a 3rd account using yet another email address. At this point, it is obvious their technology has major issues and bugs still and simply to new for us.
Vorteile:
Pros is that the advertising positions the platform to be advanced.
Nachteile:
Can't add additional services to your original account. They make you create a second account and when that doesn't work their suggestion is to create 3rd account. Their reasoning is that their system doesn't have the functionality as of yet.
Antonia C.
Freelance in Italien
Verifizierter Nutzer auf LinkedIn
Marketing & Werbung, Selbstständig
Verwendete die Software für: 1-5 Monate
In Betracht gezogene Alternativen:
Good choice for beginners
Kommentare: I was looking for an hosting with a simple theme builder integrated and I found almost everything. First of all I imported my actual website: procedure should be simple and fast (unfortunately something went wrong but the customer care solved the problem very quickly with me doing nothing). Importing the website caused some minor losses (ie: custom fonts) but the cool thing it's that now I'm able to edit my website with its integrated builder, based on Elementor. So I quit with the idea of a brand new website 'cause 10web let me edit this one with this modern and simple builder.
Vorteile:
It's relatively easy to use 10web, you just need to go familiar with some not so common features. Apparently its hosting service performs well and the site is loading very fast (I must say my website is very light, but my old hosting was slow!).
Nachteile:
My intention was to build a brand new website using ready templates but there are too few and they are pretty ugly. Even for a beginner with few needs as I am, I think they should add more and better ones.
Bassam A.
Web developer in Ägypten
Verifizierter Nutzer auf LinkedIn
Computer-Software, 2-10 Mitarbeiter
Verwendete die Software für: 1-5 Monate
Websites built with one click
Kommentare: Me as a web developer and every web developer have something in common ....we search for the best tools and services that can give the maximum benefits and save us time and cost, I found that 10web has many benefits that helped me a lot starting from the affordable price,  installing and managing my client sites within minutes,  automatic backup to Amazon s3 preserves my work in a safe place with no concerns of files lost, the page speed score is high and that improved my sites ranking and that means High-quality service and I think that feature one of the best features 10web provides, also sites migration from another Hosting went smoothly. I can add SEO tools, premium plugins are so great, with white labeling I can copy any site design and publish it using 10web,  the security center scans my sites 24/7 for bugs and exploits. when I need help ... the customer support team is there easy and rapid support 
10web helped me a lot with my web development career
Vorteile:
Price: 10Web has 3 different premium plans I can choose  from, and also there is 14 days trial features : 1 click automated site migration: I can Move my websites to 10Web for free with full optimization  -automatic backups: I can backup or schedule my site backup daily, weekly, or monthly  and all my Database and Files Backup are stored in cloud storage using Amazon s3 -Pagespeed: my websites with 10web page speed optimization became much faster and that made search Engines love my sites  -Customer support: 10web has an amazing team, they provide speed and quality support for the users  -Website Management with automatic backup, automatic security 24/7. my website, plugins, themes are updated automatically.  -many features like premium plugins, SEO tools, photo gallery are also provided by 10web
Nachteile:
with all features 10web provides, I have no complaint but I have some points I think  10web should look into it : -10WEb doesn't provide Email hosting at all, that important for E-mail marketing and contact center -the migration plugin needs to be updated to avoid errors - The number of websites that I can manage under one account is limited, if I want more management I must buy another hosting plan