Was ist LiveWebinar?
LiveWebinar benötigt nur einen Browser, um sofort mit Menschen zu kommunizieren. Die Plattform funktioniert auf allen Browsern und Geräten (Computern, Handys, sogar Fernsehern). Der modulare Aufbau ermöglicht eine unbegrenzte Anpassung - du kannst die Plattform-Skin bearbeiten und an deine eigenen Bedürfnisse anpassen. Nutze Funktionen wie: HD-Qualität, FB-Live-Streaming, moderierter Chat, HQ-Recorder, CTA-Option, Online-Whiteboard, Freigabe-Screening, Online-Zertifizierungstests, externes Media-Streaming und vieles mehr.
Wer verwendet LiveWebinar?
Meetings, Webinare, E-Learning, HR, Vertrieb und Marketing, Kundenbetreuung, E-Banking, Schulen, Gesundheitseinrichtungen, IT
Wo kann LiveWebinar bereitgestellt werden?
Cloud, SaaS, webbasiert, Mac (Desktop), Windows (Desktop), Linux (Desktop)
Über den Anbieter
RTCLab
Ansässig in Gdansk, Polen
2016 gegründet
Telefon-Support
Chat
LiveWebinar Kosten
Startpreis:
0,00 $
Keine kostenlose Testversion
Ja, Gratisversion verfügbar
LiveWebinar bietet eine Gratisversion, aber keine kostenlose Testversion. Die kostenpflichtige Version von LiveWebinar ist ab 0,00 $ verfügbar.
Über den Anbieter
RTCLab
Ansässig in Gdansk, Polen
2016 gegründet
Telefon-Support
Chat
LiveWebinar – Videos und Bilder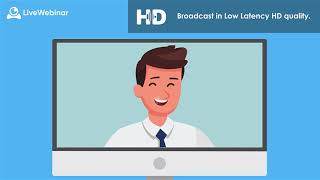 LiveWebinar Funktionen
Aktivitäts-Dashboard
Alarmfunktion / Benachrichtigungen
Angebot in sozialen Medien
Anrufaufzeichnung
Aufzeichnung
Befragungs-/Umfragemanagement
Berichterstattung / Analyse
Berichterstattung und Statistik
Bildschirm teilen
Brainstorming
Chat / Messaging
Content-Management
Desktop-/Browserfreigabe
Dokumentenmanagement
Drittanbieter-Integration
Echtzeit-Bildschirmfreigabe
Echtzeit-Chat
Elektronische Abstimmung
Engagement-Tracking
Eventplanung
Filesharing
Für kleine Unternehmen
Kundenspezifisches Branding
Live-Chat
Marken-Management
Meeting-Management
Mobiler Zugriff
Multi-Hosts
Privater Chat
Präsentations-Streaming
Q&A Management
Remote-Zugriff/-Kontrolle
Social-Media-Integration
Teilnehmer-Management
Umfragen/Abstimmungen
Veranstaltungsmanagement
Video-Chat
Videokonferenzen
Virtuelle Hintergründe
Werkzeuge zur Zusammenarbeit
Zugriffskontrollen / Berechtigungen
Zwei-Wege-Audio und -Video
Alternativen für LiveWebinar
Bewertungen über LiveWebinar
Francisco
Director de marketing digital in Mexiko
Verifizierter Nutzer auf LinkedIn
Marketing & Werbung, 11-50 Mitarbeiter
Verwendete die Software für: 6-12 Monate
Great software and the price is a steal
Kommentare: 2 friends and me wanted to create marketing courses online. One of us had this software but didnt use it that much. Since Im the tecchie guy I spent a while picking and clicking everything and when I set it up now its our only webinar platform.
Ive used zoom, gotomeeting, webinarjam, google, but this one is the best by far since it allows too much to be done and once you know what to click theres no stopping.
Since you can connect to fb live its a great plus.
Dont know if its possible or available to connect to more than one platform (for example fb, insta and youtube) at the same time.
If that is possible (dont know yet) then its a must purchase.
Vorteile:
- All the possibilities - Sharing video, image, files, everything can be shared - moderation - Control over event: you can control everything, let people interact or even let it transform into a stock market... everyone talks!! - Good qualiy of video - No record limit (only your space allocated, but nothing like zoom with 20 mins or so) - Live stream connection in 2 clicks
Nachteile:
It has a learning curve, not for begginers. Thats all I can think.
In Betracht gezogene Alternativen: WebinarJam und GoTo Meeting
Warum LiveWebinar gewählt wurde: The quality and quantity of users is better here than in zoom. And zoom gives A LOT of trouble to be used for newbies. I have had to install even teamviewer so I can help them put zoom online (the irony) With livewebinar one link and youre set
Zuvor genutzte Software: Zoom Meetings
Gründe für den Wechsel zu LiveWebinar: Gotomeeting seems oldfashioned and webinarjam seemed expensive for what it offered
Antwort von RTCLab
vor 2 Jahren
Thank you for a stellar review of LiveWebinar, Francisco! We appreciate your backing & support. To answer your question from the review, yes you may stream to other platforms at same time with the concurrent sessions feature. Contact support@livewebinar.com if you're interested and happy webinaring!
Gary John
Business Owner in Kanada
Verifizierter Nutzer auf LinkedIn
Personalbeschaffung & -besetzung, 2-10 Mitarbeiter
Verwendete die Software für: 1-5 Monate
Our Small Business depends on video meetings
Kommentare: It has helped in having a good branding experience in working with clients and with candidates. We have not pushed the boundaries of 100's on one video call yet, but so far we have had excellent video and audio quality, along with stellar support when stumped.
As more and more people we work with do work from home or remote, we can see this becoming a daily product we will use, just like email.
So overall, a great experience.
Vorteile:
Several items we enjoy most are: dedicated/assigned permanent meeting rooms. So we can set up each client with a dedicated video conference room and include their brand and our branding on it, so it feels very customize. Also we can easily assign someone to be the admin or controller of the room, or a moderator for chat responses, and just muted participants. With the push of a button, can change to small meeting video room for all to share and chat. We also like that all chats can be recorded. We do lots Interviews with technical job seekers every day, and the ability to interview and record is invaluable to share profiles/skills with clients with ease. And we can set up a private waiting room, so all who log in for meetings are waiting until I let them into the video room, which is great when running late. You can just alert people and they can wait on hold. One of my favourite features would be extensive document and screen sharing for whiteboard exercises, or for training purposes with staff in remote offices, or working from home. And this can be used for full blown webinars, including recording and replaying evergreen webinars. Recording has some limits but for our use it is more than adequate at this time. You can purchase additional recording space and higher resolution if you like. One last feature I like a lot, is all the video is rendered in your browser. I have tried on Chrome and Firefox so far and both work fine. You don't download addons like Zoom.
Nachteile:
I did have some initial challenge with understanding how the various access types worked, and how to permanently lock down waiting rooms. As I have been most used to simpler Video products like Google Hangouts, and been simply a participant in Gotowebinars, Zoom webinars and others, I had a small learning curve. But this stated, I quickly emailed Support and always had a response to resolve my issue within a few hours. Sometimes within minutes. So I felt confident someone was around to assist whenever needed.
In Betracht gezogene Alternativen: BigMarker, Zoho Meeting, Zoom Meetings, GoTo Meeting, GoTo Webinar und Google Meet
Warum LiveWebinar gewählt wurde: We needed more capabilities, larger audiences at times, and more control on branding.
Zuvor genutzte Software: BigMarker, Zoho Meeting, Zoom Meetings, GoTo Meeting, GoTo Webinar und Google Meet
Gründe für den Wechsel zu LiveWebinar: Value. For the price point and features, no one came close.
Antwort von RTCLab
vor 2 Jahren
Thank you for writing LiveWebinar a review, Gary.We appreciate the backing and support as well as you having having a great experience using our product!
Jessie
Founder in Belgien
Marketing & Werbung, Selbstständig
Verwendete die Software für: 1-5 Monate
Evergreen events don't offer flexibility I was hoping
Vorteile:
LiveWebinar offers many different features, you can record events, schedule different types of events, use it as a meeting platform, webinar platform, etc. It's a very versatile tool with many possible use cases.
Nachteile:
The main feature I was hoping to use in LiveWebinar are the Evergreen webinars for marketing purposes. It would be nice to have the option to schedule a webinar every 15 minutes at any moment of the day. This way you can entice visitors of your website to impulsively join the webinar: It's just starting now and I'm here now, let's hop in. However, it's almost impossible to make this use case happen because you have to manually schedule four meetings every hour for 8 hours. Really cumbersome...
Lucia
Freelance in Deutschland
Verlagswesen, 2-10 Mitarbeiter
Verwendete die Software für: 1-5 Monate
Organizzo incontri di coaching, meeting e tanto altro con facilità
Kommentare: Come ho indicato, uso LiveWebinar solo da poco tempo e per ora la mia esperienza complessiva è più che positiva. Lo consiglierei senza dubbio.
Vorteile:
Cercavo uno strumento per gestire gli incontri con i miei clienti, i webinar e i meeting con i colleghi e ho provato LiveWebinar. Mi trovo molto bene, c'è la possibilità di registare l'incontro e poi scaricarlo, per proporlo a chi non è riuscito a connettersi durante la live, e ultimamente hanno introdotto un metodo di pagamento, quindi la possibilità di farsi pagare per una consulenza.
Nachteile:
Avrei preferito che al posto di stripe (o meglio oltre a stripe) avessero introdotto anche PayPal come metodo di pagamento, ma magari è un'opzione che aggiungeranno in futuro. Inoltre non riesco a impostare la lingua italiana, nonostante io abbia seguito le loro istruzioni.
In Betracht gezogene Alternativen: Zoom Meetings, Zoom Video Webinars, GoTo Meeting und GoTo Webinar
Gründe für den Wechsel zu LiveWebinar: Era un tool appena lanciato sul mercato, credo, quindi ho avuto modo di acquistarlo con un lifetime deal. La relazione qualità/prezzo è ottima.
Anna
Owner in Polen
Verifizierter Nutzer auf LinkedIn
E-Learning, 2-10 Mitarbeiter
Verwendete die Software für: Mehr als 2 Jahre
Great tool, weak support
Kommentare: I simply love the tool and am big fan of it. At the same time I really wish the support team was more attentive to highlighted problems and not make clients to feel guilty for reporting them.
Vorteile:
I simply love the tool for its comprehensive offer of options. It's easy and intuitive to navigate. It has all I need for my everyday work as a consultant and e-learning specialist.
Nachteile:
The only "con" I really experience is a support approach to reported problems. I have to admit they response quickly which is great yet whatever the problem I reported the most common answers I got were simply to "clear your cookies", "it must have been your Internet", and "we did not have any other reports on the matter".
In Betracht gezogene Alternativen: Zoom Meetings, WebinarJam und ClickMeeting
Warum LiveWebinar gewählt wurde: Originally the tool was a part of a marketing solution I bought.
Gründe für den Wechsel zu LiveWebinar: I fell in love with this one. It meets all my needs.