Was ist Restream?
Restream ist die beliebteste Plattform für Gamer, Ersteller*innen von Inhalten, Manager*innen sozialer Communitys, Trainer*innen und Blogger*innen, um Live-Streams auf mehrere Plattformen gleichzeitig zu übertragen. Diese Lösung hat eine Community von über 1 Million Streamern, die Restream verwenden, um gleichzeitig auf Facebook, YouTube, Periscope, Twitch und über 30 anderen Plattformen live zu streamen.
Wer verwendet Restream?
Die Lösung bearbeitet jedes Jahr Millionen von Broadcasts für eine Vielzahl von Marken, von Hardware-Unternehmen bis hin zu Spieleverlagen und Influencern aus der ganzen Welt. – Gaming – Unterhaltung – KMUs und Unternehmen
Restream – Details
Restream
2015 gegründet
Restream – Details
Restream
2015 gegründet
Restream – Videos und Bilder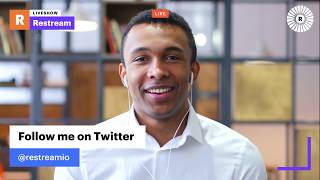 Kosten ähnlicher Produkte wie Restream vergleichen
Startpreis
19,00 $/Monat
14,99 $/Monat
5,00 $/Monat
N/A
Restream – Bereitstellung und Support
Kundenbetreuung
E-Mail/Helpdesk
FAQ/Forum
Wissensdatenbank
Telefon-Support
24/7 Live-Support
Funktionen von Restream
API
Aktivitäts-Dashboard
Aufzeichnung bei Bedarf
Berichterstattung und Statistik
Chat / Messaging
Content-Management
Drag-and-Drop
Drittanbieter-Integration
Echtzeit-Analytik
Echtzeit-Daten
Echtzeit-Übertragung
Engagement-Tracking
Eventplanung
Geteilter Bildschirm / Multi-Screen
Interaktion mit Zielgruppen
Kommunikationsmanagement
Konferenzschaltungen
Kundenspezifisches Branding
Leistungsüberwachung
Live-Chat
Livestream-Produktion
Meeting-Management
Mehrere Kamera-Feeds
Mobiler Zugriff
Moderation
Multi-Channel-Vertrieb
Multimedia-Unterstützung
Multistreaming
Präsentations-Streaming
Publikumsanalysen
Sitzungsaufzeichnung
Social-Media-Integration
Social-Media-Streaming
Terminplanung
Umfragen & Feedback
Veranstaltungsmanagement
Video-Management
Video-Monetisierungstools
Video-Streaming
Video-Unterstützung
Videoanruf-Aufzeichnung
Videobearbeitung
Videokonferenzen
Visuelle Analytik
Webcasts bei Bedarf
Wechselseitige Audio & Video
Werkzeuge zur Zusammenarbeit
Zugriffskontrollen / Berechtigungen
interaktive Inhalte
Überwachung
API
Aktivitäts-Dashboard
Alarmfunktion / Benachrichtigungen
Angebot in sozialen Medien
Anpassbare Vorlagen
Berichterstattung / Analyse
Berichterstattung und Statistik
Bildbibliothek
Bildschirmaufnahme
Content-Management
Datei-Verwaltung
Drag-and-Drop
Drittanbieter-Integration
Echtzeit-Analytik
Einmalige Anmeldung
Engagement-Tracking
Etikettierung
Etikettierung
Filtern
Inhalt-Bibliothek
Kommentare / Notizen
Kommunikationsmanagement
Kundenspezifisches Branding
Live-Streaming
Markenüberlagerung
Massen-Upload
Mehrfache Format-Unterstützung
Metadata-Management
Mobile Bildschirmunterstützung
Multi-Channel-Vertrieb
Multichannel-Marketing
Multimedia-Unterstützung
Privatsphäre-Einstellungen
Präsentations-Streaming
SSL-Sicherheit
Schnelle Kreation
Social-Media-Integration
Suche innerhalb des Videos
Suchen / filtern
Teilen in sozialen Medien
Untertitel
Versionskontrolle
Video-Looping
Video-Management
Video-Streaming
Video-Tagging
Video-Unterstützung
Videoarchivierung
Videobearbeitung
Videoerstellung
Visuelle Analytik
Vorlagen-Management
Website-Analytik
Werkzeuge zur Zusammenarbeit
Workflow-Management
Zugriffskontrollen / Berechtigungen
API
Aktivitäts-Dashboard
Alarmfunktion / Benachrichtigungen
Angebot in sozialen Medien
Anpassbare Vorlagen
Anrufaufzeichnung
Aufzeichnung bei Bedarf
Befragungs-/Umfragemanagement
Benutzer-Management
Berichterstattung / Analyse
Berichterstattung und Statistik
Bildschirm teilen
CRM
Chat / Messaging
Content-Management
Dateitransfer
Dokumentenspeicher
Drittanbieter-Integration
E-Mail Erinnerungen
Echtzeit-Daten
Elektronische Abstimmung
Engagement-Tracking
Erinnerungen
Eventplanung
Filesharing
Kalenderverwaltung
Konferenzschaltungen
Kontaktmanagement
Kundenspezifisches Branding
Live-Chat
Meeting-Management
Mobiler Zugriff
Multi-Hosts
Präsentations-Streaming
Q&A Management
Registrierungs-Management
Social-Media-Integration
Terminplanung
Umfragen & Feedback
Umfragen/Abstimmungen
Veranstaltungsmanagement
Video-Management
Video-Streaming
Video-Unterstützung
Videoanruf-Aufzeichnung
Videokonferenzen
Vorlagen-Management
Webinars bei Bedarf
Wechselseitige Audio & Video
Whiteboard
Daniel H.
CEO in Bulgarien
Verifizierter Nutzer auf LinkedIn
Bildungsmanagement, 2-10 Mitarbeiter
Verwendete die Software für: Mehr als 1 Jahr
In Betracht gezogene Alternativen:
Intuitive Live Streaming Platform
Kommentare: Overall I really like Restream and their customer support when talking to the right people is very good. They could do with being more on the ball with what their competitors offer as I think they were ahead of the game initially but are missing features that others are now offering which makes them not the leader like they think they are. This comes across a little in their customer support at times.
Vorteile:
1. The Livestudio system they offer is a very simple yet feature rich system to be able to do live and recorded videos. It also allows you to stream prerecorded videos as part of a live stream. 2. The Scheduling system to stream pre-recorded videos is great to ensure mitigate any risks in your own internet going down during important video streams.
Nachteile:
1. The quality of the livestream video is very dependent on your own bandwidth so even if using it for making a recorded video, the quality is not as good as it could be, so it can't be used to make quality offline videos, which it should be able to. I dont like that the local videos you upload to stream live actually still come from your own machine and not from their server even though it has been uploaded, this means that you are still limited by your own bandwidth. Competitors get round this by allowing any uploaded videos more than a few hours old to stream from their servers. 2. They have a limited time of 10 minutes before you can schedule a video which is not competitive as competitors such as Castr offer a 1 minute scheduling. This is important for when you need to schedule an emergency video
Jonathan B.
Level designer Sr in Kanada
Computerspiele, 201-500 Mitarbeiter
Verwendete die Software für: Mehr als 1 Jahr
Free multi platform streaming solution
Kommentare: As a free service to multi streaming, I would say that Restream does the job just fine. It's not the best service out there but if like me, you don't have the budget to invest another 10$ a month for a multi streaming option, then Restream is the way to go. Also note that they have one of a kind, very rare technical service. I honestly haven't seen a chat support that helpful elsewhere. Restream might not be the best option but their technical service sure compensate for that downside!
Vorteile:
- Allows you to stream to most known platforms at the same time, free of charge - Great Recap/report of your latest stream through email - Top of the chart technical support - Relatively easy to set up through OBS and well known streaming platforms like Twitch and Mixer
Nachteile:
- Depending on where you are, unstable internet connexion to their servers, causing drop frames and lost packages (might need a specific tool that can't be found on their website) - Some streaming platform access might get blocked once in a while... - No facebook Public page stream with the free version - Chat bot can be a mess sometimes and stop working randomly. Never found out how to log out of the Restream chat application. - Very hard to configure with Facebook public pages and Youtube gaming.
Marcius R.
Entrepreneur in Rumänien
Verifizierter Nutzer auf LinkedIn
Marketing & Werbung, Selbstständig
Verwendete die Software für: Mehr als 1 Jahr
Everything you need in a great tool, but expensive!
Kommentare: Restream is great and has plenty of features, almost everything you would need, but the catch is that all these wonderful features have steep limits on them, unless you're willing to pay more. It all depends if live streaming is a direct money maker for you to justify the extra costs to unlock extra features. But in my opinion, there are other tools out there which can offer you better limits for a lower dollar cost, but maybe a cost in lack of features. So you would have to weight the pros and cons of these tools to see what is the best fit for you. Restream is great and probably the most popular tool out there for multi-live streaming. The only reason I gave it 3 stars is because of the limits that are only unlocked at an expensive price. Otherwise this could be a 4 or 5 star tool. I had to weigh the fact that it does have great features, but those are locked behind a high pay-wall. If money is no object, and you need to fully unlock all of it's features, then look no further than Restream, since probably has everything you'll ever need. You also have great support and even live chat for quick support. So you know they are a serious company.
Vorteile:
Great interface with many features. Compatible with Zoom, OBS, XSplit, although I mostly use OBS or the pre-recorded videos with the scheduler. I think it's one of the most popular tools of this type in the field and it has almost everything you need. Even the Free plan is pretty generous, but there are limits to their features. It's great that it also has the option to stream to Facebook Groups, not just Facebook Pages, if you're into Facebook Group marketing. Another big advantage is that they have no bitrate limit. Many other platforms of this type have bitrate limits which lower the quality of the video. Great support as well.
Nachteile:
Scheduler only max 1 hour on their pro plan. They get very expensive if you want to stream more with scheduler. Which is what made me look for alternatives in the first place. Their limits are making me claustrophobic, and it's not like this streaming is a direct money maker for me, to justify the costs of getting higher plans. They have limits on everything - storage, length, platform numbers, simultaneous lives, even for the platform chat messages delivery time received. To get most of the features you need the Pro plan, but even then, you get limits on them. If you just get the standard plan, you'll get a watermark with their branding on all your streams. More than that, they also add the words "Multistreaming with Restream" in every description of your live videos, so you would need to be logged in and edit it out if you want that removed - some have claimed that this impacts their reach since it triggers algorithms to not advertise the live stream since they know it's from restream. Another thing - while they don't have any bitrate limit, they do have resolution limit, so you need the Pro plan for Full HD.
Eirik S.
Product and Program Lead in USA
Verifizierter Nutzer auf LinkedIn
E-Learning, 2-10 Mitarbeiter
Verwendete die Software für: 1-5 Monate
In Betracht gezogene Alternativen:
Streaming Service That Gets The Job Done
Kommentare: To start out our community streaming this was a great product. There are a lot of competitors out there with varying strengths and niche focuses. I would recommend ranking the feature set you are looking at before purchasing a streaming service. This would make the purchase process much easier.
Vorteile:
- You can quickly enter the streaming room after a Stream is created. - Restream made connecting to LinkedIn and YouTube reasonably easy. - Restream seems to have an excellent Discord integration, but it's not something we used.
Nachteile:
- While we were using the product, it was a pain to set up the stream. You would have to go to YouTube and schedule a live streaming event. Then come back to Restream to connect the scheduled event to a Restream based streaming event. The process was relatively unintuitive. - To my knowledge, after using the service for four months. There is no way to invite multiple people onto your stream. It's just you. - Very limited customizability on the display of YouTube comments during a stream. This feature is something Streamyard does VERY well (we switched to them because of this).
Antwort von Restream
vor 4 Monaten
Hello Eirik, Thank you for the review! We wanted to offer some solutions if you're going to try our service again in the future. Using Restream Events, you can post an upcoming event on YouTube (also Facebook and Linkedin) directly on our website. Restream Events provides options to create the event, add a thumbnail, and go live all in one place. Here is a guide for next time: https://support.restream.io/en/articles/4364026-getting-started-with-restream-events The Restream Studio also offers the Guest URL, which can invite people to go live with you. You can have up to 10 people creating content simultaneously with you right in the Studio. Here is a guide for the future: https://support.restream.io/en/articles/3998533-restream-studio-guests We greatly appreciate your feedback about the customization options you are looking for with the Comments from the connected channels. We will take your feedback and use it to improve in meaningful ways. Best, Victor
Cory M.
Photographer/Technical Support Engineer in USA
Religiöse Einrichtungen, 2-10 Mitarbeiter
Verwendete die Software für: 6-12 Monate
In Betracht gezogene Alternativen:
Multistreaming Becomes a Breeze
Kommentare: Restream made it that much easier to get our multiple weekly livestreams out onto social media and streaming platforms. We're grateful for the capabilities of the software and how smoothly things go with Restream.
Vorteile:
Restream really makes streaming that much easier for the user. This program allows you to broadcast a livestreamed event simultaneously to multiple platforms via their platform. This makes it possible to reach a much wider audience through the use of multiple livestream platforms. Restream has excellent integration capabilities with other broadcast software (our preference) or allows users to stream via the Restream Studio website. Interactions with viewers can be managed through the Restream comments tab. Setting up streams, switching streams, and publishing streams is truly a breeze. The experience is worth the money and makes our streaming setup much less work.
Nachteile:
There are still a few kinks that need to be worked out in continuity. For instance, updating the names of your livestreams on the Restream Studio website does not always update the stream names in other places where Restream is used (broadcast software, for instance). Regardless, this does not severely limit the usability of the program and is a minor con.