Was ist Linguix?
If you've ever sent an email with a typo to an important client or your boss, youre not alone (Sorry for the incontinence).
Writing great emails, articles, and social media posts is tough enough, and you dont want to go viral for bad grammar or embarrassing typos.
Give your writing the boost it needs with an AI-based writing assistant that isnt an animated paper clip.
Sign up and schedule a demo today.
Wer verwendet Linguix?
Professionals and businesses that want to make sure they're reaching the right audience with the right message!
Wo kann Linguix bereitgestellt werden?
Cloud, SaaS, webbasiert, Mac (Desktop), Windows (Desktop), Android (mobil), iPhone (mobil), iPad (mobil)
Über den Anbieter
Textly
2018 gegründet
Chat
Erhältlich in diesen Ländern
Vereinigte Staaten
Über den Anbieter
Textly
2018 gegründet
Chat
Erhältlich in diesen Ländern
Vereinigte Staaten
Linguix – Videos und Bilder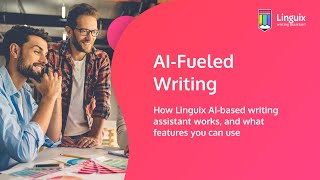 Kosten ähnlicher Produkte wie Linguix vergleichen
Linguix Funktionen
Berichterstattung / Analyse
Drittanbieter-Integration
Grammatikprüfung
Rechtschreibprüfung
Stilprüfung
Textbearbeitung
Textprüfung
Warnungen zu Problembereichen
Govind R.
CEO & Founder in Nepal
Verifizierter Nutzer auf LinkedIn
Computer-Software, 2-10 Mitarbeiter
Verwendete die Software für: 6-12 Monate
Grammar alternative but has a lot of catching to do.
Kommentare: My team members and I are using Linguix. We have Grammarly Premium too. It will be unfair to compare the two which often as end buyers we do.
Vorteile:
Linguix has a lot of cool features. The speed of suggestion is awesome. The UI is good, but yeah, some minor improvement can make a huge difference. The snippet feature of Linguix is what I like the most. It saves a lot of time. The template is a nice add-on. I am looking forward to increasing more of those templates. Another thing I like is the secret mode. Right now, IMO, it is going in the right direction and is going to give a strong competition to Grammarly. I
Nachteile:
Hate that it doesn't have a plagiarism check. I hope it is able to add that feature asap.
Divaksh J.
CEO in Indien
Verifizierter Nutzer auf LinkedIn
Informationstechnologie & -dienste, 2-10 Mitarbeiter
Verwendete die Software für: 1-5 Monate
Writing assistant that not only focuses on writing enhancement but also productivity.
Kommentare: We use Linguix on daily basis, the most used feature in our case is grammar correction and snippets.
Vorteile:
1. Speed: Speed of suggestion is amazing, faster than Grammarly. 2. Snippets: this one is my favourite feature. I often have to do repeated texts to my clients and team members. Before Linguix I'll have to paste it from the Windows Clipboard or the sticky notes but now getting them right into my text editor is just a shortcut away. 3. Secret Mode: We often share our account/computer with our friends and family, if you use the secret mode you won't have to be worried about anything that is auto saved and left in your account. 4. Beautiful UI and choice of colours, colours are energetic and eye catching. Overall, I find UX amazing. No matter what I see Synonyms, Style, Statistics all are easy on the eye. Dashboards are beautiful and informative; they give writing insights about everything that makes you feel confident. 5. Templates: IMHO this feature alone is worth the price, I often search for email templates, and read them all and design one for each occasion and it consumes a lot of time. Linguix comes here for the rescue with their cool templates feature, you can use and customize existing templates or create your own that can be inserted anytime right from the Linguix. 6. In my knowledge, I think Linguix is the only writing assistant that not only focuses on writing but also your writing productivity and who doesn't like productivity tools for their team?
Nachteile:
1. Not as good as Grammarly but again it is not a fair comparison (I strongly believe if they got the right audience with the right feedback and our support, one fine day they may become better than Grammarly). 2. No plagiarism checker, but I saw in the roadmap that they have planned it for November. (Fingers Crossed) 3. No markups in their document editor, this is something I feel is very important. Please consider adding it. 4. Does not work with sites using iframes. 5. No desktop application & outlook integration as of now but I can see it in their public roadmap.
Samuel O.
Freelancer in Nigeria
Grafikdesign, Selbstständig
Verwendete die Software für: 1-5 Monate
It didn't live up to my expectations
Kommentare: The process has been painful but the results have been beneficial. It has not really surpassed what I'm currently using though. The app still needs some fine-tuning.
Vorteile:
One of the most prominent features is the snippet feature. It eliminates many needless repetitive headlines or sentences that I find myself repeating over and over again. There was a good resemblance between Grammarly and Linguix User interface, so I felt right at home. The content template was a pleasant surprise and quite handy whenever I ran out of what to type in my emails.
Nachteile:
The app is still in its infancy. It sometimes omits a lot of spelling and grammar errors. I don't feel it's ready to share the big stage with Grammarly just yet. There are a lot of bugs and glitches that plague the app. It would be nice if the guys behind the program could come up with their own unique user interface rather than look like a competitor.
Matthew J.
Owner in USA
Verifizierter Nutzer auf LinkedIn
Marketing & Werbung, Selbstständig
Verwendete die Software für: 6-12 Monate
The Grammarly Alternative You've Been Waiting For
Kommentare: If you don't want to shell out for Grammarly and want a more affordable solution, you should still strongly consider Linguix. It's very solid overall, and for most use cases, it's going to perform exactly how you expect it. It's great for non-native speakers to catch corrections as well. I feel as though there are still some nuances of languages that natives either use or detect a bit better than the software right now, but especially for those who are speaking in their second, third, or fourth language, then you can rely on Linguix to support you.
Vorteile:
Easy to deploy - it's as simple as installing a browser extension and you're good to go! Secret Mode - for those who are working on 'sensitive' material and don't want it on any servers for checking, opening it up for possible leaks, you can do so safely using Linguix's Secret Mode in their back-end. Once you're done, the work is deleted permanently. Snippets - do you use the same phrases over and over again, but only make minor updates each time? You can create snippets to use a simple shortcut to generate your phrase or content quickly and easily. The extension and service have a very clean UI, very similar to Grammarly, so if you're transitioning over, you'll feel pretty comfortable in this new environment.
Nachteile:
As of yet, no desktop app. Competitors like "Pro Writing Aid" have one and it integrates with things like Microsoft Word and Outlook so that while you're working and sending professional communication, you are remaining consistent. I know they're working on this, so it's a matter of time, but as of right now, it's lacking. The other thing is that the suggestions/recommendations aren't always rich or in-depth enough, and sometimes miss those very minor details you wish it had caught. When comparing the same phrase containing errors against Grammarly, Pro Writing Aid and Linguix, Linguix came in 3rd in this area. They've been improving their algorithm and things have improved, and I know they are heavily focusing on their 'core' to ensure that it's more accurate and robust over time.
Tim S.
Compiler in Kanada
Verifizierter Nutzer auf LinkedIn
Forschung, Selbstständig
Verwendete die Software für: 6-12 Monate
Linguix solved my WhiteSmoke problems!
Kommentare: Linguix just works 24/7 helping me to quickly correct my grammar and spelling. It has made the quality of my writing much improved and professional.
Vorteile:
I like that it is a Lifetime plan and works well in Google Chrome. The software has been getting better with time, the company seems focused on improvements. I don't think I will ever be asked to upgrade again! The software just works.
Nachteile:
I wish that there was a plugin for Mellel word processor or MS Word for the Mac, but it's fairly quick to just copy and paste a page of text into the Linguix document section on Chrome.
Antwort von Textly
vor 2 Jahren
Hello! Thanks for the honest review!