Was ist EventTitans?
Der Anbieter ist ein leidenschaftlicher Event-Liebhaber und sein Hauptaugenmerk liegt darauf, Menschen für deine Veranstaltungen zu begeistern. Die Eventplattform verfügt über exklusive, leistungsstarke Funktionen wie Sprecher- und Sponsoren-Onboarding, Gäste-Check-in, Event-Website-Builder, Ticketing und Registrierung, Sitzungsmanagement, Event-Analyse, Verwaltung von Anbieterangeboten, Networking- und mobile App, Nutzerbelohnungsprogramm, Hotelbuchungen, Badge-Druck, Durchführung von Umfragen und Trivia-Fragen, Live-QA, Abstimmungen, eingebautes CRM, Marketingplattformen und vieles mehr.
Wer verwendet EventTitans?
EventTitans dient verschiedenen Industrien wie Kunst und Unterhaltung, Preisverleihungen, Geschäftsmeetings, Konferenzleitern und Gala-Dinner-Besuchern.
Wo kann EventTitans bereitgestellt werden?
Cloud, SaaS, webbasiert, Android (mobil), iPhone (mobil), iPad (mobil)
Über den Anbieter
EventTitans
Ansässig in Atlanta, USA
2017 gegründet
Telefon-Support
24/7 Live-Support
Chat
Erhältlich in diesen Ländern
Australien, Kanada, Russland, Vereinigte Staaten, Vereinigtes Königreich
Über den Anbieter
EventTitans
Ansässig in Atlanta, USA
2017 gegründet
Telefon-Support
24/7 Live-Support
Chat
Erhältlich in diesen Ländern
Australien, Kanada, Russland, Vereinigte Staaten, Vereinigtes Königreich
EventTitans – Videos und Bilder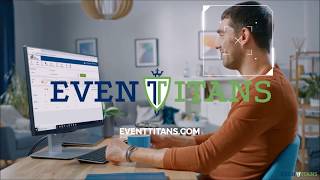 Kosten ähnlicher Produkte wie EventTitans vergleichen
EventTitans Funktionen
API
Abzeichen-Management
Agenda verwalten
Aktivitäts-Dashboard
Alarmfunktion / Benachrichtigungen
Angebot in sozialen Medien
Angebotsmanagement
Anpassbare Berichte
Aussteller- / Lieferanten-Management
Barcode / Tickets scannen
Befragungs-/Umfragemanagement
Berichterstattung / Analyse
Berichterstattung und Statistik
Bestenlisten
Bestätigung / Erinnerungen
Besucherregistrierung
Bonus-Verwaltung
Budgetierung/Prognosen
Drag-and-Drop
Drittanbieter-Integration
E-Mail Marketing
Echtzeit-Aktualisierungen
Echtzeit-Chat
Event-Ticketing
Eventplanung
Feedback-Management
Gruppenanmeldung
Kalenderverwaltung
Kartenverkauf
Kommunikationsmanagement
Kontaktmanagement
Kundendatenverwaltung
Kundenspezifisches Branding
Lead-Generierung
Leistungskennzahlen
Live-Streaming
Marketing-Automatisierung
Mobiler Check-in
Mobiler Zugriff
Networking
Online-Anmeldung
Online-Zahlungen
Persönliche Nachrichten
Rednerprofile
Registrierung vor Ort
Registrierungs-Management
Reservierungs-Management
Social-Media-Integration
Teilnehmer-Management
Teilnehmer-Tracking
Teilnehmerprofile
Ticket-Reservierungen
Veranstaltungskalender
Veranstaltungsmanagement
Veranstaltungspläne
Verkaufspunkt POS
Website-Management
Werkzeuge zur Zusammenarbeit
Wettbewerbs-Management
Zahlungsabwicklung
Zielsetzung / Nachverfolgung
Alternativen für EventTitans
Bewertungen über EventTitans
Paawan S.
Managing Director in Indien
Verifizierter Nutzer auf LinkedIn
Marketing & Werbung, 11-50 Mitarbeiter
Verwendete die Software für: 1-5 Monate
Best in Email and website templates
Kommentare: I think this
platform simplifies the process of building a hybrid event. All in all, a
super-duper platform and I would highly recommend ET to everyone.
Vorteile:
ET's website and email templates are very user-friendly and visually attractive. It makes the creation of great looking websites and emails extremely easy on this platform. It also allows for integration with other tools like HubSpot and CrowdCompass.
Nachteile:
There can't be any cons in a highly integrated platform such as this. I found it to be really streamlined and flawless.
Melissa F.
Marketing & Training Development in USA
Versicherung, 11-50 Mitarbeiter
Verwendete die Software für: 1-5 Monate
Great customer service and value
Kommentare: We usually have our conference in person but due to Covid we had to go virtual and EventTitans was a great platform to create an experience as close to our in person event as we could. Overall it was a great value for the level of customization and features they offer and the customer service and responsiveness was fantastic.
Vorteile:
The price point for this product was fantastic compared to similar platforms and also included the ability to customize it to our needs way beyond just changing colors and logos. They incorporated items that involved their development team to build custom for us. The EventTitans teams was always available for any issue or requests we had. We had many comments from our conference attendees on how it felt like a real conference with the virtual lobby, exhibit hall and sessions. Since it integrated with Zoom, which is a platform we use daily, it made the live sessions pretty easy for us to maneuver. This also helped us with some trouble shooting during the conference as some corporate computers were blocking the site from showing the session so we were able to give them a direct link to the Zoom session instead. We were also impressed with the detailed reporting post conference.
Nachteile:
Some of the behind the scenes administrative/build functions were not as intuitive as I had hoped but I was able to become fairly proficient with it with the help of the EventTitans team. They were always willing to walk me though anything I was unable to figure out. I think some documentation and guides would be very helpful.
Ryan T.
Managing Director in USA
Tierarzt, Selbstständig
Verwendete die Software für: 1-5 Monate
Not focused on the Exhibitor at all...
Kommentare: Overall, I think your online virtual conferences are "middle of the road". I have participated in events on other platforms that offered less ability to prepare the booth with materials but were better at connecting you with attendees through a virtual calendar where they could request a video call at a later time in the day. I have also been on platforms that offered more interactivity, even allowing you show yourself on webcam when attendees first entered the booth so they knew you were present and ready to answer questions. Overall, the platform was stable but didn't seem very well thought out for the exhibitors/sponsors. I understand that your main focus is the attendee and their lecture viewing experience, but considering we as sponsors pay the bills it is rather disappointing how little you worked on features to provide benefits to us.
Vorteile:
The chat features were useful to interact with people who came by the booth. However, you have to reload the page every minute or so to see who has visited, it did not update on its own very quickly. Perhaps once every 5-7 minutes, which is enough time for the visitor to leave before you can engage them. I liked that you can upload "handouts" and videos alike, that definitely helped the booth feel more robust.
Nachteile:
The rating system doesn't require a visitor to interact with the materials or the exhibitor at all before leaving a review. In fact, we had someone stop by the night before the event took place and leave a 3-star review without having watched any videos, downloaded any handouts, or trying to chat with the rep who was manning the booth during the set the exhibit hall hours. It gave us a negative review before the event even began. We also noticed in our second event we couldn't actively reach out to visitors via chat. They had to open the chat from their end. When I viewed our booth activity and clicked on the attendee name nothing happened which I found odd because in the first event and last event we participated in we could click their name and proactively start a chat with them.
Heather W.
Director, Member Relations in USA
Tierarzt, 10.000+ Mitarbeiter
Verwendete die Software für: 1-5 Monate
EventTitans - Up and coming, lots of potential, great value!
Kommentare: Great group of people to work. Extremely tentative and professional. Questions/issues were answered in a timely fashion. Great price for the platform compared to others out there. Would definitely recommend ET.
Vorteile:
When I was looking for a platform to host our virtual conferences it was really important for the platform to feel like you were at an in-person event. ET did that for us. What I liked most about the ET platform is the look of the virtual lobby and most especially the look and functionality of the virtual exhibit vendor booths. I also was looking for a platform that could support gamification and EventTitans did just that. We were able to have our attendees engage with the platform and connect with our vendor sponsors by offering up "tickets" for completing certain tasks within the event.
Nachteile:
There were some minor hiccups along the way with the uploading of some documents in the vendor booth and attendees not receiving their invites to access the venue but all of these minor issues were handled pretty immediately. I didn't expect there not to be some hiccups.
Antwort von EventTitans
letztes Jahr
Thanks much for your feedback Heather. Appreciate it.
Linda B.
Music Director in USA
Musik, 2-10 Mitarbeiter
Verwendete die Software für: 1-5 Monate
Excellent choice for non-profit fundraisers
Kommentare: This site is very easy to use. I say that as a customer and administrator. When I had a problem they were there for me almost immediately--and I didn't have to jump through gatekeeper hoops to get them to help. All I did was shoot them an email and the problem was solved within a couple hours. On a weekend! I also ordered product to test it out and it was surprised by how easy it was to shop and order. Simple and easy. Thank you, EventTitans!
Vorteile:
Easy to set up and use. EventTitans contacted Stripe for me and got it connected. They got my fundraiser event organized and the page designed, and made a dashboard that I could understand and quickly. They get it--we don't have time to learn a lot of fancy stuff because we're busy running our non-profits.
Nachteile:
I didn't quite get that I could shop for all coffee choices off the one SHOP button, but that one was on me. I wish I could change our photos as we get new ones, or maybe add some quotes about the organization.
Antwort von EventTitans
vor 2 Jahren
Thanks a bunch Linda for your kind review. Appreciate it.