Das könnte dich auch interessieren:
Wer verwendet Outlook4Gmail?
Microsoft Office/Outlook & Google ist für die Benutzer bestimmt. Angenehmes und flexibles Werkzeug für die Synchronisation der Kontakte, Aufgaben und Termine.
Was ist Outlook4Gmail?
Outlook4Gmail ist ein Outlook-Add-in, das Ihnen hilft, die Google-Kalender und auch die Kontakte und Aufgaben mit Outlook zu synchronisieren. Es synchronisiert Google-Kalender und -Konten mit Outlook. Die Einstellungen stellen die Möglichkeiten der Überprüfung der Duplikate, der Ausscheidung und automatischer Datensicheringung zur Verfügung.
Outlook4Gmail – Details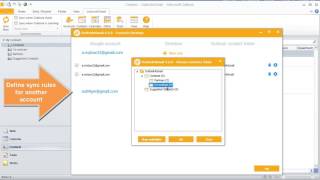 Play
Outlook4Gmail mit ähnlichen Produkten vergleichen
Startpreis
29,98 $/einmalig
Nicht verfügbar
10,00 $/Monat
12,50 $/Monat
Outlook4Gmail – Bereitstellung und Support
Outlook4Gmail Funktionen
API
Aktivitäts-Dashboard
Aktivitäts-Verfolgung
Alarmfunktion / Benachrichtigungen
Anpassbare Berichte
Anpassbare Felder
Anpassbare Vorlagen
Aufgabenmanagement
Berichterstattung und Statistik
CRM
Chancenmanagement
Daten-Import / -Export
Datensynchronisation
Dokumentenspeicher
Drag-and-Drop
Drittanbieter-Integration
E-Mail Marketing
E-Mail-Management
E-Mail-Tracking
E-Mail-Vorlagen
Erinnerungen
Etikettierung
Gemeinsame Kontakte
Kalender-/Erinnerungssystem
Kalender-Synchronisierung
Kalenderverwaltung
Kampagnenmanagement
Kontakt-Datenbank
Kontaktmanagement
Kundendatenbank
Lead-Distribution
Lead-Erfassung
Lead-Pflege
Leadmanagement
Pipeline-Berichte
Pipeline-Management
Planungs-Tools
Rollen-basierte Genehmigung
Sales-Pipeline-Management
Segmentierung
Social-Media-Integration
Stapelverarbeitung
Suchen / filtern
Verfolgung von Interaktionen
Verkaufsberichte
Verkaufsprognose
Vorlagen-Management
Werkzeuge zur Zusammenarbeit
Workflow-Management
Jason N.
Intelligence SME in USA
Verifizierter Nutzer auf LinkedIn
Buchhaltung, 11-50 Mitarbeiter
Used the Software for: Mehr als 1 Jahr
Super Cool Integration
Comments: Integration is always an issue, especially when outlook is preferred communication and gmail is preferred client. This solves that problem.
Pros:
This software is fairly straight forward. The main thing you want from software like this is for it to work without your thinking much about it. I particularly like that this software is very simple and works as described in syncing these two clients.
Cons:
The free version comes with very few of the features of the paid version. This is fairly typical but it turns off users who might want to dabble with it for a year before deciding to become more of a "power" user.
Scand Response
vor 2 Jahren
Hi, Jason! Thank you for review and for staying with us! Please feel free to drop us a line at outlook4gmail@scand.com if you have any ideas on how make our product better or you'd like to see any new features.
Albert H.
Deputy Chief Investment Officer in USA
Verifizierter Nutzer auf LinkedIn
Finanzdienstleistungen, 2-10 Mitarbeiter
Used the Software for: Mehr als 2 Jahre
Unique Software For A Very Needed Function
Comments: Outlook4Gmail is an essential add on that I use multiple times a day as my calendar is constantly changing during the day and I need updates performed on the fly. The few times I've had to reinstall the software and needed the license code again were taken care of quickly and easily with customer service. I am highly impressed and recommend it to anyone who needs this very much needed, basic functionality
Pros:
When I went looking for software to allow updates between Outlook and Gmail, nothing affordable with full functionality could be found. Everything was too expensive, too klunky, or did too little. Outlook4Gmail fit the bill perfectly. I wanted to only update my contacts and calendars and this software fit my needs perfectly and at an extremely affordable price. I am a user for life.
Cons:
The initial setup is a little klunky. Getting the contacts and calendars rules set up is not as intuitive as it could be but because I have technical knowledge I figured it out. If you aren't as familiar with add ons this could be a little problematic.
Scand Response
vor 3 Jahren
Hello, Albert! We can't even find the right words to thank you for your review! Please contact us in case we could help you in the future or there're some ideas for improvement. Perhaps you need new features to make O4G even more useful and smart?
Verifizierter Rezensent
Senior manager in Indien
Verifizierter Nutzer auf LinkedIn
Internet, 201-500 Mitarbeiter
Used the Software for: Mehr als 2 Jahre
Outlook4Gmail for mailing process
Comments: Using this for mailing purpose in order to share big files video and other contains on mail
Setting reminder for meetings it's best for contact syncing.
Pros:
This I am using since last many years it's best mailing add on for gmail contacts synchronisation. Best to set reminders on perticular task bybjust setting mail reminder. If on leave gives auto mail in the form of auto response. Best for file sharing
Cons:
Nothing found to dislike in the since last many years used best features and functions
William V.
Program Manager in USA
Verifizierter Nutzer auf LinkedIn
Informationstechnologie & -dienste, 51-200 Mitarbeiter
Used the Software for: Mehr als 2 Jahre
It's OK
Comments: I have used Outlook my whole career. I have never had to use Gmail prior to my current position. I am not a fan of Gmail. Prior to Gmail, I never had a problem integrating my work information with my phone. That said, Outlook4Gmail is the best option I could find to get me most of the way there. I have been using it for years and, at this time, have no plans to stop.
Pros:
It's by far the best option to merge Outlook and Gmail that I could find. But it's not seamless and my experience has been fluky. That said, some of that could be attributed to the way my company has set up Gmail and my own shortcomings. I've tried other options and this one still seems to work the best.
Cons:
I haven't found a lot of online help. Sometimes when I add info to my calendar or contacts, it doesn't seem to migrate to the Gmail calendar, and the integration with my iPhone is not good at all. But I don't know if that's a product of Gmail or my phone...or again, my own understanding of the setup.
Scand Response
vor 3 Jahren
Hello, William! Thanks for your response! Yes, you're right: some administrative rules prevent O4M from doing its job right. Please contact us any time convenient for you so we could help you personally with that issue ¿ we're sure it's a minor technical problem.
Verifizierter Rezensent
General Manager in USA
Verifizierter Nutzer auf LinkedIn
Finanzdienstleistungen, 2-10 Mitarbeiter
Used the Software for: Mehr als 2 Jahre
The best of both worlds
Comments: If you are used to work with Outlook but want to take advantage of other collabroation tools that Gmail has to offer, look no more to integrate the two.
Pros:
Since I remember for my work email, I always used Outlook. It gave me a sense of extra organization with my emails and daily taks. I like the fact that you can customize the view in a simpler and cleaner way. Also, the calendar, which is definitely my favorite feature, offers you many options to customize your activities and priorities as needed. In my current job we use GSuite and even though is very easy to use I was still missing my "extra organization" that outlook had. I am glad I found a way to integrate the two with Outlook4gmail. I like the fact that they can get in sync easily and effectively, giving me the best of both worlds.
Cons:
Given the fact that I work directly on Outlook4Gmail I have definitely noticed that sometimes both sending and receiving emails take longer that if I go directly to my Gmail. Sometimes even like 10 min, but other than that I can definitely don't see myself using the google format instead of Outlook at work.