Was ist Raydiant?
Raydiant macht es für jedes Unternehmen einfach und erschwinglich, vorhandene Fernsehgeräte in Bildschirmbeschilderung zu verwandeln. Verwende Raydiant, um Nachrichten, Menüs, Werbeaktionen, soziale Medien und mehr auf jeden Fernsehgerät im laufenden Betrieb anzuzeigen. Unternehmen setzen Raydiant ein, um den Umsatz zu steigern, das Gästeerlebnis zu verbessern und die Mitarbeiterschaft zu motivieren. Nutzer können das Mitarbeiterengagement für den Back-of-House-Bereich verbessern, einschließlich Ankündigungen, Öffnungs- und Schließzeiten, Schichtplänen und interaktiven Telefonkonferenzen und Schulungen.
Wer verwendet Raydiant?
Raydiant bedient Tausende Einzelhandelsgeschäfte, Geschäfte mit verschiedenen Standorten und Enterprise-Storefront-Unternehmen, darunter Wahlburgers, Ramada, Westin, Pizza Ranch, Harvard, Princeton und die Dallas Mavericks.
Raydiant – Details
Raydiant
2016 gegründet
Raydiant – Details
Raydiant
2016 gegründet
Raydiant – Videos und Bilder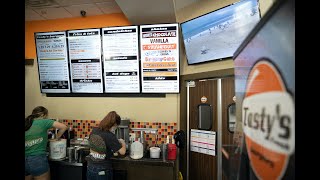 Kosten ähnlicher Produkte wie Raydiant vergleichen
Startpreis
49,00 $/Monat
N/A
26,00 $/Monat
8,50 $/Monat
Raydiant – Bereitstellung und Support
Kundenbetreuung
E-Mail/Helpdesk
FAQ/Forum
Wissensdatenbank
Telefon-Support
24/7 Live-Support
Chat
Einsatz
Cloud, SaaS, webbasiert
Mac (Desktop)
Windows (Desktop)
Linux (Desktop)
Android (mobil)
iPhone (mobil)
iPad (mobil)
Training
Persönlich
Live Online
Webinare
Dokumentation
Videos
Funktionen von Raydiant
API
Aktivitäts-Dashboard
Alarmfunktion / Benachrichtigungen
Anpassbare Vorlagen
Audit Trail
Automatisches Aktualisieren
Automatisierte Terminplanung
Benutzer-Management
Berichterstattung und Statistik
Bildbibliothek
Content-Management
Daten-Import / -Export
Datensicherheit
Digitale Beschilderungen
Digitales Menüboard
Drag-and-Drop
Drittanbieter-Integration
Echtzeit-Aktualisierungen
Echtzeit-Benachrichtigungen
Echtzeit-Daten
Echtzeitüberwachung
Inhalt-Bibliothek
Inhalte planen
Kampagnenplanung
Kundenspezifisches Branding
Layout und Design
Medienbibliothek
Mehrere Standorte
Mobiler Zugriff
Multimedia-Unterstützung
Offline-Zugriff
Remote-Display-Management
Remote-Zugriff/-Kontrolle
Social-Media-Integration
Spiellisten-Management
Support mehrerer Bildschirme
Terminplanung
Veranstaltungskalender
Video-Management
Video-Streaming
Video-Unterstützung
Visueller Editor
Vorlagen-Management
WYSIWYG-Editor
Werbemanagement
Widgets
XML / RSS
Zugriffskontrollen / Berechtigungen
interaktive Inhalte
Überwachung
Shima D.
Customer Operations Manager in USA
Verifizierter Nutzer auf LinkedIn
Bekleidung & Mode, 11-50 Mitarbeiter
Verwendete die Software für: 6-12 Monate
Quelle: GetApp
Game changing software for our retail stores
Kommentare: Great experience, wish we had ran into them sooner.
Vorteile:
Raydiants technology has been game changing ... our retail space has improved in more ways than one. We have been able to educate our clients, have virtual trunk shows,display and promote our new arrivals. We can attribute an increase in sales of 5-7 % .
Nachteile:
We were not able to tie it into our POS system- (our POS was built internally)
Robert W.
President in USA
Bildungsmanagement, 11-50 Mitarbeiter
Verwendete die Software für: Mehr als 2 Jahre
In Betracht gezogene Alternativen:
Raydiant Boards at Arizona Culinary Institute
Kommentare: we used the boards in both the public areas and in the student training areas for information.
Vorteile:
ACI used Raydiant Boards (2) for 2 years very easy to setup and make changes to. The plug in modules would constantly freeze and needed to be reset. We tested our network and have fiber feeding the network but would constantly Freeze. The software is very well designed and easy to use. the hardware is not worth the fee however. did not renew the contract. would like to see the software use a reliable hardware platform like Roku which is rock solid in its reliability.
Nachteile:
Software is great hardware was the issue
Sam N.
Marketing Coordinator in USA
Automotive, 51-200 Mitarbeiter
Verwendete die Software für: 1-5 Monate
Mira displays at Wilder Auto Center
Kommentare: We are an Auto Mall with 9 car brands. We strive to have consistent messages through the dealership, and yet needed to have brand specific ads appear uniquely in each showroom. Mira is an inexpensive and very easy solution to that.
Vorteile:
Custom displays in each showroom allow us to message our clients uniquely, depending on which showroom they're in, while maintaining a consistent message throughout all showrooms. Easy to handle all displays from a single computer. Works on virtually any display we have in our complex.
Nachteile:
System, as of now, can not refresh the displays remotely if the display has gone off line. Requires an employee to physically unplug and reboot the Mira controller which is often hard to access as it is tucked behind the screen. Would like a refresh button via the Mira Dashboard to force a reboot remotely.
Essen & Trinken, 2-10 Mitarbeiter
Verwendete die Software für: Mehr als 1 Jahr
Raydiant makes digital signage foolproof!
Kommentare: Raydiant has created an easy-to-implement digital signage solution that in 3 simple steps you can get the software up and running. My clients love Raydiant because:
1.) It's a foolproof, plug-and-play solution.
2.) It's very affordable and can be used with their existing TVs.
3.) You don't have to hire a designer because Raydiant has built-in design software that comes with stock videos, images, and templates.
4.) The product easily scales from one to many locations and customized specials/promotions can be scheduled and pushed out. My clients have seen impacts in increased sales from the very professional and appealing imagery on their screens. They are able to schedule specials or push something out last minute, and they can tailor the specials based on restaurant location or time of year. Raydiant has revolutionized digital signage and made it easy for any restaurant to implement and use. Cannot recommend enough!
Vorteile:
Easy to use, plug and play with remote access, works with any TV, easily scales from one to many restaurants, no design skills are needed - comes complete with graphic design software and pre-built templates, can push out customized promotions and specials, can set different music to play at different times of the day or by location.
Nachteile:
I can honestly say my clients have found nothing to dislike about Raydiant's product. If we have a question or concern, their customer care team gets an answer or finds a solution very quickly.
Unterhaltung, 2-10 Mitarbeiter
Verwendete die Software für: 6-12 Monate
MIRA highlights my business when I'm not there to do it in person.
Kommentare: My business shares space with a movie theater. As moviegoers stand in line for tickets or concessions, MIRA piques interest and provides information about my business with an audience of potential customers, that may not be exposed to my business otherwise.
Vorteile:
I love the ability to manage my MIRA signage from anywhere... at work, from my couch, on vacation. Keeping my posts fresh keeps my patrons current on what's happening in my business, including operating hours (especially during holiday and school vacation periods), our current escape room themes, promotional programs and the weather. We even have a trivia slide that keeps onlookers' interest throughout the entire loop.
Nachteile:
I wish some of the templates were a bit easier to customize. I use the Presentation template to display my operating hours. It work for the most part, but a template specifically for hours would be great. Random loop freezing or skipping, not due to internet connectivity, occurs. If it occurs during off hours, I have no way of telling, therefore no way of rebooting the connections, or in my case, republishing. I wish there was an option for trouble notifications of some sort.