Was ist WinSQL?
Eine homogene Lösung für eine heterogene Umgebung. Es handelt sich um ein Administrations- und Entwicklungstool für Datenbanken, mit dem mehrere Datenbanken an einem zentralen Ort miteinander kommunizieren können.
Wer verwendet WinSQL?
Bank, Versicherung, Gesundheitswesen
Wo kann WinSQL bereitgestellt werden?
Cloud, SaaS, webbasiert, Windows (Desktop)
Über den Anbieter
Synametrics Technologies
Ansässig in Monroe, USA
2002 gegründet
Chat
Erhältlich in diesen Ländern
Vereinigte Staaten
Über den Anbieter
Synametrics Technologies
Ansässig in Monroe, USA
2002 gegründet
Chat
Erhältlich in diesen Ländern
Vereinigte Staaten
WinSQL – Videos und Bilder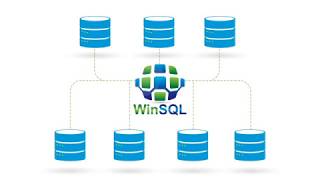 Kosten ähnlicher Produkte wie WinSQL vergleichen
WinSQL Funktionen
Abkürzungserkennung
Daten-Identifizierung
Datenabruf
Datenbank-Umwandlung
Datenerfassung und Übertragung
Datenkatalogmanagement
Datenqualitätskontrolle
Datenreplikation
Datenspeicher-Management
Datenvisualisierung
Prädiktive Analytik
Self-Service-Analysen
Unterstützt zahlreiche Programmiersprachen
Deepak M.
Senior Engineer - Product Development in Indien
Verifizierter Nutzer auf LinkedIn
Informationstechnologie & -dienste, 10.000+ Mitarbeiter
Verwendete die Software für: 1-5 Monate
Handy and light weight database administration tool
Kommentare: I started using winsql so as to connect multiple databases like oracle and db2.I required to configure odbc in order to make it work. Overall it was satisfactory to work on it.
Vorteile:
1. Easy to connect to different databases like db2, oracle etc. 2. Easy to get reports and extracts out of databases. 3.Light-weight application
Nachteile:
1. Connection through IP address is not possible. 2 .It is not available for Mac OS 3. Sometimes it hangs and closes automatically during heavy queries.
Danny S.
President/CTO in USA
Buchhaltung, 2-10 Mitarbeiter
Verwendete die Software für: Mehr als 2 Jahre
Awesome Database Tool
Kommentare: I have been using WinSQL for many years, and unlike people, it just gets better with age. I'm a big believer in the product, and it has always performed very well regardless of which DB I'm using. It is a great tool for prototyping, development and production platforms. It has way more features than any of the free DB-specific browser/query tools, and now it even has its own data specific plug-in ODBC drivers. As a developer, having one tool to master and use against a variety of DB products, has saved me many hours over the years that I could put toward other phases of development instead of spending time on DB schema, query, stored procedure building and other issues. As an end-user tool, I have never found anything users liked better than WinSQL. Because of its ease of use, it takes the fear of complexity out of learning to use a query and reporting tool.
Vorteile:
Among the many great features of WinSQL, the one that stands out the most is it ease of use. From setting up a DSN to creating and executing a query, WinSQL makes it so easy that I have been able to quickly train non-IT users how to run their own queries and reports. By enabling users to do so much with the tool, it really reduces the requests and workload for IT. Its ease of use also means new developers have a tool they can use to quickly check DB results from running their development programs in a test mode, or to quickly populate a table with test data to use for testing their program's DB I/O, either using WinSQL's Test Data Generation Wizard, or simply writing a quick INSERT group of records, and doing it manually. It is such a versatile tool with so many great features, it is hard to say which is my favorite. It all depends on what I'm doing in my development work, then whatever WinSQL feature I'm using, becomes my favorite. That is what makes it such an awesome database tool, its breadth of features!
Nachteile:
About the only thing I don't find very useful is the Task Scheduler. That is only because I have always used a different scheduler. So it isn't that I like it the least, it is just the feature I use the least. I can't think of anything I don't like about the tool.
John G.
Database Management Team Leader in UK
Rundfunkmedien, 10.000+ Mitarbeiter
Verwendete die Software für: Mehr als 2 Jahre
WinSQL is now banned on SAP IQ
Kommentare: It's a shame we had to ban it. Although very slow to start on a large Datawarehouse, it had a good user interface and searching for objects was better than the tools provided by SAP.
Vorteile:
Easy to use, good catalogue of objects, but this has caused massive problems
Nachteile:
WinSQL on SAP IQ multiplex with 60,000 objects has been causing significant degradation in performance. The background refresh even caused outages on busy days. Since it was banned, we have seen performance gains and stability of the IQ service has improved.
Nathaniel M.
Customer Program Analyst in USA
Versorgungsunternehmen, 1.001-5.000 Mitarbeiter
Verwendete die Software für: Mehr als 2 Jahre
WinSQL is a great tool for developing web tools
Kommentare: During the 30 day trial, I was able to use the full version and I could do pretty much anything I needed to, including being able to explore the server stored procedures and find logic problems our vendor had introduced when programming the database. Currently, I still use it daily to pull information and compile reports and am very satisfied with it's performance.
Vorteile:
I like that WinSQL has all the features needed to find information in most databases even if using the free version. I use it to connect to an Informix server while MS SQL server manager will not.
Nachteile:
The restriction to a single server connection in the free version is an annoyance, but I understand it's incentive to purchase the full version.
Shane D.
IT administrator in USA
Finanzdienstleistungen, 11-50 Mitarbeiter
Verwendete die Software für: Mehr als 2 Jahre
Excellent, flexible SQL query tool
Kommentare: This is my go-to SQL query tool, and has been for many years. It does what it says. I do wish there were some better options for interface colors or theming, but it works well without that.
Vorteile:
Very easy to setup to and use just about any database connections you'd need.
Nachteile:
The interface looks a bit dated. If there are any auto-formatting features for sql code I haven't found them. A mini-map for larger queries would also be helpful.
Antwort von Synametrics Technologies
vor 3 Jahren
Auto-formatting feature will be available in the upcoming version 12.