Was ist Geotab?
Geotab ist ein weltweit führender Anbieter von End-to-End-Telematik-Technologie höchster Qualität, die GO-Geräte (einfache Plug-and-play-Installation) und MyGeotab-Software umfasst. Die intuitiven, voll ausgestatteten Lösungen von Geotab helfen Unternehmen jeder Größe, ihre Fahrer und Fahrzeuge besser zu verwalten, indem sie genaue und umsetzbare Informationen aus Echtzeit- und historischen Fahrten und Fahrzeugdaten extrahieren.
Wer verwendet Geotab?
Die Technologie von Geotab ist vollständig skalierbar. Das Unternehmen bedient jedes Unternehmen in jeder Branche mit jeder Flottengröße. Darüber hinaus funktioniert die Technologie mit jeder Art von Fahrzeug, einschließlich Elektrofahrzeugen.
Wo kann Geotab bereitgestellt werden?
Cloud, SaaS, webbasiert, Android (mobil), iPhone (mobil), iPad (mobil)
Über den Anbieter
Geotab
2000 gegründet
Telefon-Support
24/7 Live-Support
Chat
Über den Anbieter
Geotab
2000 gegründet
Telefon-Support
24/7 Live-Support
Chat
Geotab – Videos und Bilder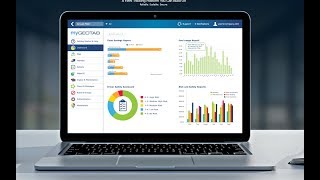 Kosten ähnlicher Produkte wie Geotab vergleichen
Geotab Funktionen
Arbeitsauftragsverwaltung
Fahrer-Management
Fahrzeug-Management
Fahrzeuginformationen
GPS
Inspektions-Management
Instandhaltungsmanagement
Inventarverwaltung
Kostennachverfolgung
Kraftstoff-Management
Kraftstoff-Nachverfolgung
Mitarbeitermanagement
Reparatur-Nachverfolgung
Routing
Terminplanung
VIN-Suche
Versandmanagement
Vorfall-Berichterstattung
Wartungsplanung
Islenny
Ingeniero de Soporte in Dominikanische Republik
Verifizierter Nutzer auf LinkedIn
Informationstechnologie & -dienste, 11-50 Mitarbeiter
Verwendete die Software für: Mehr als 1 Jahr
In Betracht gezogene Alternativen:
Geotab hacer mucho con poco
Kommentare: Una vez que interactuas con la plataforma, te das cuenta del potencial que puedes adquirir y la informacion que se puede obtener. todo es On cloud, lo que facilita entrar a Mygeotab, desde Laptops, PC, Tablet, Smartphone. La empresa SMART ofrece soporte post venta lo que garantiza, en funcionamiento optimo del dispositivo, solo se debe configurar que Kpi nos interesa supervisar (control de combustible, tipo de manejos, seguridad, velocidad, entre otros) y tenerlos supervisados gracias a los repotes que se generan y puedes enviar via email.
Vorteile:
Instalacion sencilla dependiendo del tipo de vehículo. Dispositivo compatible con todos los vehículos (ligeros, carga, pesados). Plataforma incluida (No se paga extras). App gratuita para los gestores de flotas. Supervision de conducción. Detection de colisiones (nada se escapa).
Nachteile:
Algunas funcionalidades adicionales que son extras, aunque como viene es de mucha utilidad, se aprovecha el 100% de lo ofrecido.
Verifizierter Rezensent
Fleet Manager in USA
Verifizierter Nutzer auf LinkedIn
Öl & Energie, 201-500 Mitarbeiter
Verwendete die Software für: Mehr als 2 Jahre
In Betracht gezogene Alternativen:
Lots of Data, but Requires Dedicated Personnel
Kommentare: We were able to become compliant with the new E-Log mandate using GeoTab as well as drive a more safer fleet with employees that understood accountability was inevitable every time they got behind the wheel.
Vorteile:
The features on the dashboard are similar to what other competitors offer, but the layout is much more user friendly. The drop downs are more organized and the navigation to different fields is smooth. I also liked the very near to real time updates to the gps locations and the ability to pull data from the vehicle's ECM such as CEL, hours, and seat belt status.
Nachteile:
Due to the vast amount of data at you finger tips its very difficult to monitor all crucial aspects as well as maintain additional responsibilities if your position requires it. I would recommend a dedicated role to benefit from the full capabilities of the software.
Transport/Güterfrachtverkehr/Schienenverkehr, 51-200 Mitarbeiter
Verwendete die Software für: 6-12 Monate
In Betracht gezogene Alternativen:
Why did we wait so long to use GeoTab
Kommentare: Our cmpany has been with 2 other ELD platforms, but GeoTab has been by far the best for the money.
Vorteile:
The ease of the system and the reporting capability. Real time GPS management
Nachteile:
Nothing is jumping out at me at this point.
Kelly
Safety Manager in USA
Transport/Güterfrachtverkehr/Schienenverkehr, 51-200 Mitarbeiter
Verwendete die Software für: Mehr als 1 Jahr
Hope to see Geotab get better
Kommentare: Electronic logging devices are new to our industry and of course we know there are so many new issues we are experiencing and a learning curve as well. The old problems went away with ELD's but new ones have come up that must be addressed. With each new update to the Geotab program, the device gets better and better. On a whole I would say troubleshooting has been hard, communicating with the program developers/management. Issues we have come across are not taken seriously unless you have gone through so many steps to troubleshoot half of your day is shot with one truck/driver. We are lucky if that takes a day. We have had issues take weeks. It is very micro management intense. I am looking forward to updates everyday as those elusive program developers get it right once in a while...
Vorteile:
Since my company leases the trucks we use, and the leasing company has gone to Geotab for the ELD of their choice. We chose this to keep drivers ease of transition from our truck to the sub truck when ours is in the shop for maintenance. The driver can use any smart device to log in to the Geotab app. This has worked pretty good. Some like their smart phones and others like to use the tablets installed in our trucks.
Nachteile:
We do not like the structure the Geotab company goes by. Beware who you buy from and use as your provider as anybody can provide this service and they are only as good as they want to be. Find somebody who has a great customer service reputation. We would also want you to be aware there is a disconnect between software engineers and customer needs. We as a customer, are at their mercy and we get caught up between the regulations we have to follow and a software support that will ghost you when you are having issues.
Tim
System Analyst in USA
Lebensmittelproduktion, 201-500 Mitarbeiter
Verwendete die Software für: 6-12 Monate
Geotab Management of our Fleet
Kommentare: It has been an easy transition from our previous software.
Vorteile:
Being able to see where are trucks are at currently and looking and routes for following days.
Nachteile:
Importing data from the system to put into Excel.