Was ist SimplyMerit?
SimplyMerit engages leaders and empowers managers to optimize their merit budgets, annual bonus pools, and equity grant process.
Most customers are LIVE IN FIVE days or less! No more errors, no more headaches of managing hundreds of spreadsheets, no more security worries!
SimplyMerit is live and real-time. It manages currency conversions, applies the automatic prorations, guides the approval workflow, and generates and distributes the Adjustment Letters.
Wer verwendet SimplyMerit?
Scalable - Any customer size, any market
SimplyMerit – Details
MorganHR
2004 gegründet
SimplyMerit – Details
MorganHR
2004 gegründet
SimplyMerit – Videos und Bilder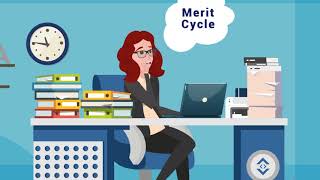 Kosten ähnlicher Produkte wie SimplyMerit vergleichen
Startpreis
6.500,00 $/Jahr
Nicht verfügbar
Nicht verfügbar
Nicht verfügbar
SimplyMerit – Bereitstellung und Support
Kundenbetreuung
E-Mail/Helpdesk
FAQ/Forum
Telefon-Support
Chat
Training
Live Online
Dokumentation
Videos
Funktionen von SimplyMerit
API
Aktivitäts-Dashboard
Alarmfunktion / Benachrichtigungen
Anpassbare Berichte
Anpassbare Vorlagen
Audit Trail
Aussagen zu Entschädigungen
Berichterstattung / Analyse
Berichterstattung und Statistik
Bonus-Management
Bonus-Management
Budgetmanagement
Compliance Management
Daten-Import / -Export
Dokumentenmanagement
Dokumentenspeicher
Drittanbieter-Integration
Echtzeit-Analytik
Echtzeit-Berichterstattung
Echtzeit-Daten
Entschädigungsplan-Modellierung
Erinnerungen
Gehaltshistorie
Gehaltsplanung
Kontrolle des Genehmigungsprozesses
Leistungsbeurteilung
Leistungsmanagement
Lohn- und Gehaltslisten-Management
Marktdatenanalyse
Mehrere Währungen
Mitarbeiter-Bonusprogramme
Mitarbeiter-Datenbank
Mitarbeiter-Onboarding
Mitarbeiter-Self-Service
Mitarbeitermanagement
Mitarbeiterportal
Mitarbeiterprofile
Nachfolgeplanung
Organigramme
Personalmanagement
Provisionsmanagement
Rollen-basierte Genehmigung
Self-Service Portal
Verdienst-/Bonus-Management
Verfolgen der Teilnahme
Verwaltung von Unterstützungsleistungen
Workflow-Management
Zielsetzung / Nachverfolgung
Siehe die vollständige Kompensationsmanagement Software Liste
Steven A.
Total Rewards in USA
Verifizierter Nutzer auf LinkedIn
Computer-Software, 501-1.000 Mitarbeiter
Verwendete die Software für: 1-5 Monate
Great product
Kommentare: Great experience with the product. I had it up and running within a day. Sent out to a hundred managers without training and all were able to use without an issue.
Vorteile:
Ease of use and implementation. Very well designed with clean interface. Was up and running in days
Nachteile:
Lack of customization limits you to use the product as it is designed. Most things are there but would be nice to have a little more flexibility
Antwort von MorganHR
letztes Jahr
Thank you, Steve! We recently rolled out significant advancements in customization options and will schedule time with you to share as well as solicit additional feedback.
Melanie M.
Human Resources Manager in USA
Computer-Software, 201-500 Mitarbeiter
Verwendete die Software für: Mehr als 2 Jahre
In Betracht gezogene Alternativen:
SimplyMerit - Excellent Tool for Compensation/Merit Increase Management
Kommentare: Excellent - [SENSITIVE CONTENT HIDDEN] is fantastic. He understands how compensation/merit systems work and is a great resource when questions arise. He's very knowledgeable.
Vorteile:
Ease of use and quick implementation time.
Nachteile:
Great product and they always seem to be updating it. The only request I would have is that they make it to where information can be manually entered since right now, all must be uploaded. Uploading is great when you have a lot of information to get into the system at one time, but when you just have a quick change or addition here and there, the ability to get into the program and just quickly enter a change would make a HUGE difference.
Antwort von MorganHR
letztes Jahr
Thank you, Melanie! We appreciate the feedback, and you'll be happy to know that your requested feature is in development right now and should be in testing this week!
Joe R.
Payroll Manager in USA
Verpackung und Container, 5.001-10.000 Mitarbeiter
Verwendete die Software für: 6-12 Monate
2020 Merit Increases
Kommentare: Overall the tool was such a time saver. Adjustments that took weeks to do in the past were resolved in minutes. Looking forward to learning the advances in the tool to implement those the next time we use Simply Merit.
Vorteile:
Painless to load information into the tool. Extremely easy to navigate the tool as a manager to adjust merits amounts, review seeded metrics, and approve. Elimination of using spreadsheets and not having to always revise and send out new spreadsheets to managers was such a time saver. Ability to retrieve approvals in the matter of seconds was so instrumental in having the merit process run so smooth.
Nachteile:
Not having delegates able to approve for executives was a bit of a challenge. Managers not being able to sign in due to email addresses with upper case alphabets was also a thorn.
Antwort von MorganHR
vor 6 Monaten
Hello Joe! We are not sure if you have heard the news yet, but we wanted to let you know that your feedback has been heard and SimplyMerit now supports delegates! If serving as a delegate, or proxy, for multiple managers, it is possible to switch between different managers by selecting the dropdown menu that is located in the top right corner of the window next to the "SIGN OUT" button. Thank you again for taking the time to provide your review of SimplyMerit. Ease of use is definitely a hallmark of our design.
Jean P.
Senior Compensation Analyst in USA
Maschinerie, 10.000+ Mitarbeiter
Verwendete die Software für: Mehr als 2 Jahre
In Betracht gezogene Alternativen:
Best software for Merit and Bonus process!
Vorteile:
It was the best choice our compensation department ever made. We were struggling doing the Merit and Bonus process with spreadsheets, sending hundreds of emails. And SimplyMerit does it all and much more. Great customer service and helpdesk. It's easy to use from an administrator point-of-view and end-user as well. So many features that make your Merit and Bonus process easier and safe. We saved a lot of time on the approval process.
Nachteile:
None. Every day I use the system I find a new applicability, a new feature that makes the process easier.
Antwort von MorganHR
vor 2 Jahren
Thank you so much for the wonderful review, and being so insightful when we talk with you about your process. We really appreciate your input!
Amy S.
Deputy Director Admin/Finance in USA
Non-Profit-Organisation Management, 201-500 Mitarbeiter
Verwendete die Software für: 6-12 Monate
In Betracht gezogene Alternativen:
Easy and quick implementation
Kommentare: Overall, my experience was positive. The process of implementing the system didn't take long at all. Our managers picked up on the process quickly and there was very little support needed from administrators.
Vorteile:
The implementation process was quick and easy and was definitely better than the manual Excel spreadsheets we were using before for the merit increase process. I love that the workflow can be set and progress can be tracked. Once all merit/promotion decisions were completed, we were able to create a simple download file to import into our accounting system.
Nachteile:
We were able to build out for some of our exceptions, but not all. We were not able to build an automated step process in for our attorneys, they had to be moved to the next step by changing the merit percentage. It wasn't a hard process, but it was something that was done by HR before the process was sent to managers for approval.
Antwort von MorganHR
letztes Jahr
Thank you, Amy, for taking time to write such a great review.