Was ist Retail Express?
Retail Express helps 1000's of AU & NZ retail stores do and sell more with advanced, agile cloud POS software. Powerful yet easy-to-use, Retail Express integrates deeper than others — giving more functionality and tools out-of-the-box, without the fancy price tag of ERP solutions. Enjoy unmatched AU-based support and full omnichannel orchestration. View all data from a central source, streamline inventory/fulfilment, offer Click & Collect, decentralised fulfilment and personalised marketing.
Wer verwendet Retail Express?
Retail Express is perfect for inventory-based single, multi-store & enterprise AU & NZ retailers wanting omnichannel POS software to gain control & visibility over their in-store & online operations.
Wo kann Retail Express bereitgestellt werden?
Cloud, SaaS, webbasiert, Mac (Desktop), Windows (Desktop)
Über den Anbieter
Retail Express
Ansässig in Maroochydore, Australien
2004 gegründet
Telefon-Support
Chat
Erhältlich in diesen Ländern
Australien, Neuseeland
Über den Anbieter
Retail Express
Ansässig in Maroochydore, Australien
2004 gegründet
Telefon-Support
Chat
Erhältlich in diesen Ländern
Australien, Neuseeland
Retail Express – Videos und Bilder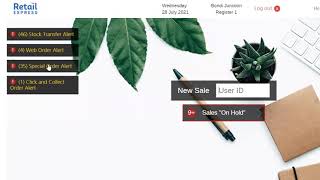 Kosten ähnlicher Produkte wie Retail Express vergleichen
Retail Express Funktionen
API
Alarmfunktion / Benachrichtigungen
Angebotsmanagement
Artikelverwaltung
Auftragsabwicklung
Auftragsmanagement
Barcode / RFID
Barcode / Tickets scannen
Berichterstattung / Analyse
Berichterstattung und Statistik
Beschaffungsmanagement
Bestandskontrolle
Bestandsoptimierung
Bestandsprüfung
Bestandsverfolgung
Bestell-Management
CRM
Daten-Import / -Export
Drittanbieter-Integration
E-Commerce-Management
E-Mail Marketing
Einkaufswagen
Einzelhandel-Lagerverwaltung
Einzelhandel-Management
Elektronische Zahlungen
Geschenkkarten-Management
Integration in die Buchhaltung
Inventarverwaltung
Kanalmanagement
Kostennachverfolgung
Kundenkonten
Lagerhaus-Management
Lieferanten-Management
Marktplatz-Integration
Mehrere Standorte
Mitarbeitermanagement
Multichannel-Management
Multichannel-Marketing
Nachbestellungen verwalten
Nachfragevorhersage
Preismanagement
Produktdatenmanagement
Produktkennzeichnung
Prognose
Rabattmanagement
Retourenmanagement
Rückgaben nachverfolgen
Suchen / filtern
Touch-Screen
Treueprogramm
Verkaufsberichte
Verkaufspunkt POS
Versand-Management
Zahlungsabwicklung
für den Einzelhandel
Alternativen für Retail Express
Bewertungen über Retail Express
Luke M.
Director in Australien
Einzelhandel, 2-10 Mitarbeiter
Verwendete die Software für: 1-5 Monate
Quelle: SoftwareAdvice
In Betracht gezogene Alternativen:
A Fantastic System for all Retailers, big and small
Kommentare: From the initial Sales manager, to the Implementation Manager.... all staff were fantastic, enthusiastic and more than capable of handling any questions/issues I had.
Vorteile:
The easy to use system means my staff picked it up quickly. The detailed Back of House reporting is a managers dream.
Nachteile:
The only thing I've seen missing is an ability to sell an item via weight ($$/per kg), but it's minor. Our previous system never had this either so we're well placed to get around it. Would be great in the future.
Brad B.
Inventory Manager in Australien
Einzelhandel, 11-50 Mitarbeiter
Verwendete die Software für: 1-5 Monate
Quelle: SoftwareAdvice
In Betracht gezogene Alternativen:
Retail Express Implementation for a Small Multi Sectioned Retail Business
Kommentare: The Overall Experience has been great very easy to transition . The On-boarding Program for Training was Great and the Access to Resources Fantastic. The Implementation Manager and other Points of Contact were all great to deal with.
Vorteile:
Modern Cloud based system that has all the Reporting Requirements needed but all the Functionality of a Modern System in a Age of Technology Advancement . It seems as though it has been designed for this Purpose not the " that's something we are going to develop in the Future attitude" that other Systems seem to have.
Nachteile:
At this stage I believe it is still the Honeymoon Period so just " Training Training Training" to get the Most out what we can Do with Retail Express
Melissa B.
Accounts in Australien
Einzelhandel, 11-50 Mitarbeiter
Verwendete die Software für: Mehr als 2 Jahre
Quelle: SoftwareAdvice
Feedback
Vorteile:
easy for sales staff to raise invoices. easy to enter new customers. easy to add new staff and modify existing ones.
Nachteile:
Have to manually do the upload to Xero each day. Can not give customers a 7 or 14 day account. Receiving stock when not all products are supplied is a nightmare. Can not make it compulsory to put a customer PO on an invoice. Can still process an invoice to a customers account when on stop credit. Unable to set own compulsory fields when entering new stock/customers Unable to set own preferences and shortcuts unable to setup credit card surcharge to be added automatically when we select that payment method. we provide service as well as sales. Can't set up a service item - has to be done as stock. Pink pricing always changing/incorrect Disabled products can still be added to PO's Comments on invoices don't upload to xero If an invoice that is in xero has been paid cash, and it has been rounded up it wont upload Credit Notes don't upload to xero
Melanie F.
Office Manager in Australien
Computer-Hardware, 2-10 Mitarbeiter
Verwendete die Software für: 6-12 Monate
Quelle: SoftwareAdvice
Great POS Cloud System
Kommentare: Excellent service, quick responses to queries, very helpful support. Updates are provided via overnight uploads done automatically with no downtime to your system. New update information is provided in detail via email. They respond well to customer suggestions and are constantly improving the system.
Vorteile:
The implementation of this software is fantastic. A team of experts is available to help you transfer your database of stock, suppliers and customers with ease. Retail Express has a comprehensive knowledge database including video tutorials and instructions which all staff can access. The software is friendly, easy to use and navigate with email and internet integration.
Nachteile:
Special customer orders are tricky to handle. We are yet to understand how to order/manage customer orders and are currently doing this through the lay by option which is difficult unless you have one staff member managing this are (IE: you can over order stock). Back orders are a little cumbersome but can be adapted to suit your business needs. Overall though the positives of this system outweigh the small negatives.
Melanie F.
Retail Clerk in Australien
Elektrische/elektronische Fertigung, 2-10 Mitarbeiter
Verwendete die Software für: 1-5 Monate
Quelle: SoftwareAdvice
Professional Support with Friendly Service
Kommentare: This software is great for a business with multiple locations. It seems to contain a large scale fulfillment section which smaller businesses (such as ours) don't really need. Overall it's been a positive step forward for our business.
Vorteile:
Retail Express is easy to use. The point of sale is simple, yet very clever and allows you lay-by, sell and invoice all in the one transaction. It's search feature is fantastic, letting you view transactions from the day, week or via your own custom dates. We love the ability to email our customer invoices and receipts, saving us both time and money. Working with multiple screens in a web browser is a great bonus for our business.
Nachteile:
Retail Express doesn't really cater to customer orders that well. It categorizes them as lay-by's. It does not enable the customer order to be identified in a purchase order (IE: there is no automatically fulfill mechanism). It's difficult to search for a product and you can't seem to view who the customers are that purchased the product, based on the product.