Was ist BrightLocal?
BrightLocals hat es sich zur Aufgabe gemacht, lokales Marketing zu vereinfachen.
Die All-in-one-Plattform von BrightLocal wird von KMU, Unternehmen mit mehreren Standorten und Agenturen eingesetzt und umfasst Reputation Manager, Local Search Audit und Citation Tracker.
Die Plattform bietet ferner White-Label-Berichte und Lead-Generierungstools für Agenturen.
Zusätzlich zur All-in-one-Plattform von BrightLocal können Geschäftseinträge über Citation Builder verwaltet werden.
Teste BrightLocal 14 Tage lang kostenlos (keine Karte erforderlich) und sieh, ob es für dich funktioniert.
Wer verwendet BrightLocal?
Lokale stationäre Unternehmen. Dienstleistungsunternehmen. KMU (kleine und mittlere Unternehmen). Unternehmen mit mehreren Standorten. Unternehmenskunden. SEO-Agenturen. Marketingagenturen.
BrightLocal – Details
BrightLocal
2009 gegründet
BrightLocal – Details
BrightLocal
2009 gegründet
BrightLocal – Videos und Bilder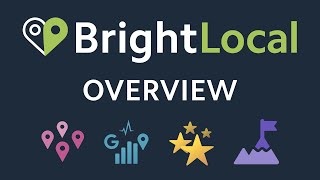 Kosten ähnlicher Produkte wie BrightLocal vergleichen
Startpreis
29,00 $/Monat
119,95 $/Monat
N/A
99,00 $/Monat
BrightLocal – Bereitstellung und Support
Kundenbetreuung
E-Mail/Helpdesk
FAQ/Forum
Wissensdatenbank
Telefon-Support
Chat
Training
Live Online
Webinare
Dokumentation
Videos
Funktionen von BrightLocal
AB-Tests
API
Aktivitäts-Dashboard
Alarmfunktion / Benachrichtigungen
Analytik / ROI-Verfolgung
Anpassbare Berichte
Anpassbare Vorlagen
Backlink-Monitoring
Benutzer-Management
Berichterstattung und Statistik
Content-Management
Dashboard
Datenvisualisierung
Drittanbieter-Integration
E-Mail Marketing
Echtzeit-Aktualisierungen
Echtzeit-Benachrichtigungen
Echtzeit-Daten
Geplante / automatisierte Berichte
Google Analytics Integration
Kampagnenanalysen
Kampagnenmanagement
Keyword Monitoring
Keyword-Recherche Tools
Klick-Tracking
Konversionsraten-Optimierung
Kundenspezifisches Branding
Leistungskennzahlen
Leistungsmanagement
Link-Management
Lokalisierung-Automatisierung
Mehrere Kampagnen
Mehrere Standorte
Mehrsprachig
Mobile Keywords
SEO-Management
Social-Media-Integration
Stichwort-Nachverfolgung
Trend-Analysen
Visuelle Analytik
WYSIWYG-Editor
Web-Traffic-Berichterstattung
Website-Analytik
Website-Management
Werbemanagement
Wettbewerbsanalyse
Wirtschaftsprüfung-Management
Workflow-Management
Zielseiten / Web-Formulare
Überwachung
Scott H.
CEO in USA
Verifizierter Nutzer auf LinkedIn
Internet, 2-10 Mitarbeiter
Verwendete die Software für: Mehr als 2 Jahre
In Betracht gezogene Alternativen:
Long Time User & Fan
Kommentare: To some degree or other we've used all the different toolsets, and every single local business we've worked with has been entered into the system. For some we've used limited items, like citation building and tracking, and for others we've used the whole suite. The improvements over the years have been impressive, with white label dashboard a few years ago, right up to the recent local rankings grid reports.
Vorteile:
The ease of setup when entering a new client is probably my favorite feature, the way you can literally utilize every tool in the shed during a clean click through process.
Nachteile:
The fact that their "Citation Checker" shows an ever growing number, and displays a chart giving a false impression of growth when the old citations may no longer exist. When a citation no longer exists, it should come off the report just like a lost link would. The Google Analytics integration is also very basic, and it would be nice to have more data options, but for a basic customer dashboard it's okay. It's going to need an update soon, since new businesses are defaulting to GA4 and I dont think this integrates
Antwort von BrightLocal
vor 9 Monaten
Hi Scott, Thanks for taking the time to leave us this review. It's great to hear you've found the tools easy to use. You'll be pleased to know every time the Citation Tracker report is re-run we search for any listings that can no longer be reached (for instance; if they return a 404 error). These will then be removed from the report, and you'll see an alert of this at the top of the report page. Thank you for your feedback regarding Google Analytics, our developers are currently working on the integration with GA4 and we hope for this to be available in the near future. I'm glad you've noticed our improvements over the years, we've been working hard to provide better tools for our customers. Don't hesitate to get in touch with our support team if there's anything else. Best Wishes, Myles - BrightLocal CEO
Jonny C.
SEO Executive in UK
Verifizierter Nutzer auf LinkedIn
Finanzdienstleistungen, 201-500 Mitarbeiter
Verwendete die Software für: 6-12 Monate
In Betracht gezogene Alternativen:
Good option for start-up Agencies or Freelancers
Kommentare: Whilst it may not be perfect, for those of us starting out on our own this is a very inexpensive way of collating and tracking all the data we need to report to clients on a monthly basis.
Vorteile:
BrightLocal is inexpensive for the features it provides, which allows you to track a lot of SEO metrics in once place. This makes it really handy for tracking and reporting purposes. Their local citations also allow quick link building options when required. White-label reporting options also gives you quick access to download user friendly and well displayed ranking and brand data to send to your clients, branded with your own logo. This is a real time-saver if you cannot afford some of the more expensive SEO products.
Nachteile:
The reporting options could do with some additional customisation. Whilst you can white-label and add your own branding, the actual data that is presented is fairly linear. For example, you can only compare rankings to one point in time, and can't compare both starting rankings and month-on-month in the same report. If you opt to use their lead-generator audit tool be aware it uses a credits system. This runs out fast depending on how you set it up, so I don't personally believe it's a viable source of generating leads.
Antwort von BrightLocal
letztes Jahr
Thank you so much for sharing your feedback with us Jonny. It's great to hear you've had a positive experience, especially the fact we've been able to save you time! I appreciate the comments regarding our reporting options and the ability to do more report comparisons, this is something for us to consider for future improvements. I'm sorry you've not found the Agency Lead Widget suitable for your needs though, additional credits are available and we do try and keep these at a low price to ensure they're cost-effective for our customers. Best Wishes, Myles - BrightLocal CEO
Andrea S.
Chief Strategist and owner in USA
Marketing & Werbung, 2-10 Mitarbeiter
Verwendete die Software für: 1-5 Monate
In Betracht gezogene Alternativen:
BrightLocal provides the best bang for our buck.
Vorteile:
For our local, small business marketing focus, BrightLocal provides us with all the key tools and reports we require to monitor and grow our clients' businesses successfully. Love the white-label reporting option, the detail of the reports, and how easy it is for our clients to understand them with little tweaking required on our part. Straightforward, not overly complicated, it doesn't hurt that they look very professional also. BrightLocal pricing is reasonable and their support is second-to-none! They are always improving their products, and are very open to feedback, making us feel more like partners, not just another customer. So happy we found them!
Nachteile:
The initial set of the software could be better, and once set up, there are a few glitches here and there. It's not as intuitive as we'd hoped, but at least they provide great support and are extremely helpful.
Antwort von BrightLocal
vor 2 Tagen
Thank you for your review Andrea. I'm really glad you've been able to use a lot of the BrightLocal features and are enjoying them too! I really appreciate the feedback regarding your initial setup, we do have a number of resources available to help such as a help center, a free academy, and a lovely support team. If you ever need any more support from the team, don't hesitate to get in touch. Kind Regards, Myles - BrightLocal CEO
Marketing & Werbung, 2-10 Mitarbeiter
Verwendete die Software für: 1-5 Monate
80% data inaccuracy. 0% customer service.
Kommentare: abismal
Vorteile:
N/A none at all terrible do not consider you have been warned
Nachteile:
This is a reporting tool who's data is 80%+ inaccurate. After working through many automated emails from them, my team and I finally got a meeting with our Brightlocal rep. They literally told us to go in and fix it manually for each and every client. Clearly we have no use for a reporting tool who's reporting is so aggressively wrong so we attempted to cancel our annual subscription. Here was the reply: Our rep: "As per our Terms and Conditions: Section 6.5) 'If you subscribe to a Subscription Service then you may cancel such Subscription Service at any time. Termination will take effect from the end of the current Subscription Service Period. Subscription Fees will not be refunded for early cancellation or any other reason'." Basically, if you own the annual account for a day, you can't get refunded for the year, even if the product is faulty in nearly every way from a reporting perspective, contrary to what was advertised. I'm sure a representative will comment on this rating and claim that they "taught us how to correct this issue and how to identify reporting mistakes" so here is my preemptive rebuttal: A. - Going in regularly to correct reporting issues completely eliminates the purpose of having a reporting tool. We were not made aware of the potential for reporting inaccuracies until after we were annual customers. B. - With client facing white label reporting, I might be able to identify and ignore faulty information but my client certainly won't.
Antwort von BrightLocal
vor 2 Jahren
Hi Caleb I'm Myles, BrightLocal's CEO. I'm very sorry that you had such a frustrating experience. Our policy is not to refund fees, however, we offer a free 14-day trial which typically gives customers long enough to evaluate our service, and most sign up for a monthly plan (not annual) which means they can leave any time. I have spoken to my Head of Support and discussed your case, and we will refund your payment in full as a gesture of goodwill. We put a huge amount of effort and resources into data accuracy but the data isn't always 100% correct for a few reasons. We grab data from over 400 sites and many of these sites don't have APIs so we have to scrape the data. Many sites are not well structured which makes finding listings tricky. I won't go into the detail but long story short, finding listings isn't an exact science. I would really like the chance to talk 1-1 so I can apologize personally; I have emailed you directly. Thanks Myles
Marketing & Werbung, 11-50 Mitarbeiter
Verwendete die Software für: 1-5 Monate
In Betracht gezogene Alternativen:
Bright Local for Agencies
Kommentare: So far so good, we are a new user switching over from SEMrush and have had an initial onboarding discussion with a soon follow up call. We had inadvertently used up all of our credits by not setting things up properly and they credited those to us so that we could start over. Will know more in a month or so after the data accumulates.
Vorteile:
Easy to set up multiple clients and the reports seem to be good so far.
Nachteile:
Limitations on reputation piece and extra cost to use the keyword grid
Antwort von BrightLocal
vor 3 Monaten
Hey Casey, Thank you for taking the time to write this wonderful review. It's great to read your comments and I'm glad you've found the tools easy to use. You'll be pleased to hear we include credits for our Local Search Grid tool in each of the plans, and additional credits are available at a reasonable cost should you ever need more. If you do have any further feedback about the limitations discovered on the Reputation Manager tool please do get in touch with our support team. We always appreciate feedback and ultimately it's our customers that help us in plotting our next features. Kind Regards, Myles - BrightLocal CEO