Was ist Blue J Tax?
Tax Foresight is a suite of artificial intelligence-based tax case outcome predictors available in the US and Canada. There are many questions in tax law where reasonable arguments can be made on both sides, and there is no way to resolve the competing considerations conclusively short of going before a judge. Tax Foresight leverages the power of AI to allow corporate tax professionals, accountants, and tax lawyers to rapidly resolve in advance how courts will rule in new situations.
Wer verwendet Blue J Tax?
Corporate tax professionals, accountants, and tax lawyers
Blue J Tax – Details
Blue J Legal
2015 gegründet
Blue J Tax – Details
Blue J Legal
2015 gegründet
Blue J Tax – Videos und Bilder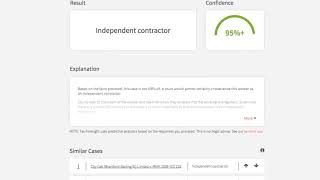 Kosten ähnlicher Produkte wie Blue J Tax vergleichen
Startpreis
Nicht verfügbar
Nicht verfügbar
23,00 $/Monat
Nicht verfügbar
Blue J Tax – Bereitstellung und Support
Kundenbetreuung
E-Mail/Helpdesk
FAQ/Forum
Wissensdatenbank
Telefon-Support
Chat
Training
Persönlich
Live Online
Webinare
Dokumentation
Funktionen von Blue J Tax
ACH Zahlungsabwicklung
Abrechnung & Rechnungsstellung
Ad-hoc-Berichterstattung
Aktivitäts-Dashboard
Alarmfunktion / Benachrichtigungen
Anpassbare Vorlagen
Aufgabenmanagement
Automatische Sicherung
Belegmanagement
Berichterstattung und Statistik
Buchhaltung
Cash Management
Cash-Flow-Management
Compliance Management
Daten-Import / -Export
Dokumentenmanagement
Dokumentenspeicher
Dokumentvorlagen
Drittanbieter-Integration
E-Mail Erinnerungen
Echtzeit-Aktualisierungen
Einkauf & Empfang
Erinnerungen
Fälligkeits-Tracking
Integration in QuickBooks
Konfigurierbarer Workflow
Kontenabgleich
Kontrolle des Genehmigungsprozesses
Kreditkartenbearbeitung
Kundenmanagement
Kundenportal
Kundenspezifisches Branding
Lohn- und Gehaltslisten-Management
Mitarbeitermanagement
Mobiler Zugriff
Projektmanagement
Rechnungsmanagement
SSL-Sicherheit
Spesenabrechnungen
Statusverfolgung
Steuererklärungen
Steuererklärungs-Formular
Szenarioplanung
Timesheet Management
Transaktionshistorie
Umsatzsteuer-Management
Wirtschaftsprüfung-Management
Workflow-Management
Zeitplanmanagement
Zugriffskontrollen / Berechtigungen
Verifizierter Rezensent
Tax Senior Associate in Kanada
Verifizierter Nutzer auf LinkedIn
Buchhaltung, 10.000+ Mitarbeiter
Verwendete die Software für: 1-5 Monate
Tax Foresight - Review
Kommentare: Overall, the experience has been good so far! It will be great if more scenarios can be included to further increase the usefulness of the tool.
Vorteile:
I like the user platform of Tax Foresight, as it is pretty easy to navigate and use. Instructions on the page itself is easy to follow as well. The reports that are generated are very nicely presented. There are also continuous customer support (ie: providing training sessions, sending emails etc.).
Nachteile:
I think there can be more scenarios for the different tax issues that might come up. Currently, the number of circumstances are rather limited. And sometimes, the responses that can required might not be available from the client.
Selina W.
Senior Associate in Kanada
Buchhaltung, 10.000+ Mitarbeiter
Verwendete die Software für: 1-5 Monate
Feedbacks
Kommentare: I believe Tax Foresight allowed me to reduce errors and saved tremendous amount of time while producing accurate results. I like the classifiers and case finders features that ensures the research is comprehensive. Tax Foresight allowed me to strengthen customer relationships and build trust within the internal team. I can now streamline my research and produce quality tax advice to clients.
Vorteile:
Tax Foresight is a powerful research engine that allows me to perform accurate research through case laws and precedent legal issues. It informs me the confidence percentage rating to determine how likely a court will rule the way of the predicted result, which allows me to triage my research needs. In addition, I can also revise my factors to increase/decrease the level of confidence. I like how Tax Foresight produces two sets of cases, "Similar Cases" and "References", which share factual features and important cases frequently cited in court judgments. Overall, I think Tax Foresight is an excellent tool that increased efficiency and comfort level in my research.
Nachteile:
Although the current classifiers cover the most frequently searched and requested, there are still a lot of topics that are not available on Tax Foresight. However, I am confident that more topics will be added going forward as the number of users and recommendations increase.
Eric F.
Lawyer in Kanada
Verifizierter Nutzer auf LinkedIn
Anwaltskanzlei, 10.000+ Mitarbeiter
Verwendete die Software für: Mehr als 1 Jahr
Useful in when it applies, which is rare
Kommentare: Tax Foresight is great for giving you a starting place on answers to some questions. It won't be great on difficult questions, and the number of classifiers is very limited. That said, it can help you surface relevant case law on some common issues (e.g. GAAR), which is quite helpful.
Vorteile:
Provides a thorough walkthrough of questions that are relevant to a particular issue and allows you to change answers to see what the effect will be on the outcome. Also great a surfacing jurisprudence that most closely reflects your fact pattern.
Nachteile:
There just aren't that many situations in which to use it because there are not very many classifiers compared with the number of questions a tax lawyer professional needs to answer. This is not a problem that the company can fix, the problem is that machine learning can only do so much, which leads to two problems. First, machine learning requires a huge amount of input to be accurate and in Canada there just isn't enough jurisprudence available. Furthermore, tax legislation changes so often that the machine learning algorithm cannot rely on cases going back too far, which further limits the potential pool of input. Second, machine learning still relies on human input to classify questions and answers. If the human trainer says that "these five issues" are generally determinative then that is what the algorithm will learn. As a result, it will miss edge cases (which is reasonable). But those edge cases are the ones that practitioners generally need the most help with. When a residency issue is straightforward, the algorithm will have no problem, but neither will the practitioner.
David P.
Lawyer in Kanada
Rechtsberatung, 51-200 Mitarbeiter
Verwendete die Software für: Kostenlose Testversion
Tax Foresight is on the Forefront of Legal Technology
Kommentare: It's a great program that substantially cuts down research time, allows you to verify your intuition, and frees up more time to focus on other aspects of the client-attorney relationship.
Vorteile:
The final predictive outcome analysis also presents the user with a detailed legal analysis, foundational legal precedents, cases on point, etc. in a simple and easy to navigate format.
Nachteile:
Only focused on Canadian law at the moment, but I am aware of plans to scale out to U.S. federal law.
Verifizierter Rezensent
Senior Associate in Kanada
Verifizierter Nutzer auf LinkedIn
Buchhaltung, 5.001-10.000 Mitarbeiter
Verwendete die Software für: 6-12 Monate
Taxforesight
Kommentare: Overall my experience has been positive, I foudnd the tool to be useful.
Vorteile:
The software is easy to use and I like how it allows you to easily cross reference the findings with actual court cases. This allows you to complete a lot of research relatively quickly.
Nachteile:
There could be a wider variety of topics that the tool allows us to research.