Was ist NMIS?
NMIS ist ein beliebtes Netzwerkmanagementsystem. Erweitere NMIS mit diesen Modulen und steigere Leistung, Skalierbarkeit, Bewusstsein und Kontrolle. Ideal für MSPs (Managed Service Provider), Telekommunikation, Finanzen, Regierung, Bildung und alle, die eine Vielzahl verschiedener Geräte in einfachen bis komplexen Netzwerken verwalten müssen. Die einsatzbereite Lösung ermöglicht eine schnelle Bereitstellung, ausgefeilte Geschäftsregeln und intelligentes Baselining. Buche eine unverbindliche Demo.
Wer verwendet NMIS?
Die Software wurde für Unternehmen aller Größen im Gesundheitswesen, in der Telekommunikation, im Bildungswesen und in anderen Branchen entwickelt und ist ein Netzwerküberwachungs-Tool, das bei der Überwachung der Betriebszeit, der Richtlinienverwaltung und mehr hilft.
Wo kann NMIS bereitgestellt werden?
Cloud, SaaS, webbasiert, Linux (Desktop), Linux (On-Premise)
Über den Anbieter
Opmantek
Ansässig in Surfers Paradise, Australien
2011 gegründet
Telefon-Support
24/7 Live-Support
Chat
Sprachen
Nicht vom Anbieter bereitgestellt
NMIS Kosten
Startpreis:
Nicht vom Anbieter bereitgestellt
Ja, kostenloser Test verfügbar
Ja, Gratisversion verfügbar
NMIS bietet eine Gratisversion und eine kostenlose Testversion.
Preismodelle
Kostenlose Testversion
Über den Anbieter
Opmantek
Ansässig in Surfers Paradise, Australien
2011 gegründet
Telefon-Support
24/7 Live-Support
Chat
Sprachen
Nicht vom Anbieter bereitgestellt
NMIS – Videos und Bilder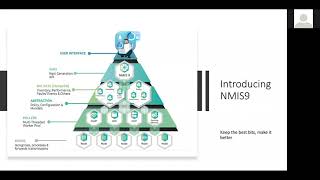 NMIS Funktionen
API
Aktivitäts-Dashboard
Alarmfunktion / Benachrichtigungen
Automatische Geräteerkennung
Backup und Recovery
Bandbreiten-Überwachung
Baseline-Manager
Berichterstattung / Analyse
CPU-Überwachung
Dashboard
Diagnosewerkzeuge
Echtzeitüberwachung
Ereignisprotokolle
Hierarchische Zuordnung
IP-Adressen-Überwachung
Internet-Benutzungsüberwachung
Kapazitätsmanagement
Netzwerkanalyse
Netzwerküberwachung
Problemmanagement
Richtlinien Managemen-
Schwellenwert-Warnungen
Server-Überwachung
Simple Network Management Protocol (SNMP)
Standort-basiertes Mapping
Terminplanung
Uptime-Berichterstattung
Warnungen / Eskalation
Abood A.
Senior Network Consultant in Australien
Verifizierter Nutzer auf LinkedIn
Informationstechnologie & -dienste, 201-500 Mitarbeiter
Verwendete die Software für: 1-5 Monate
Everything Networking Monitoring and Automation
Kommentare: Multitenanted Network Monitoring and management sytem that scales from a small IT provider to a big Enterprise/Carrier Organization.
Vorteile:
Provide a total monitoring and insights into network infrastructure on a single pan of glass. The performance and the customization is second to none.
Nachteile:
Nothing major I spotted during my experience.
In Betracht gezogene Alternativen: SolarWinds Service Desk und PRTG Network Monitor
Warum NMIS gewählt wurde: Scalability, and involving customers in monitoring their own infrastructure
Zuvor genutzte Software: ObserveCTI
Bill F.
Sr. Platform Engineer in USA
Telekommunikation, 501-1.000 Mitarbeiter
Verwendete die Software für: Mehr als 2 Jahre
Not just software, a true partner
Kommentare: The software itself is great and the support is outstanding. We were able to deploy the system quickly and easily. When we've had issues, we were able to get directly with the engineers at Opmantek and get our problem resolved quickly and efficiently. We've worked with the support team and learned to create custom models so we can monitor every device on the network. As the administrator of the system, I pretty much never have to say "no" when I am asked "Can it do this?". The documentation is intuitive and complete as well. With NMIS and Opmantek we have a true partner that we can rely on to make sure we are on top of any issues on our network and have good data and analytics to make sure our customers get top-notch service.
Vorteile:
The software is flexible and while most things we needed were available out of the box, we were also able to easily extend functionality to cover the things that weren't. The software scales well and we have grown to scale out to 10x our initial deployment as far as node count. The system is entirely Linux-based and happily runs on the well-supported open source distributions. We have the option of using a preconfigured virtual appliance or installing on our standard Linux distribution. Management can be done through the GUI and/or command line enabling scripting of many aspects of system administration
Nachteile:
This NMIS8 interface we started with was a bit stale, but this was greatly improved with NMIS9.
In Betracht gezogene Alternativen: Observium, OpenNMS und Statseeker
Warum NMIS gewählt wurde: Our previous system was very expensive and very clunky. Additionally with a lot of the things we were told it could do, it felt like we were beta testing when we actually tried to do them.
Gründe für den Wechsel zu NMIS: Cost was a factor. The NMIS cost was very reasonable. The pre-sales experience with the support team is what really sold us, though. It was evident from the start that the support team at Opmantek is amazing and even five years later, we still have never been let down or disappointed.
Jordan L.
Director of Network Operations in USA
Computer-Vernetzung, 501-1.000 Mitarbeiter
Verwendete die Software für: Mehr als 2 Jahre
Data Driven Decisions
Kommentare: It has been an eye-opening and a learning experience. We continue to learn more and more about our network with insights we have never had before. We have been able to use the data provided and collected to drive home several large projects that upon completion have improved our network stability by leaps and bound. We continue to find new and useful ways to implement and integrate the OMK platform into many of our other tools and practices. I could not be more excited about what comes next!
Vorteile:
NMIS is hands down one of the best data collection monitoring suites we have ever used. The data and enriched alerting it provides is exactly what we were looking for to make data-driven network decisions for upgrade and growth. It has set us on the path from reactive to proactive!
Nachteile:
This is both a con and a pro. This software is not an easy install and gets going product. As part of implmentation, you must really outline your practice and process as well as goals that you want to achieve. Also as you onboard new devices, the process of modeling them to collect the data you want is time-consuming. The average user will not be able to maintain and work on the back end of this software, but because of its complexity, you gain more control than you have ever had before.
In Betracht gezogene Alternativen: Network Performance Monitor, PRTG Network Monitor, Zabbix und Nagios Core
Warum NMIS gewählt wurde: Support, reliability, scaleability
Zuvor genutzte Software: Zabbix
Gründe für den Wechsel zu NMIS: The support! The team at OMK proved very fast that they knew their product inside and out and how to make it work for us. They also showed very early they didn't want us to be one of their customers but a partner with them. Together I think we have been working hard to improve the product of both our individual companies.
Verifizierter Rezensent
Senior Systems Engineer in USA
Verifizierter Nutzer auf LinkedIn
Computer-Software, 5.001-10.000 Mitarbeiter
Verwendete die Software für: Mehr als 2 Jahre
NMIS for the win
Kommentare: NMIS is open-source, with a complete wiki and active community support, and has been around for many years. Has proven to be a very valuable tool for managing a large group of servers proactively.
Vorteile:
I like that it's agentless, and when you do need support you get quickly connected to engineers, not jumping through hoops and waiting. We run NMIS on linux, for the open source advantage. We also use Opmantek Open Audit for inventory, it's possible to run both Open Audit and NMIS on the same system easily with the appliance
Nachteile:
System is very flexible and customizable, in not always simple ways. But the outstanding documentation makes any learning curve involved easier.
Mark D.
Principal Software Engineer in Australien
Hausmeisterservice, 51-200 Mitarbeiter
Verwendete die Software für: Mehr als 2 Jahre
Keeps us confident systems are running smoothly
Kommentare: We monitor our remote IOT devices, making sure they are up and running properly. Adjusting NMIS' polling policy allowed us to do this without blowing out our data budget. It also keeps us confident that our online portals are up and running for our customers to use.
Vorteile:
NMIS tells us when things aren't working so we can go and fix them, this means we can fix the problems before our customers know they are happening and before any data is lost. We have integrated NMIS with our saltstack configuration management tool so new nodes are automatically created with the correct settings when we deploy them. Customising the threshold settings and adjusting the escalation policy allows us to ensure we do not receive too many notifications which means we actually pay attention to the ones that come though.
Nachteile:
I would appreciate having a docker image, a VM image is nice but not useful for me. Installing the software on our server is still very easy but I would prefer using docker. In general, understanding how the pieces of configuration worked together took a while, a diagram for understanding this would have been nice, it was worth figuring out.