Was ist Xibo?
Xibo is a cost effective, high performance solution to launch your digital signage to new heights! Digital Signage content is so much more than just fixed images and text, with Xibo you can transform your designs simply and quickly to provide an engaging experience. We power digital signage networks worldwide through our open-source, web-based content management system, available with a choice of Android, Windows, webOS, Tizen and Linux players. We also offer our CMS hosted on Xibo in the Cloud.
Wer verwendet Xibo?
Xibo has been developed to suit all businesses across the world. Today Xibo has over 32,509 customers in 186 countries. These customers cover all industries from banking and retail to manufacturing.
Xibo – Details
Xibo Signage
2011 gegründet
Xibo – Details
Xibo Signage
2011 gegründet
Xibo – Videos und Bilder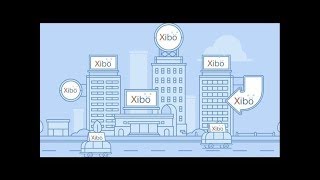 Kosten ähnlicher Produkte wie Xibo vergleichen
Startpreis
Nicht verfügbar
14,99 $/Monat
15,00 $/Monat
9,00 $/Monat
Xibo – Bereitstellung und Support
Kundenbetreuung
E-Mail/Helpdesk
FAQ/Forum
Wissensdatenbank
Telefon-Support
Einsatz
Cloud, SaaS, webbasiert
Windows (Desktop)
Linux (Desktop)
Windows (On-Premise)
Linux (On-Premise)
Training
Live Online
Dokumentation
Videos
Funktionen von Xibo
API
Aktivitäts-Dashboard
Alarmfunktion / Benachrichtigungen
Anpassbare Vorlagen
Audit Trail
Automatisches Aktualisieren
Automatisierte Terminplanung
Benutzer-Management
Berichterstattung und Statistik
Bildbibliothek
Content-Management
Daten-Import / -Export
Datensicherheit
Digitale Beschilderungen
Digitales Menüboard
Drag-and-Drop
Drittanbieter-Integration
Echtzeit-Aktualisierungen
Echtzeit-Benachrichtigungen
Echtzeit-Daten
Echtzeitüberwachung
Inhalt-Bibliothek
Inhalte planen
Kampagnenplanung
Kundenspezifisches Branding
Layout und Design
Medienbibliothek
Mehrere Standorte
Mobiler Zugriff
Multimedia-Unterstützung
Offline-Zugriff
Remote-Display-Management
Remote-Zugriff/-Kontrolle
Social-Media-Integration
Spiellisten-Management
Support mehrerer Bildschirme
Terminplanung
Veranstaltungskalender
Video-Management
Video-Streaming
Video-Unterstützung
Visueller Editor
Vorlagen-Management
WYSIWYG-Editor
Werbemanagement
Widgets
XML / RSS
Zugriffskontrollen / Berechtigungen
interaktive Inhalte
Überwachung
Laura G.
President in USA
Verifizierter Nutzer auf LinkedIn
Grafikdesign, 2-10 Mitarbeiter
Verwendete die Software für: Mehr als 2 Jahre
Xibo is a powerful and dependable digital signage platform with many affordable deployment options.
Kommentare: Xibo has allowed us to offer a digital signage solution to our customers that has transformed their marketing initiatives and has provided measurable returns on digital signage campaigns. Their customer service is fantastic, and the Xibo team is also available for full customization of custom features. Xibo is highly underrated in the world of big, digital signage companies and software options.
Vorteile:
Xibo has a very simple pricing structure with options for all budgets. It includes many powerful widgets for free and offers HTML coding for full customization. In addition, the Windows version is open source and free. The Xibo software is very stable, and we find we have minimal issues that are usually fixed with a simple reboot. From digital menu boards, to custom layouts, video walls and dynamic content delivery, Xibo has tools to facilitate all of your digital signage deployment needs.
Nachteile:
No touchscreen options yet. However, this function is coming soon.
Nitish K.
Director in Indien
Informationstechnologie & -dienste, 11-50 Mitarbeiter
Verwendete die Software für: Mehr als 2 Jahre
In Betracht gezogene Alternativen:
Improvement required in Software.
Kommentare: Good
Vorteile:
All the features are useful but most impactful Multiple widgets.
Nachteile:
Need to add Multiple social Media Widgets (Fb and Insta [ Live Streaming, Fb post], Live Youtube) Reasons and Layout should be easy to use(Need to add some predefined Template). If you can add Caneva Design [SENSITIVE CONTENT] it should be better for non technical to use.
Antwort von Xibo Signage
vor 4 Monaten
Thank you for your review Nitish! We are glad to see that you find Xibo's features so useful and thank you for your valuable feedback.
Benoit Q.
Technician in Frankreich
Informationsdienst, 2-10 Mitarbeiter
Verwendete die Software für: 1-5 Monate
Opinion
Vorteile:
The price is less, and lot of good features
Nachteile:
There is a lot of features but they are really hard to use and understand
Antwort von Xibo Signage
vor 4 Monaten
Thank you for your feedback Benoit. We're always looking to improve our solutions, so please do get in touch with us, as we'd love to learn more about the features you feel could be improved: https://bit.ly/3xxLH9J
Martin W.
It Manager in Australien
Essen & Trinken, 201-500 Mitarbeiter
Verwendete die Software für: Mehr als 2 Jahre
Great product, realistically priced, one drawback
Kommentare: Centralised management of signage, even at the site level makes the product brilliant.
Vorteile:
Incredibly quick to get started with Xibo, especially if they are hosting. Easy to learn, great feature set and great pricing make for an almost unbeatable combination.
Nachteile:
Only one thing bothers me, and it is a deal breaker. Videos have a one second black screen when looping which makes the presentation look second rate. Have contacted support twice, but cannot resolve. Looking elsewhere as a result...
Antwort von Xibo Signage
vor 4 Monaten
Thank you for your review Martin. We are glad to see that you find so many of the Xibo features positive. We are sorry to hear that you have been unable to resolve the black screen delay. We have recently introduced Gapless Playback to our Android player, which removes this black screen and we aim to be doing this over other players in the near future. In the meantime there are some work arounds, and I hope our support team can work with you to find a suitable solution.
Einzelhandel, 2-10 Mitarbeiter
Verwendete die Software für: Mehr als 2 Jahre
Great Digital Signage Solution for Retail
Vorteile:
Xibo is incredibly quick and easy to setup, and once configured and running, it just works. We are using the DSDevices android player, which we have (knock on wood) never had any issues with - not even a reboot has been necessary in over 1 year of continuous use. Content changes happen seamlessly, and always look crystal clear on our 4k displays.
Nachteile:
We encountered a few minor issues, specifically with limitations of the Android player and it's inability to smoothly loop video segments in the player. We were able to work around this limitation by producing the media to loop outside of Xibo, but this feature would be a welcome addition. It's a very minor nitpick - overall we have been very impressed with the features and stability of Xibo.
Antwort von Xibo Signage
vor 4 Monaten
Thanks for your review Chris! Glad to hear you are having such experience with Xibo. Please do reach out to our support team who can assist you further with video looping in Android.