Was ist Consolto?
Consolto offers a plugin that embeds on your website and enables you communicate with your clients as close as possible to being there with them. On top of the trivial chat, video chat and screen sharing, we've built an innovative collaborative map application tailored to travel agents, tour operators, travel guides and hotels.
In addition, for support and sales teams, we provide a 3D model that is shown to your clients and helps them understand exactly what you're talking about.
Wer verwendet Consolto?
1. Advisors and consultants (doctors, accountants, lawyers, psychotherapists, dietitians, astrologists...) 2. Sales teams, customer service teams 3. Online magazines and directories.
Wo kann Consolto bereitgestellt werden?
Cloud, SaaS, webbasiert
Über den Anbieter
Consolto Sites
2018 gegründet
Chat
Erhältlich in diesen Ländern
Israel
Sprachen
Französisch, Spanisch
Über den Anbieter
Consolto Sites
2018 gegründet
Chat
Erhältlich in diesen Ländern
Israel
Sprachen
Französisch, Spanisch
Consolto – Videos und Bilder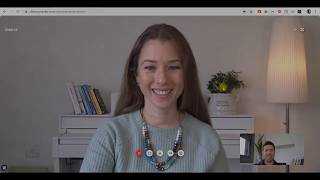 Kosten ähnlicher Produkte wie Consolto vergleichen
Consolto Funktionen
Aufzeichnung
Automatische Antworten
Berichterstattung / Analyse
Bildschirm teilen
Drittanbieter-Integration
Echtzeit-Chat
Echtzeit-Chat für Kunden
Kundenspezifisches Branding
Marken-Management
Mobiler Zugriff
Offline-Formular
Privater Chat
Proaktiver Chat
Transkripte / Chatverlauf
Videokonferenzen
Websitebesucher-Nachverfolgung
Zwei-Wege-Audio und -Video
Alternativen für Consolto
Bewertungen über Consolto
Hoang
Administrator in Vietnam
Verifizierter Nutzer auf LinkedIn
E-Learning, 2-10 Mitarbeiter
Verwendete die Software für: 1-5 Monate
Consolto - my lovely solution
Kommentare: Consolto helped to me save big time and money by setting up once for both virtual meetings booking, and virtual meeting video calling. And Consolto did that with a neat and convenient workflow, allowing two-ways communication between my staff and my clients (both can book meeting). This is really valuable.
Vorteile:
Consolto is incredible. I have been looking for long to find a combined solution that can help me to solve 2 issues at one time: - To allow clients to book / schedule meetings with my staff, and to allow my staff to easily arrange meeting with clients - And more importantly, to conduct virtual meetings within the booking app. I had quite a few apps for each, but none for both. Until I found Consolto. Consolto helped me to address both issues in the same app, with a super clean UI and logical UX. I love the dashboard with full information (including analytics of the operations of the widget), and how easy and convenient it is to set up and place the widget for meeting booking / video chat right in my website.
Nachteile:
I got some glitch when I accessed Consolto sometimes. But I guess it is due to my Internet connection where I live. Other than that, I am happy with Consolto.
Antwort von Consolto Sites
vor 12 Monaten
Amazing! Thank you so much!!!
Ezzi
Global Procurement Manager in USA
Welthandel & internationale Entwicklung, 11-50 Mitarbeiter
Verwendete die Software für: 1-5 Monate
In Betracht gezogene Alternativen:
Amazing Platform – Highly Recommended!
Kommentare: For more than two years, I have been searching for a complete All-In-One Solution to help me develop better customer relationships. I have purchased and tested every platform I came across, but they all come short. Finally, My Dream Has Come True! I found Consolto to help my company generate more leads and develop better customer relationships.
Vorteile:
The Consolto platform offers a list of must-have features to allow any business to build an exceptional customer experience via Live Text Chat, Audio Chat, Video Chat, ClickNTalk Page, Lead Generation Contact Us Form, etc. A complete All-In-One Solution that allows small and medium-sized businesses to compete with big companies. I purchased the GENIUS plan, and it is worth every penny! Pros: 1. Very intuitive platform! The onboarding and the installation are a piece of cake. It only took me literally 5 minutes to configure and install the chat widget on my corporate website. 2. The most significant thing we love about Consolto is that it supports the Right-to-Left (RTL) languages such as Arabic & Hebrew. Since my company has many clients in the Middle East, Consolto solved one of the biggest headaches. It is now effortless to build our Lead Generation strategy via the built-in Contact Us form and communicate and market our products and services to our multilingual global client base. 3. Customer service and support are top-notch. I was able to chat with Ilan, the [SENSITIVE CONTENT] of Consolto, during the weekend. He addressed all my questions and provided all the resources I need to learn more about the platform features. When it comes to customer service, I wish there were more than 5 Tacos to give! Please keep up this outstanding customer service!
Nachteile:
Nothing I can think of for now. Even if I find something down the road, I am not worried about it because the team behind this platform is very responsive and listens to the community's requests. Based on the customer experience I have enjoyed and the team's passion for making it even better, I will give this great SaaS Platform 5 Stars & the SUPPORT 5 Stars.
Risikokapital & privates Eigenkapital, 2-10 Mitarbeiter
Verwendete die Software für: 1-5 Monate
In Betracht gezogene Alternativen:
Affordable Option for MVPs / Product Testing
Kommentare: I really the setup process on the back end which is a little cluttered but its easy to get use to after watching the tutorial.
Vorteile:
I was able to install very quickly and test new products much faster. And I like that agents can manage their own accounts.
Nachteile:
I really do not like the icon that loads the pages. Its 2 purple icons that flash repeatedly and are tacky.
Antwort von Consolto Sites
vor 2 Jahren
Hi McKenzie! Thank you for your review! This really helps us improving Consolto You can change the icon in the widget center, I will send by email Merry Christmas and a very happy new year Neta Gafni Consolto CMO
Verifizierter Rezensent
All in one video chat too that has potential in USA
Verifizierter Nutzer auf LinkedIn
Sport, 2-10 Mitarbeiter
Verwendete die Software für: 1-5 Monate
In Betracht gezogene Alternativen:
All in one tool for the future
Kommentare: Overall a great product and reliable customer support, so I'm looking forward to see how they will grow in the future.
Vorteile:
Great to have my most important communication tools in one place. The set up is simple and easy to install to get going. Video chat and scheduling is smooth process.
Nachteile:
Lack of sub-accounts for organization and basic customization options plus no CNAME for white-label at the moment.
Forschung, 2-10 Mitarbeiter
Verwendete die Software für: 1-5 Monate
⚰️ RIP Zoom
Kommentare: Consolto is allowing me to manage my energy. Let me explain Prior to Consolto I had to duck tape a collection of communication tools to create a nice communication experience - this took a lot of time to research, install, and manage. Which lead to me NOT wanting to engage with people because I dreaded having to find all the login to reply / engage - it was simple to much to handle. I am very grateful for Consolto - I now have a time block on my calendar to communicate with my people without having to be stressed out about all the tech stuff! This software has saved me so much energy - allowing me to work smart. Consolto offers a sustainable communication management I no longer dread chatting or conferencing with anyone because I know where everything is and if I have any issues I only have to ask ONE company to help me with an issue. My overall experience the Consolto has been delightful!
Vorteile:
Consolto lets you have a communication HQ! I like that I don't have to piecemeal all my communication elements anymore - call conversations have a home no more copy and pasting or screen shots from all the tools and tossing into a online folder.
Nachteile:
The one thing I like the least about Consolto is that when are client selects a date for an online meeting they area given two (2) date options. - I'd like if this feature had an option to only select a SINGLE date/time