Was ist Activechat?
Visueller Conversation Builder zum Erstellen von Chatbots für die automatisierte Kundenbetreuung, das Marketing und für Unternehmen. Mehrere Kommunikationskanäle (Facebook Messenger, Telegram, Twilio und Viber/WhatsApp/Alexa/Google Home werden in Kürze angeboten). Viele Geschäfts- und E-Commerce-Integrationen.
Wer verwendet Activechat?
Activechat Bot Builder konzentriert sich auf die Kundenbetreuung in Unternehmen und auf E-Commerce-Chatbots und Voice Agents für verschiedene Branchen.
Wo kann Activechat bereitgestellt werden?
Cloud, SaaS, webbasiert
Über den Anbieter
Activechat
2017 gegründet
Telefon-Support
24/7 Live-Support
Chat
Erhältlich in diesen Ländern
Vereinigte Staaten
Über den Anbieter
Activechat
2017 gegründet
Telefon-Support
24/7 Live-Support
Chat
Erhältlich in diesen Ländern
Vereinigte Staaten
Activechat – Videos und Bilder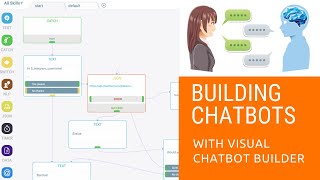 Kosten ähnlicher Produkte wie Activechat vergleichen
Activechat Funktionen
Berichterstattung / Analyse
Chatbot
KI/Maschinelles Lernen
Mehrsprachig
Multi-Channel-Kommunikation
Verarbeitung natürlicher Sprache
Alternativen für Activechat
Bewertungen über Activechat
Harish M.
CEO in Indien
Verifizierter Nutzer auf LinkedIn
E-Learning, 2-10 Mitarbeiter
Verwendete die Software für: Mehr als 2 Jahre
Excellent Chatbot
Kommentare: Customer engagement
Vorteile:
Amazing bot builder which I use for my Facebook messenger chat automation. The architecture of using skills is amazing as it saves us a lot of time. The UI is way different from many chat and may seem little overwhelming for a novice user but after a tiny bit of learning, it becomes a perfect tool which you cannot look beyond. The support is fantastic as they are ready to listen to us and take necessary action to meet our needs. Loved being part of their journey. Hoping they will be crowned as the best bot builder in the world.
Nachteile:
It did not have the team feature in the past but now they have added it. so we can share bots with others. There are some features which are missing which are personal desires which cannot be mentioned as a con.
Marketing & Werbung, Selbstständig
Verwendete die Software für: Mehr als 1 Jahr
Worth every penny
Kommentare: I work with a lot of eCommerce websites. I thought it would be nice to get a chatbot to answer FAQs and provide a few links. This does so much more than that. It has opened the door for me to do so much for my clients and re-create for the next and the next after that. The best tools make you look like a genius and amaze your clients. This has proven to be that and more...
Vorteile:
There are so many ways to use this that I'm still finding new opportunities years later. They keep adding to the options and I keep finding use cases for them.
Nachteile:
I struggled at first to figure it out but then I had a call with the lovely Iryna and she helped me understand how to use it. Blue skies from that point on. I'm so happy to have it as an option in my product suite.
Govind R.
CEO & Founder in Nepal
Verifizierter Nutzer auf LinkedIn
Computer-Software, 2-10 Mitarbeiter
Verwendete die Software für: Mehr als 1 Jahr
Clearly has potential but needs a lot of work
Kommentare: Active Chat, at the time when I was purchasing, was as an alternative to ManyChat and MobileMonkey. I am not happy with the experience at all.
They need to work on support. There are bugs and it seems the team doesn't even test before releasing the feature they completely rely on users to report the bugs which are okay but there are too many.
Vorteile:
It has a lot of features if not all when compared to the likes of Many Chat and Mobile Monkey. It has plugins for WordPress making integration easy for WordPress users. Team working reasonably fast to develop features Facebook Group to help you with any issues you are facing
Nachteile:
Support documents- Even though they have worked on their support documents I didn't find it to be organized. It still needs a bit of work Support- Realtime support is missing. It takes 24 hrs if you send an email for support or more (at least in my experience) which makes me upset.
Antwort von Activechat
vor 2 Jahren
Hey Govind, thanks for reviewing us, but I have to admit that your negative experience has nothing to do with Activechat's product quality. The only support ticket that we have from you contains this video - https://www.loom.com/share/aaab5bad993143b4bd3c8f94fb7a1b62?fbclid=IwAR2Bc25I0BVaoJgS0sMTDlLZ5rjHsyPnMwVrd2PMaNAEP2vuE0icUQjoK0Y - and it clearly shows that you're making changes in your chatbot but do not trigger the skill again. Please check this part in our manual so that you understand how bots and skills work in Activechat - https://docs.activechat.ai/docs/manuals/visual-builder/triggering-bot-skills/ It looks like you did not read even "Platform Basics" part of the manual. Sorry about that. The last email in your support ticket was sent a week ago. It contained links to manuals to help you get started with the platform. Still no reply from you.
Akashlal B.
Asker, believer and achiever at the universe in Taiwan
Verifizierter Nutzer auf LinkedIn
Informationsdienst, Selbstständig
Verwendete die Software für: 1-5 Monate
A visual chatbot builder which makes complex chatbots easy
Kommentare: Got this chatbot deal on appsumo, and played around with it. Though it makes building bots easy, right now it lacks many things like delegating bot access, facebook comments grow etc.
Will look around till the software matures.
Vorteile:
One of the easiest visual builders which makes it easy to build the most complex chatbots. The founder is extremely helpful, organizing chabot webinars every week etc. Support is great, too. It also has a number of templates, covering bots built for shopify, woocommerce, livechat, restaurants and other templates which helped me understand how the different blocks come together to build a complex chabot. Voice conversation integration with alexa echo/google home is also coming up, along with web widgets if the existing twilio, telegram, facebook integrations are not enough already.
Nachteile:
The interface of most pages arent upto the mark. The software has a learning curve but can be overcome with training.
Tony E.
President in USA
Verifizierter Nutzer auf LinkedIn
Marketing & Werbung, 2-10 Mitarbeiter
Verwendete die Software für: 1-5 Monate
Powerful Chatbot Builder
Kommentare: Overall I'm very happy with it and have recommended it to some people. I've built a basic bot and currently working on a more advanced rewards bot and so far I like it a lot. I'm looking forward to the upcoming improvements, but I think it will be my bot tool of choice.
Vorteile:
It's quite a different interface than ManyChat, Chatfuel or Mobile Monkey (not sure about the others), but once I got used to it I liked the workflow and layout. The UI looks a little dated, but supposed to be updated soon along with a lot of other features. Excellent ecommerce integrations as well.
Nachteile:
It doesn't have all of the growth tools yet, but assured those are coming soon. It's a fairly new service, so documentation is lacking, very basic for now but I've been able to figure out everything I need to do so far. There have been some bugs but also assured those are being resolved very soon...I'm sure it's growing pains from adding so many users so quickly.