Was ist Aura Salonware?
For Salons. By Salons. Aura is all-in-one salon operations software that thinks like a salon to modernize and automate the total salon experience for management, team and guests. Data-driven and cloud-based, Aura helps you book smarter, market better and get paid faster.
Cut Costs and Grow Profits with innovative payment solutions, visual KPI dashboards, 2-way text marketing, simplified reporting, digital gift cards, loyalty programs, curbside shopping, covid waivers and so much more!
Wer verwendet Aura Salonware?
Aura is built for Hair Salons of all sizes that want to modernize their total business operations with all-in-one, cloud based software that automates best-practices to cut costs and grow profits.
Wo kann Aura Salonware bereitgestellt werden?
Cloud, SaaS, webbasiert, Mac (Desktop), Windows (Desktop), Chromebook (Desktop), Android (mobil), iPhone (mobil), iPad (mobil)
Über den Anbieter
Aura Salonware
2017 gegründet
Telefon-Support
24/7 Live-Support
Chat
Erhältlich in diesen Ländern
Kanada, Vereinigte Staaten
Über den Anbieter
Aura Salonware
2017 gegründet
Telefon-Support
24/7 Live-Support
Chat
Erhältlich in diesen Ländern
Kanada, Vereinigte Staaten
Aura Salonware – Videos und Bilder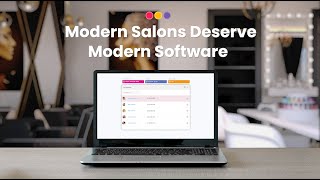 Kosten ähnlicher Produkte wie Aura Salonware vergleichen
Aura Salonware Funktionen
Bestätigung / Erinnerungen
Für Salons und Spas
Inventarverwaltung
Kundendatenbank
Kundenprofile
Lohn- und Gehaltslisten-Management
Mehrere Standorte
Mitarbeitermanagement
Online-Buchung
Terminplanung
Verkaufspunkt POS
Wiederkehrende Termine
Alternativen für Aura Salonware
Bewertungen über Aura Salonware
Kosmetik, 11-50 Mitarbeiter
Verwendete die Software für: 1-5 Monate
We love it!
Kommentare: We have been Aura users for a few months now. The features on this system are things that our team has been trying to get into for years. Everyone on the team is super helpful. We are able to do so many things we couldn't before. It is clearly created by salon industry people, as they have skipped a lot of the fluff we had in different systems, while creating value and features where it counts.
Vorteile:
1. We could never utilize online booking because we have different guests book for different amounts of time, but with Aura we are able to adjust each guest individually so all guests have the ability to book their appointments online without screwing up our stylists' schedules. 2. Stylists are able to see all of their numbers on their dashboard from their phones. Previously stylists had to look up reports to view these numbers, and they weren't easy to read, so I was pulling their reports for them. Now they can see their sales, retail percentages, add ons, and several other items quickly on their app dashboard. They are super user friendly. 3. As an owner, I absolutely love their payroll report - I'm now able to do payroll in 30 mins when it previously took me 2 hours. They calculate everything for you - including sliding scales, and are able to adjust per stylist for different levels, etc. It's fantastic.
Nachteile:
1. Although customer service is very quick to answer, they do not have 24/7 customer service to call for immediate needs. 2. Learning curve of getting all our clients onto the app. 3. Although they show how to do everything in training, there is not a demo site or login to practice on while training staff.
Kosmetik, 2-10 Mitarbeiter
Verwendete die Software für: 1-5 Monate
In Betracht gezogene Alternativen:
Why Aura is the future for the modern salon!
Kommentare: Team has been great. Listened when we need help & always has an open ear to how the software can work better for our team.
Vorteile:
I love the Aurora salon where has empowered my salon to not only go successfully front deskless, but also to raise our retail per client tickets to above $30. The text functionality of Aura is incredible, and has cut down on the amount of calls that we receive to the salon substantially therefore reducing the need for our concierge team to be tied to the phone. The built in review function allows for us to track how our team is doing, boost online reviews, and mitigate negative reviews ever reaching review platforms. The guests love the ease of it being able to text both service providers & the salon concierge. My favorite function is that Aura requires a card when booking and requires the guest to accept cancellation policies and redo policies before booking their appointment. This has saved us from losing countless amounts of dollars on late cancellations or no-shows. The dashboard function makes coaching stylists in monthly meetings easy and is great for visual representation of how they are doing in accordance to their goals. Having a one on one salon success partner through Aura instead of having to wait for hours on end to speak to someone in a support center has made a tremendous difference in the amount of wasted time and frustration when finding resolutions to challenges that we are having in the salon. I love that Aura as a team is here to listen to feedback from owners and find resolutions and implement new programs.
Nachteile:
I'm excited for the future where guests are able to see loyalty points in app, salon scale integration, the ability to send sent campaigns to all clients, booking widget, & review widget.
Einzelhandel, 51-200 Mitarbeiter
Verwendete die Software für: 1-5 Monate
Beta could use some work
Kommentare: Looking forward to seeing the final result! It's a wonderful concept and will be greatly beneficial to clientele.
Vorteile:
The client side of this interface is gorgeous, extremely useful and easy to use!
Nachteile:
The salon side of the software could use additional features and functionality to be made easier to use.
Einzelhandel, 2-10 Mitarbeiter
Verwendete die Software für: 1-5 Monate
In Betracht gezogene Alternativen:
New to Aura
Kommentare: though there were some problems with integration, the software overall is easy to use and most of the problems have been fixed or are being worked on and troubleshot as we speak. The customer service is top notch and they bend over backwards to make it as easy and smooth as possible.
Vorteile:
Smart booking and self checkin and checkout were the two biggest draws. also the two way texting with guests. integration was ok. mostly problems with the inventory being transferred correctly (still working on this) and not being up and running when we were supposed to go live.
Nachteile:
we mainly had problems with the integration of all of our old data into the new system. client formulas were not correct and inventory wasn't matching up at all.
Kosmetik, 11-50 Mitarbeiter
Verwendete die Software für: 6-12 Monate
In Betracht gezogene Alternativen:
For Salons by Salons
Vorteile:
This software is consistently improving and developing to support what salons need as the industry continues advancing. The team is always really supportive in finding solutions whenever needed. The dashboard has been great for our team to understand their business. Great software overall!
Nachteile:
The benchmarking/reporting piece of the software doesn't lend for customization. We have had some challenges with reports showcasing the proper numbers. We would love to see the dashboard integrate goals for each team member to track their business.