Das könnte dich auch interessieren:
Was ist Fotor?
Fotor ist ein plattformübergreifendes Fotobearbeitungs- und Grafikdesign-Tool, mit dem Nutzer auf einfache Weise auffällige visuelle Inhalte erstellen können. Bis heute hat Fotor über 300 Millionen Nutzer weltweit. Das Tool wurde von Google Play als Top-Entwickler ausgezeichnet und von der BBC als Photoshop Lite betitelt.
Wer verwendet Fotor?
Fotobearbeitungs- und Designlösung, die kleine bis große Unternehmen bei der Erstellung von Collagen und der Bildverbesserung unterstützt und mehr.
Fotor – Details
Everimaging
2012 gegründet
Fotor – Videos und Bilder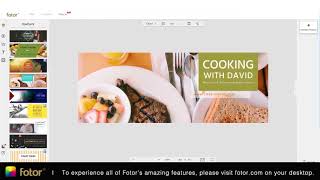 ▶︎
Fotor – Details
Everimaging
2012 gegründet
Kosten ähnlicher Produkte wie Fotor vergleichen
Startpreis
8,99 $/Monat
N/A
20,99 $/Monat
12,99 $/Monat
Fotor – Bereitstellung und Support
Kundenbetreuung
E-Mail/Helpdesk
FAQ/Forum
Wissensdatenbank
Telefon-Support
Chat
Einsatz
Cloud, SaaS, webbasiert
Mac (Desktop)
Windows (Desktop)
Android (mobil)
iPhone (mobil)
Funktionen von Fotor
Bearbeiten in Echtzeit
Bildbibliothek
Content-Sharing
Datei-Verwaltung
Drag-and-Drop
Import / Export von Inhalten
Stapelverarbeitung
Suchen / filtern
Vorgefertigte Vorlagen
Wasserzeichen
Werkzeuge zur Zusammenarbeit
API
Benutzerdefinierte Pinsel
Benutzerdefinierte Schriftarten
Bildbearbeitung
CAD-Werkzeuge
Content-Management
Datenspeicher-Management
Datenvisualisierung
Design-Management
Designvorlagen
Digitales 3D-Asset-Management
Drag-and-Drop-Editor
Drittanbieter-Integration
Druck-Management
Engagement-Tracking
Import / Export von Inhalten
Inhalt-Bibliothek
Kommentare / Notizen
Kundenspezifisches Branding
Mehrsprachig
Mobile App
Muster, Farbe & Kunstlager
Präsentations-Tools
Sichere Datenspeicherung
Social-Media-Integration
Suchen / filtern
Textbearbeitung
Versionskontrolle
Videobearbeitung
Vorschaufunktion
Wasserzeichen
Werkzeuge zur Zusammenarbeit
Workflow-Management
interaktive Inhalte
Siehe die vollständige Grafiksoftware & Bildbearbeitungsprogramme Liste
Michelle M.
Marketing Director in USA
Verifizierter Nutzer auf LinkedIn
Computer-Software, 2-10 Mitarbeiter
Verwendete die Software für: Mehr als 2 Jahre
LOVE how easy it is to use!
Kommentare: Huge benefits! I need to make small and large edits to photos all the time in my marketing job. This has really helped me accomplish that without a ton of editing knowledge or overhead. Great product!
Vorteile:
I love love love this product! I stumbled on it a few years ago and it quickly became my easy photo editor tool. I can do almost anything with it and it's very intuitive! Within the last year they have added new features like filters which just made it that much better.
Nachteile:
I honestly can't think of any. There was a small learning curve with the multi image layout but that seems to be expected with something like this.
Ali K.
Information Technology Adviser in Aserbaidschan
Verifizierter Nutzer auf LinkedIn
Informationstechnologie & -dienste, 2-10 Mitarbeiter
Verwendete die Software für: Mehr als 2 Jahre
In Betracht gezogene Alternativen:
Full-featured and flexible photo editor
Kommentare: Fotor is one of those online photo editors that I've used to edit my DSLR camera RAW photos while traveling and upload photos to the websites and social media networks. It's Supports photos with common and RAW extensions, it's great can upload customized fonts and access online fonts
Vorteile:
I like the rendering speed of Fotor and eye-catching effects. I have all the features I need online in the browser, I can easily apply effects to photos, and artificial intelligence works very well in retouching images and faces. The Adjusting section is very complete and the Curves tool is working awesome. Also, the Resize and Crop tool is easy to use and everything is like a professional desktop photo editing tool and you forget it's an online photo editing platform.
Nachteile:
They should be adding more default fonts because some projects have to be prepared quickly, and the more system default features, let users do works faster.
Henry C.
Digital Marketing Manager in USA
Verifizierter Nutzer auf LinkedIn
Restaurants, 51-200 Mitarbeiter
Verwendete die Software für: Mehr als 2 Jahre
In Betracht gezogene Alternativen:
Fotor actually makes my work weeks easier.
Kommentare: Working with images is one of the most frustrating and time intensive parts of my job, because I'm not a designer. Fotor has made it easier for me. Seems like a bland, simple statement, but a software tool actually making my life easier week after week is a rare and valuable thing. If your photo needs are basic (cropping, resizing, touching up, brightening, etc.) and you don't particularly care to learn deeper photo editing skills, Fotor is an excellent choice. It'll do everything you need, it'll do it quickly, and it won't distract you with anything you don't.
Vorteile:
It has a robust free version, which is what I'm most familiar with. I'm not a designer or photographer, and Fotor has tons of cropping, touch-up, re-sizing, and other web-design-based features built in to make it easy for people like me. I've used other design tools before, but Fotor is one of the best free design tools specifically for photo editing. A major benefit, especially for web designers/developers, is the free version allows for batch image editing. You can upload a full folder of photos, set the editing parameters you want, and Fotor edits every photo. That has saved me more hours than I can count.
Nachteile:
When it comes to anything "design," Fotor gets a bit weak. Simply adding a text or color overlay rarely worked out for me. More often than not I found myself editing images in Fotor, exporting to another tool like Canva, and then finishing the design from there. However, this isn't too different from how professional-level designers work. Photoshop to InDesign etc. So I don't hold it against them. But it's just good to note that Fotor won't be your go-to web design solution - just a fantastic, free image editing solution.
Mary lee C.
Writer and Editor in USA
Schreiben & Editieren, 2-10 Mitarbeiter
Verwendete die Software für: Mehr als 2 Jahre
Fotor Has Its Uses
Kommentare: Overall, I found Fotor to be useful, especially as a means of learning to make digital collages, but one does, I think, out grow it quickly. I was using it weekly, almost daily, for an extended period of a couple of years or more, but gradually, particularly due to the constant changes to the software, it became less and less useful. It became more and more limited and irritating, and the quality of the resolution of the collages proved too low for our purposes, so we started using other collage makers. We almost never use Fotor any longer, and when we do, we still find it mainly insufficient for our purposes. I'd suggest this is better software for teens looking to learn and have fun with photos, but professionally, if one's business is very reliant on striking images to sell products, one has to be hesitant about using Fotor, at least for collage making purposes.
Vorteile:
I used Fotor mainly to design photo collages for the social media accounts of my lit history company, and it did serve the purpose reasonably well, allowing for the creation of attractive collages.
Nachteile:
Unfortunately, the tools and the functions of the site were too often changed, so as soon as one started to improve in the speed and quality of best using the site, one was learning things all over again and taking longer than necessary to complete a task that should not have taken as much work time. Equally, the final resolution of the collage was not high on all devices, no matter in what format and on what settings we saved it, so especially for the purposes of something as visual as Instagram, it came to be less than ideal. And in addition, the site often froze, causing us to lose work, and having to start again.
Verifizierter Rezensent
Creator/Consultant in USA
Verifizierter Nutzer auf LinkedIn
Internet, Selbstständig
Verwendete die Software für: Mehr als 2 Jahre
Fotor is a Great Simple Photo Editing Tool, and Free
Kommentare: I really like that the Fotor is simple to use. Sometimes the best products are the ones that are straightforward and let's easily do what you want, a simple photo edit. There's a good range of filters to choose from, textures, and frames. You can also create a collage of photos with placement of up to 9 images, so there's plenty of layouts to choose from. You can also use Fotor on your smartphone, I have an Android and the app is super easy to use, so a plus for that though this review is focused on the desktop version which I've spent the longest time using.
Vorteile:
Fotor is really a great tool for basic photo editing. You can download Fotor for free, I use it regularly on my Macbook and have set it up for users on Windows. Fotor is straightforward, less complicated than Gimp, you can basically get someone up and running with the ability to upload and edit photos on their own. They have a great series of filters you can use, if I had to pick one feature I love the most about the software is the Focus feature. It lets you pick an area in your photo and choose it as the focal point and introduce a blur to the objects in the background. It's great if you have product images and want a simple tool to apply this effect.
Nachteile:
I'm not a fan of the text tool. It's super basic, you can add a text box and change color, font size, rotate text and drag to change the perspective. You can add text layers and have the option to put one behind the other, but that's pretty much it.