Was ist Intermedia Unite?
Intermedia Unite ist ein herausragendes, äußerst zuverlässiges, cloudbasiertes Telefonsystem, das kleinen Unternehmen hilft, die Kosten zu senken, das Management zu vereinfachen und die Produktivität der Mitarbeitenden zu steigern. Mit ergänzenden mobilen Apps und Desktopanwendungen bleiben Nutzer von Unite überall und auf praktisch jedem Kommunikationsgerät nahtlos verbunden. Darüber hinaus wird Unite durch den J.D.-Power-zertifizierten 24/7-Support von Intermedia und eine Service-Level-Vereinbarung mit 99,999 % Verfügbarkeit unterstützt.
Wer verwendet Intermedia Unite?
Unternehmen jeder Größe mit einem bis mehr als 500 Mitarbeitenden
Wo kann Intermedia Unite bereitgestellt werden?
Cloud, SaaS, webbasiert, Mac (Desktop), Windows (Desktop), Android (mobil), iPhone (mobil), iPad (mobil)
Über den Anbieter
Intermedia
Ansässig in Mountain View, USA
2010 gegründet
Telefon-Support
24/7 Live-Support
Chat
Erhältlich in diesen Ländern
Vereinigte Staaten
Über den Anbieter
Intermedia
Ansässig in Mountain View, USA
2010 gegründet
Telefon-Support
24/7 Live-Support
Chat
Erhältlich in diesen Ländern
Vereinigte Staaten
Intermedia Unite – Videos und Bilder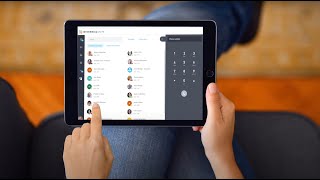 Kosten ähnlicher Produkte wie Intermedia Unite vergleichen
Intermedia Unite Funktionen
Anrufaufzeichnung
Anrufverfolgung
Anrufüberwachung
Automatisches Telefonwahlgerät
Berichterstattung / Analyse
Call-Center-Management
Chat / Messaging
Filesharing
Kollaboration mehrerer Nutzer
Meeting-Management
Mobiler Zugriff
SMS-Nachrichtenversand
Videokonferenzen
VoIP-Verbindung
Wechselseitige Audio & Video
Weiterleitung von Anrufen (Call Routing)
Alternativen für Intermedia Unite
Bewertungen über Intermedia Unite
Kevin dominik K.
President in USA
Verifizierter Nutzer auf LinkedIn
Informationstechnologie & -dienste, 51-200 Mitarbeiter
Verwendete die Software für: Mehr als 1 Jahr
Outstanding Quality and Service
Kommentare: Out previous provider had considerably raised their price, thus we wanted to migrate to a new solution. As we offer 24x7 support, we needed a solution, that could keep up with our requirements. We are completely satisfied with Intermedia Unite as well as with the interactions we had with Intermedia's staff.
Vorteile:
The Hardware Phone and Softclient have an outstanding availability and quality of service, no matter whether the user works in the office, at home or on Hotel or Airport Wifi. The Administrative interface is easy to use and the combination of toll-free and local numbers give a professional appearance. The quality of the voice mail is great, and the delivery by E-Mail quick and reliable.
Nachteile:
The integration with different Identity Management Systems for a single point of administration environment could be better. Other systems have more comprehensive group call and conference features.
Cheryl L.
co-owner of a dental practice in USA
Gesundheit, Wellness & Fitness, 2-10 Mitarbeiter
Verwendete die Software für: Mehr als 2 Jahre
Best Tech Team on the net.
Kommentare: Very good experience with Intermedia Unite. They can give any size office the best product and support and that has helped our office greatly. I have the best software and techs out there for our office!
Vorteile:
I buy software for our office based on the tech team that I talk with. If the tech team is willing to talk to me and answer my questions, then I know that the whole team wants our business. The sales teams are great but the tech team is what sales the product to me. After I purchase a product or service than I work with the tech team to make sure all is running smooth. The tech here at Intermedia Unite is the best that I have worked with and that means I can get a lot of work accomplished because I have a very good support software and team. Well worth having on my team. Best phone software out there!
Nachteile:
The company does not have any problems with our office and we would highly recommend them to other businesses as well.
Hillary L.
Manager in USA
Transport/Güterfrachtverkehr/Schienenverkehr, 11-50 Mitarbeiter
Verwendete die Software für: 1-5 Monate
Good software for a small business
Kommentare: Overall, Intermedia Unite is a good system at a fair price for small businesses. We like its versatility.
Vorteile:
Our company has 24/7 phone service, but with staffing issues, this has been a challenge. With Intermedia Unite, we were able to set up an answering system for after hours that still gives the caller an option to reach a live dispatcher if the issue is urgent. Our remote staff is able to use their mobile phone to receive, make and transfer calls from our main number. We love the fact that we can have voicemails transcribed and sent via email.
Nachteile:
The system can be complicated to utilize and we do have a fair number of calls that have poor connection or cut in and out. I wish that our automated alerts for wake-up calls would work with the after-hours service that we have set up.
Desmond H.
Director in USA
Informationstechnologie & -dienste, 2-10 Mitarbeiter
Verwendete die Software für: 6-12 Monate
In Betracht gezogene Alternativen:
Great solution for our team that saves us $$$ too!
Kommentare: I am so pleased. Everyone in the office appreciates the functionality of the product, especially now that we are 'remoting' more and more. The ability to video conference on the fly is a lifesaver for our team; we can get our work done -- but stay 'connected' a bit more than just a traditional phone.
Vorteile:
The best thing for us was implementing this just before the pandemic hit. We needed better unified communications and hosted phones for our team. The Intermedia onramp team was awesome, we had a single rep guiding us along -- which helped the consistency of the process. The setup was easier than we expected, the software easy to use once setup properly -- and it saves us $$$ every month.
Nachteile:
The support, although seldom required -- can be a bit slow. Granted -- when you have trouble with your phones you want immediate help. The key, however -- is that when help is reached -- they seem to get us fixed-up in a jiffy.
Bau, 2-10 Mitarbeiter
Verwendete die Software für: 1-5 Monate
In Betracht gezogene Alternativen:
SO much better than Microsoft's exchange services
Kommentare: Initially I got valid, correct answers from Sales. My billing is consistent and accurate. I had one question about billing and got an immediate, understandable answer. When the service became live it worked. It was an easy transition. No emails were missing. My team was happy. And the spam, and hacks are so much less. It's amazing.
Vorteile:
The interface, for the most part, works. Much better than Microsoft's 365 portal. And everyone speaks English!! And calls me back!!!
Nachteile:
The passwords. Every time I use the portal I have to change my password. The login screen doesn't look at the username; instead it inserts a random user's credentials. After that it is not possible to reuse previous passwords. This happens to my entire team.