Was ist Avail?
Avail ist eine intuitive Immobilienmanagement-Anwendung für Vermieter mit weniger als zehn Objekten. Mit ihr kannst du leer stehende Objekte bewerben, Mietanträge und Kreditberichte anfordern, Mietverträge unterzeichnen und die Miete einziehen – alles online. 150.000 Vermietende nutzen bereits Avail, da sie die einzige End-to-End-Plattform ist, die mit der Zahl der Objekte mitwächst, nützliche Tools, einen in den USA angesiedelten Kundensupport und Informationsangebote bietet.
Wer verwendet Avail?
Avail eignet sich für unabhängige und selbständige Vermieter und ihre Mieter.
Wo kann Avail bereitgestellt werden?
Cloud, SaaS, webbasiert, Mac (Desktop), Windows (Desktop), Android (mobil), iPhone (mobil), iPad (mobil)
Über den Anbieter
Avail
Ansässig in Chicago, USA
2013 gegründet
Telefon-Support
Chat
Erhältlich in diesen Ländern
Vereinigte Staaten
Über den Anbieter
Avail
Ansässig in Chicago, USA
2013 gegründet
Telefon-Support
Chat
Erhältlich in diesen Ländern
Vereinigte Staaten
Avail – Videos und Bilder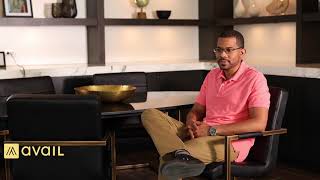 Kosten ähnlicher Produkte wie Avail vergleichen
Avail Funktionen
Dokumentenmanagement
Instandhaltungsmanagement
Kontaktmanagement
Leerstandsmanagement
Miet-Nachverfolgung
Mieter-Nachverfolgung
Mieter-Portal
Mietmanagement
Mietverträge nachverfolgen
Online-Zahlungen
Portfoliomanagement
Transaktion-Überwachung
Ashanti
Personal Landlord in USA
Verifizierter Nutzer auf LinkedIn
Immobilien, Selbstständig
Verwendete die Software für: 1-5 Monate
In Betracht gezogene Alternativen:
Easing the Process for First Time Landlords
Kommentare: Avail has been extremely easy to use and their customer service team is very helpful. I've had very little issues with the software and the monthly price is highly reasonable.
Vorteile:
I love the fact that I can upload my Own lease. While I enjoy the option to create a lease using the template provided by Avail, I love being able to truly customize my lease.
Nachteile:
I wish the software provided a document folder for each listing. There are other documents outside of the lease that associated with a rental and it'd be useful to be able to store all of the documents in one place.
Antwort von Avail
vor 3 Jahren
Hi Ashanti, Thank you so much for the thoughtful review. I can't begin to thank you enough! For many landlords out there who have a lot of questions and might be hesitating to join Avail, feedback like yours makes it clear why they should. We've taken a lot of time to really think through the tools that we offer and it is awesome to hear that a valued customer like you has had a positive experience with the platform. Having said that I definitely understand the need for the platform to have more document keeping capability (this is a request that we get quite frequently). My personal email is robert@avail.co; please feel free to email me with just a few additional details regarding additional feature requests and I'll be sure to get that information over to my head of product. Kindly, Robert B. Community Manager @ Avail.co
Kisha
Property Manager in USA
Immobilien, 2-10 Mitarbeiter
Verwendete die Software für: 1-5 Monate
In Betracht gezogene Alternativen:
Best Customer Support
Kommentare: There was an issue that a potential tenant when completing his application. He notified me and I called the support number. The person I spoke with went into the system to see what the problem may have been. He told me he would work on it and get back with me. He also said he would contact the potential tenant, which he did. A few hours later I received an email stating they figured out the problem and spoke with the potential tenant. The support person sending the email was different from the person I spoke with. She also let me know if I needed anything else to let her know and that she would be there through the weekend. Everything was fixed. I received the application with all of the reports. That's as far as I've gotten at the moment. I was just amazed at the immediate response and the communication through email throughout getting the problem handled.
Vorteile:
I am a new landlord with 2 properties. I was looking for software that would provide the background and credit check along with an eviction report. Being able to select a lease and add in my clauses for a specific state is a plus. It is also important for my tenants to be able to pay online and through ACH. I also wanted my tenants to be able to submit maintenance requests through the software.
Nachteile:
I just started using it. So far it was fairly easy to set everything up and get the property listed.
Antwort von Avail
letzte Woche
Hi Kisha, thank you so much for the review! We genuinely appreciate your feedback and are happy that Avail has been able to help with your rental screening needs. We've put a lot of time into developing a fully comprehensive application and are glad that it has helped with your 2 properties so far! Thank you so much again and please let me know if there's anything else we can assist with. Kind regards, Robert B. - Community Manager @ Avail.co
Bildungsmanagement, Selbstständig
Verwendete die Software für: Kostenlose Testversion
There are scams on your website !
Vorteile:
Very easy to use and looks fine for landlords, cannot say that for prospective tenants !
Nachteile:
I was looking for a studio to rent. I filled the application as required by your website which looks very trustful. I thought you were doing some background check or at least ID check for the landlords posting offers on your website ! I was victim of a scam, a fake landlord tried to steal me 5,000$ of prepaid rent without allowing me to visit the place, even if I work 10 min away from this studio. The person was always pushing back the visit arguing that some new applicants would prefer a later date, or that they had too much work on that day and had to delay the visit of one or two days. Then the person told me that according to your website, I had the best application and should make a deposit to make a reservation, otherwise other applicants might do so and take the lease. The information required by your website are highly sensitive, I uploaded a copy of my French Passport and my international VISA. I have now revoked the access to my application for this landlord but they might have copies of my documents now. And who knows what they plan to do with them. You should be more professional ! It is very good to provide background check tools for landlords but you might be providing 'trusting' services and then helping swindlers to make up their scam ! I will contact your service and hope you could help me and compensate me for this unfortunate experience !
Antwort von Avail
vor 3 Jahren
Hi Oliver! Robert here. I'm one of Avail's Community Managers, and I wanted to follow-up to say thank you for being a valued Avail user. I want to take this time to apologize to you for the experience that you reported. Fraud is a common industry issue, and here at Avail we take extra precautions to make sure that fraudulent activity is thoroughly investigated. Scammers are always looking for new ways to trick the platform's algorithms which forces us to stay on our toes. That said, I again do sincerely apologize that a fraudulent listing made it to our website. A lot of security changes are in the works (all exciting updates that we feel confident will make it even more challenging for fraudsters trying to scam others out of their hard earned money). I'd love to hear more from you about what we can do to make Avail a product you'd recommend to others. Please email me (robert@avail.co), and we can get a follow-up call scheduled. Kindly, Robert B. Community Manager @ Avail
Sherri
Realtor-Property Manager in USA
Immobilien, 51-200 Mitarbeiter
Verwendete die Software für: 1-5 Monate
In Betracht gezogene Alternativen:
Best Property Management
Vorteile:
Everything I needed for a property management software to start managing tenants with applications, background checks, upload own leases, deposits, email communications for the property manager to the tenants, maintenance request portal and more, but the best service I've enjoyed has been their awesome customer service team that has been so knowledgeable, patience and very helpful with all my questions. They took so much stress and concerns I had off my mind about using this software. I would highly recommend AVAIL to any other agent or company that's looking for an effective and simple program to use within their property management division.
Nachteile:
Nothing serious. Just a couple of times I experienced a lag in information updating on the screen, but it could have been me (user error).
Antwort von Avail
vor 2 Wochen
Hi Sherri, thank you so much for the kind review! We are so happy to hear you had a great experience with the product, and want to be sure to take into account the areas of feedback where we can also improve. In terms of your point about the lag in screen load time, sometimes this can be a connectivity issue. That said, if there's anything I can help out with please feel free to reach out by sending an email to robert@avail.co and I'll do my best to relay that feedback directly to my product team. We are always evaluating the different ways we can continue to provide value to all of our users. More than happy to assist! Kind regards, Robert B. - Community Manager @ Avail.co
Verifizierter Rezensent
Youth Minister in USA
Verifizierter Nutzer auf LinkedIn
Religiöse Einrichtungen, Selbstständig
Verwendete die Software für: Mehr als 2 Jahre
In Betracht gezogene Alternativen:
Awesome
Kommentare: No more property managers necessary. Yeah, I get to run the show.
Vorteile:
Makes my property management so easy, no more wrestling with property managers.
Nachteile:
Everything is just right. This software was a dream come true. I really appreciate the person behind this invention.Kudo
Antwort von Avail
vor 2 Wochen
Hi there! Thank you so much for the kind words. We are so happy to hear that you've found everything that you need in Avail. If there's anything else that we can assist you with, please be sure to let us know! Kindest Regards, Robert B. - Community Manager