Was ist Refund Retriever?
Nutzt dein Unternehmen FedEx oder UPS? Wenn ein nationales oder Express-Paket (sogar bei Bodentransport) verspätet geliefert wird (selbst nur 60 Sekunden), hast du ein Recht auf eine vollständige Rückerstattung. Refund Retriever bietet Unternehmen seit 2006 vollständige Logistiktransparenz und Einsparungen durch Überprüfung der FedEx- und UPS-Rechnungen, Berichte und Analysen sowie Vertragsverhandlungen.
Wer verwendet Refund Retriever?
Für Unternehmen, die mit UPS oder FedEx versenden.
Refund Retriever – Details
Refund Retriever
2006 gegründet
Refund Retriever – Details
Refund Retriever
2006 gegründet
Refund Retriever – Videos und Bilder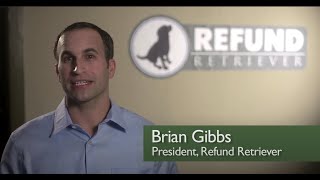 Kosten ähnlicher Produkte wie Refund Retriever vergleichen
Startpreis
0,01 $/Monat
N/A
Nicht verfügbar
89,00 $/Monat
Refund Retriever – Bereitstellung und Support
Kundenbetreuung
E-Mail/Helpdesk
FAQ/Forum
Telefon-Support
Chat
Training
Live Online
Webinare
Videos
Funktionen von Refund Retriever
API
Aktivitäts-Dashboard
Aktivitäts-Verfolgung
Angebote / Schätzungen
Anpassbare Berichte
Audit Trail
Auftragsabwicklung
Auftragsmanagement
Auftragsverfolgung
Barcode / Tickets scannen
Berichterstattung / Analyse
Berichterstattung und Statistik
Beschaffungsmanagement
Bestandsnachfüllung
Bestandsoptimierung
Bestandsverfolgung
Bestell-Management
Buchhaltung
Compliance Management
Datenvisualisierung
Dokumentenmanagement
Drittanbieter-Integration
Echtzeit-Aktualisierungen
Echtzeit-Analytik
Echtzeit-Berichterstattung
Echtzeit-Daten
Echtzeitüberwachung
Einkauf & Empfang
Elektronischer Datenaustausch
Import- / Export-Management
Integration in die Buchhaltung
Inventarverwaltung
Kundenaufträge
Lagerhaus-Management
Lieferanten-Management
Material-Rechnung
Mehrere Standorte
Multichannel-Management
Nachfragevorhersage
Prognose
Rechnungsmanagement
Retourenmanagement
Statusverfolgung
Supply-Chain-Management
Transportmanagement
Versand-Management
Vertrieb- & Abwicklungplanung
Wirtschaftsprüfung-Management
Workflow-Management
Überwachung
Siehe die vollständige SCM Software (Supply Chain Management) Liste
Audit- und Anspruchanmeldungs-Services
Automatisierte Anspruchsanmeldung
Daten-Import / -Export
Drittanbieter-Management
Erkennung von Rückerstattungsgelegenheiten
Kostendeckung
Leferantenrechnungsprüfung
Management by Exception
Nachverfolgung von Versandkosten
Paketanalysen
Prädiktive Analytik
Sendungsverfolgung
Versandoptimierung
Wirtschaftsprüfung-Management
API
Aktivitäts-Dashboard
Alarmfunktion / Benachrichtigungen
Angebote / Schätzungen
Auftragsmanagement
Auftragsverfolgung
Barcode / Tickets scannen
Berichterstattung / Analyse
Bestell-Management
Buchhaltung
Containerverschiffung
Daten-Import / -Export
Drittanbieter-Integration
E-Commerce-Management
Echtzeit-Aktualisierungen
Elektronischer Datenaustausch
Etikettendruck
Import- / Export-Management
Inventarverwaltung
Konnossement
Kundendatenbank
Kundenspezifisches Branding
Lagerhaus-Management
Lieferanten-Management
Lieferpreisberechnung
Luftfracht
Mehrere Standorte
Paket-Nachverfolgung
Paketversand
Prozess-/Workflow-Automatisierung
Rabattmanagement
Rechnungsmanagement
Reklamationsabwicklung
Retourenmanagement
Seefracht
Sendungsverfolgung
Sendungsverfolgung
Spedition
Statusverfolgung
Suchen / filtern
Transportmanagement
Versand auf dem Landweg
Versand-Management
Versandetiketten
Versandservice-Integration
Daniel S.
Business Director in USA
Verifizierter Nutzer auf LinkedIn
Einzelhandel, 51-200 Mitarbeiter
Verwendete die Software für: 6-12 Monate
In Betracht gezogene Alternativen:
Absolute must-use
Kommentare: RR audits our UPS invoices and makes sure every package was delivered on time, per their guaranteed service levels. If a shipment was late, we are entitled to a credit, but we have to ask for it, and we ship too many packages to monitor every single one. Their software has allowed us to save a non-trivial amount on our annual freight expense.
Vorteile:
Implementation took less than ten minutes. They audit every single one of our shipments, which would be impossible for us to do manually, and I'm confident that we have received every service refund we were eligible for. They only charge a portion of what they recover for us, so I have zero stress about paying for something we're not using. As an added bonus, they have super in-depth reports that allow me to analyze the notoriously unhelpful invoices from our third-party shippers. I have only required customer service two or three times since starting to use them but their responses have been immediate and completely helpful. I have only positive things to say about RR!
Nachteile:
I have literally zero complaints, which may be a first for me.
Carol K.
owner/proprietor in USA
Einzelhandel, 2-10 Mitarbeiter
Verwendete die Software für: 6-12 Monate
You won't be sorry!
Vorteile:
Refund Retriever gets your refunds with basically no extra work for you!
Nachteile:
There isn't anything not to like! Why can't I leave this blank? This field is becoming the worst thing about the software and it has nothing to do with it!!!!
Troy S.
business owner in USA
Internet, Selbstständig
Verwendete die Software für: 1-5 Monate
Great idea
Kommentare: Total waste of time, but the concept was really good.
Vorteile:
Fantastic concept. It could have been a great way to get some money back from fed ex without a ton of hassles and runaround from them like they do on every claim, etc...
Nachteile:
never worked. the company who did this seemed to "forget" what they were doing. Never answered any emails or got a single return and we know some of them should have.
Antwort von Refund Retriever
vor 2 Jahren
I am sorry for the lack of communication on our part. That falls on me. I looked through our email history and see there was one invoice that we voided, and I apologize for the experience you had as it is not typical of how I operate my company. Feel free to contact me at brian@refundretriever or 800-441-8085 if there is anything we can help with in the future. Brian C. Gibbs
Richard L.
President in USA
Einzelhandel, Selbstständig
Verwendete die Software für: Mehr als 1 Jahr
Easy to Use
Kommentare: It will streamline your efforts in your business to not have to manage that part of it.
Vorteile:
I am a one man show in my independent Mail Center. This takes a huge work load off my plate and its like having a employee that I don't have to manage.
Nachteile:
Maybe a little more communication on which packages they are tracking and to what location instead of a bill with a tracking number on it. Maybe just a little more detail on the bills
Einzelhandel, 11-50 Mitarbeiter
Verwendete die Software für: Mehr als 1 Jahr
RR saves us $20,000 annually!
Vorteile:
[SENSITIVE CONTENT HIDDEN] and the team at Refund Retriever do more than just manage deliveries made out of their guaranteed window. [SENSITIVE CONTENT HIDDEN] helped us negotiate our rates down which is going to save us about $20,000 this year alone. Thank you [SENSITIVE CONTENT HIDDEN] and Refund Retriever!
Nachteile:
I have no cons as this product works like it is supposed to and it was easy to impliment!