Was ist Lojistic?
Lojistic is a 100% free cost savings automation and analytics platform the helps you control and reduce your UPS, FedEx, and DHL costs. Lojistic analyzes your historical shipping data, identifies inneficiencies and cost reduction oppotunities, then provides solutions to resolve issues. Lojistic audits your parcel invoices for free, automatically. Reduce your shipping costs by up to 47% with Lojistic. It takes less than a minute to create your Lojistic account. Start today!
Wer verwendet Lojistic?
Lojistic helps businesses of all size save up to 47% on their UPS, FedEx, and DHL shipments. Use it for free, forever, to reduce shipping expenses and send costs packing.
Wo kann Lojistic bereitgestellt werden?
Cloud, SaaS, webbasiert
Erhältlich in diesen Ländern
Vereinigte Staaten
Erhältlich in diesen Ländern
Vereinigte Staaten
Lojistic – Videos und Bilder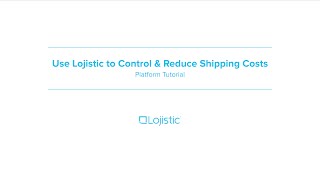 Kosten ähnlicher Produkte wie Lojistic vergleichen
Lojistic Funktionen
Automatisierte Anspruchsanmeldung
Daten-Import / -Export
Erkennung von Rückerstattungsgelegenheiten
Kostendeckung
Leferantenrechnungsprüfung
Nachverfolgung von Versandkosten
Paketanalysen
Sendungsverfolgung
Alternativen für Lojistic