Was ist Wowza Streaming Engine?
Wowza Media Systems ist der Branchenführer für Live- und On-Demand-Streaming in jeder Größenordnung. Du wirst in der Lage sein, Live-, lineare und On-Demand-Inhalte auf jedes Gerät zu streamen. Wowza Streaming Engine beschleunigt deinen Entwicklungszyklus und erstellt innovative Streaming-Lösungen mit der umfassenden Suite von Tools, APIs und SDKs. Über 35.000 Organisationen streamen mit Wowza. Beginne mit einer kostenlosen 14-tägigen Testversion.
Wer verwendet Wowza Streaming Engine?
Live-Streaming-Plattform, die Entwicklern, Veranstaltungsproduzenten und technischen Unternehmern hilft, ihren Zuschauern/Kunden durch Integration von Drittanbietern, Untertitelung, API und mehr Livestreams zur Verfügung zu stellen.
Wo kann Wowza Streaming Engine bereitgestellt werden?
Cloud, SaaS, webbasiert, Mac (Desktop), Windows (Desktop), Windows (On-Premise), Linux (On-Premise)
Über den Anbieter
Wowza Media Systems
Ansässig in Golden, USA
2005 gegründet
Telefon-Support
24/7 Live-Support
Chat
Erhältlich in diesen Ländern
Vereinigte Staaten
Über den Anbieter
Wowza Media Systems
Ansässig in Golden, USA
2005 gegründet
Telefon-Support
24/7 Live-Support
Chat
Erhältlich in diesen Ländern
Vereinigte Staaten
Wowza Streaming Engine – Videos und Bilder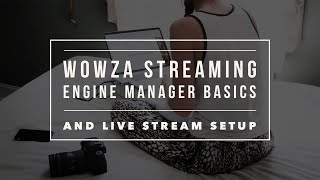 Kosten ähnlicher Produkte wie Wowza Streaming Engine vergleichen
Wowza Streaming Engine Funktionen
Berichterstattung / Analyse
Teilen in sozialen Medien
Alternativen für Wowza Streaming Engine
Bewertungen über Wowza Streaming Engine
Wojciech
CEO in Finnland
Verifizierter Nutzer auf LinkedIn
Onlinemedien, 2-10 Mitarbeiter
Verwendete die Software für: Mehr als 2 Jahre
Nadaje Broadcasting recommends Wowza Streaming Engine
Kommentare: Nadaje Broadcasting use Wowza to stream in multiple use cases: RTMP to HLS/DASH; RTSP to HLS/DASH; Secure token streaming with CDN - protected internal corporate streaming; Transcoding to lower quality to cover all devices. All this makes Wowza very flexible software and Nadaje Broadcasting's main video streaming software partner.
Vorteile:
The most impactful features are transcoding and HLS/DASH web streaming. The software was easy to integrate and operate via the API and integration is stable while upgrading. Our company use Wowza Streaming Engine for over 10 years!
Nachteile:
Additional charges for support and a bit heavy memory usage in some use cases. Also logging was not possible per a vhost.
Robert
Lead Developer in USA
Computer-Software, 11-50 Mitarbeiter
Verwendete die Software für: Kostenlose Testversion
Using Wowza to stream to .NET console application over HTTPS
Kommentare: We have customers that are requesting a level of security that requires all documents and files, including videos, to be transported over HTTPS. We could copy and cache the videos on each user's machine, but it is far more efficient to be able to use a streaming video server to stream the videos over HTTPS and Wowza enables us to do this.
Vorteile:
It was very easy to set up and use the streaming engine. It supports a wide variety of formats. It is capable of doing everything we need it to do and much, much more. The documentation was, for the most part, very clear and easy to follow, and the support staff that I contacted were very responsive and helpful.
Nachteile:
As stated, the documentation was helpful, clear, and easy to follow, for the most part. I realize that our use case was an edge case as compared to the standard Wowza user, and that learning how to set up https/SSL/Streamlock, creating certificates, etc. does not actually have anything to do with Wowza software per se. However, their documentation in this regard was a big sparse and I had to supplement this with additional research. The stated requirement and references to OpenSSL was particularly confusing, because this piece of software was not required to do what I needed. I am unsure why half of the references say to use the Java keytool to create certificates, and other references state a requirement for OpenSSL to perform actions for which the keytool is definitely capable. Additionally, there was some confusion regarding the format of the URL to get the videos to successfully play over HTTPS. The format that the support team sent me did not work. However, by thoroughly reviewing the software in order to fully document my case for further support, I was able to come up with a format that did function. The fact that all these link formats should in fact point to the same place and perform the same function, but that only one actually worked, is probably my biggest, and really only, complaint with the software.
Clinton
AV Systems Engineer in USA
Bildungsmanagement, 10.000+ Mitarbeiter
Verwendete die Software für: Mehr als 2 Jahre
Poor customer experience with support and billing
Kommentare: Our overall experience with Wowza Streaming Engine has been a mixed bag. It has required a lot of time and work to achieve the results that we were looking for. Upgrades and patching have been difficult and the documentation is at times out of date, incorrect, or difficult to follow. Support has been difficult to deal with especially since they will reference and send you links to the documentation to "help." It's been very difficult to work with Wowza and our experience overall has been poor. The software works well enough to get the job done but offers nothing exceptional in return.
Vorteile:
Wowza has been an important part of our systems over the past 7 years or so. We have built several systems around streaming video on campus for different purposes. Wowza has been a mostly stable product that has allowed us to transmux, transcode, and distribute video across campus for a decent price.
Nachteile:
The configuration and management of the servers is difficult. Upgrades in our environment are difficult because named user account configurations are difficult to deal with around the Wowza Streaming Engine product. You have not made it easy to upgrade software and full version upgrades from version 3 to version 4 was incredibly difficult. Webrtc implementation took some work to get working properly. Documentation is out of date at times and hard to follow. Customer support has been the worst experience we have had here and is causing us to rethink our use of Wowza. We keep on trying to change our billing but no one will work with us on it and we keep having billing issues every year. We never receive billing notices. We get late notices without ever receiving an initial billing notice or request. We request a PO but only get told to use a card. Our customer service representative never returns our calls and has not been helpful in this matter.
Sport, Selbstständig
Verwendete die Software für: Mehr als 2 Jahre
Wowza Streaming Engine is the heart of our business
Kommentare: Overall, our experience has been extremely good. We run two servers that are load balanced and the primary also is linked to a third party CDN. Without the CDN, we can comfortably stream HD to over 300 viewers and with the CDN enabled, there is no limit. The Wowza Streaming Engine is more tolerant of of venue origin streams than many other services and that is extremely important.
Vorteile:
Wowza Streaming Engine dependably delivers our live sports webcasts. The compatibility with our JW Player is perfect and the live DVR allows fans and statisticians to go back and review plays. The system is well understood by most web developers, it is very full featured and the license fees are affordable when deployed on our own equipment.
Nachteile:
Deficiencies, in my opinion, are the complexities of storing separate files for each ABR resolution and automating a system to create SMIL files for on-demand playback. A single file with all resolutions would be very preferable. There is no function within Wowza to accept an uploaded file and translate it into usable frame aligned files for on-demand playback. We have to use an unauthorized file naming plug-in in order to automate our playlist and SMIL file creation.
Jennifer
multimedia producer in USA
Rundfunkmedien, 11-50 Mitarbeiter
Verwendete die Software für: Mehr als 2 Jahre
Streaming software for just about anyone
Kommentare: We have found Wowza to be a great company to work with. Even though we use the tiniest fraction of the tools and services that Wowza offers, we get great customer service and attentive help whenever needed. We feel like we are important clients, even though we are nowhere near their largest client.
Vorteile:
As a government TV station broadcasting council meetings and live press conferences to the public, the reliability of our 24/7 live stream is number one priority. But, our live stream is just a small fraction of the services we provide and we don't have time for a product that needs full time handholding. Wowza has been a consistently steady friend in this endeavor. Plus, we also love being able to route the stream to as many places as we need to.
Nachteile:
Setting up a new stream involves a lot of options and settings that, when we were brand new to the tool, were confusing and somewhat tedious. We had to document the settings we wanted and referred to that documentation for a long time before we had it down. A more streamlined set up, perhaps even with a 'copy from previous event' would go a long way in making the tool easier to use.