Was ist Twilio?
Twilio ist die laut Hersteller weltweit führende Cloud-Kommunikationsplattform, mit der du Kunden über kanalübergreifend ansprechen kannst – d. h. per SMS, Sprache, Video, E-Mail, WhatsApp und mehr. Umlagebasierte APIs ermöglichen es Unternehmen, ihre Kommunikation zuverlässig zu skalieren.
Wer verwendet Twilio?
Unternehmen jeder Größenordnung, die Lösungen für die Cloud-Kommunikation in über 100 verschiedenen Ländern benötigen
Wo kann Twilio bereitgestellt werden?
Cloud, SaaS, webbasiert, Windows (On-Premise), Linux (On-Premise)
Über den Anbieter
Twilio
Ansässig in San Francisco, USA
2008 gegründet
Telefon-Support
24/7 Live-Support
Chat
Twilio Kosten
Startpreis:
0,01 $
Ja, kostenloser Test verfügbar
Keine Gratisversion
Twilio bietet keine Gratisversion, aber eine kostenlose Testversion. Die kostenpflichtige Version von Twilio ist ab 0,01 $ verfügbar.
Preismodelle
Über den Anbieter
Twilio
Ansässig in San Francisco, USA
2008 gegründet
Telefon-Support
24/7 Live-Support
Chat
Twilio – Videos und Bilder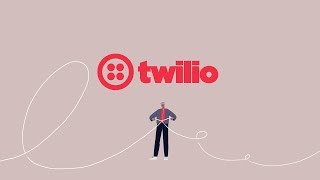 Twilio Funktionen
API
Alarmfunktion / Benachrichtigungen
Anrufaufzeichnung
Anrufprotokoll
Anruftext-Aufzeichnung
Anrufüberwachung
Archivierung & Aufbewahrung
Audio / Video-Konferenzen
Aufzeichnung
Aufzeichnung bei Bedarf
Automated Attendant
Automatic Outbound Dialer
Automatische Anrufverteilung
Automatische Antworten
Automatisiertes Routing
Berichterstattung / Analyse
Big Data Analytics
CRM
Call Tracking Metrics
Call-Center-Management
Chat / Messaging
Computer Telephony Integration
Connectivity-Management
Datenmanagement
Drittanbieter-Integration
Echtzeit-Chat
Ereignisgesteuerte Aktionen
For Small Businesses
Geplanter Nachrichtenversand
Gerätemanagement
IVR / Spracherkennung
Kampagnenmanagement
Konferenzschaltung
Kontaktmanagement
Kurzwahlnummern
Live-Chat
MMS
Massen-SMS
Mehrfache Skripts
Mobile Coupons
Mobile Keywords
Multi-Channel-Kommunikation
Online-Sprachübertragung
PBX
Programmierte Aufnahme
ROI Tracking
SIP-Trunking
SMS Gewinnspiele
SMS-Nachrichtenversand
Stimmenanpassung
Telefon-Tasteneingabe
Text in Sprache (verwandeln)
Vereinheitlichte Kommunikation
VoIP-Verbindung
Voice-Mail
Voicemail-Transkription
Warteschlangenmanagement
Weiterleitung von Anrufen (Call Routing)
Ryan
Marketing Director
Verifizierter Nutzer auf LinkedIn
Marketing & Werbung, 2-10 Mitarbeiter
Verwendete die Software für: Mehr als 2 Jahre
Great product for the tech savvy
Untertitel auf Deutsch sind im Videoplayer verfügbar
Sam
Partner in USA
Verifizierter Nutzer auf LinkedIn
Logistik & Lieferkette, 11-50 Mitarbeiter
Verwendete die Software für: Mehr als 2 Jahre
Twilio is great, but the learning curve is greater
Kommentare: Because I don't make any changes to Twilio on my own, the barrier to entry requires me to rely on third-party developers to fulfill all my requests due to my technological limitations. While this could be considered a good thing, as most business owners should not be screwing around with their phone system, it does mean that I need to be reliant on a third party to help make the Twilio implementation I dream up. When everything is set up correctly, I never have issues with Twilio. That level of reliability means a lot when it comes to a business phone system. Because of this, I wholeheartedly recommend Twilio to any business. Just be prepared to take a deep dive into the learning curve or hire a third party.
Vorteile:
Twilio has set the bar pretty high with the customizability of telephony. You can do incredible things with Twilio. From a simple phone tree to complex actions that integrate other applications with the likes of Zapier and other no-code services, the sky is the limit for most small business owners to create great solutions.
Nachteile:
The downside is the learning curve. In comparison, I consider myself tutorial literate when coding and setting systems up. I can't seem the find the ability to build proficiency in Twilio. And while this is my own doing, it is my only con. Twilio is incredible. For whatever reason, I have difficulty handling the tweaking on my own.
Julien
CEO in Costa Rica
Verifizierter Nutzer auf LinkedIn
Informationstechnologie & -dienste, 11-50 Mitarbeiter
Verwendete die Software für: 1-5 Monate
Amazing powers - not for anyone
Kommentare: We did our transfer from Dialpad to Twilio after seeing the price difference + all the missing options (automation and integration) Dialup was missing. We faced a huge issue when we realized we had to code our own phone system to be able to receive or send sms and calls. Happened at a moment where the firm didn't have the time to read the 3000 pages tutorial offered on Twilio. Our transfer made our whole phone system out of service for 3 weeks. We finally found other companies offering what Twilio should offer : a basic interface to the basic needs of a phone number (call + sms). This workaround finally made the deal much less advantageous than expected. We now pay almost the same price as we were paying with Dialpad, for a less powerful interface.. until we have the time to focus on building our own app to use it.
Vorteile:
Twilio can do absolutely everything you need to do with a phone number. Automate, Record, SMS, Call, Chatbot, Integrations, Number verification.
Nachteile:
Very complex to setup. You absolutely NEED to know how to code. No easy user software available to simply use your number from day 1.
In Betracht gezogene Alternativen: Dialpad und CallHippo
Warum Twilio gewählt wurde: For all the added functionalities offered on Twilio (automation + integrations) and the much lower cost.
Zuvor genutzte Software: Dialpad
Gründe für den Wechsel zu Twilio: For all the added functionalities offered on Twilio (automation + integrations) and the much lower cost.
Verifizierter Rezensent
IT Manager in USA
Verifizierter Nutzer auf LinkedIn
Einzelhandel, 11-50 Mitarbeiter
Verwendete die Software für: Mehr als 1 Jahr
Twilio's services and tools are reliable, easy to configure, easy to manage, and inexpensive
Kommentare: We use Twilio trunking for our multi-location PBX, and SMS messaging for customer communication. Twilio has worked out very well for us and I would strongly recommend them to other businesses. It's easy to set up, inexpensive and reliable.
Vorteile:
So far, we use Twilio SMS messaging and SIP trunking. Our experience with was excellent. Everything from creating an account, setting up services, integrating with other systems (PBX and CRM), funding and managing services has been nearly perfect. We did not have a lot of experience with any of these technologies, and we had very little trouble getting it to work the way we want. They have done an outstanding job of designing the services and interfaces so you can put together systems exactly the way you want, without a lot of trouble for spending a lot of money.
Nachteile:
The one negative that we have encountered so far is that Twilio's SIP trunking does not support T.38 faxing. We do have a couple legacy fax machines set up with ATA's, but they are unreliable both sending and receiving, so we had to supplement this with efax service from another vendor. This setup works, but it would've been nice to have everything together from one vendor. I understand that fax is outdated, but it's still the standard in the medical industry.
Verifizierter Rezensent
Marketing Automation Manager in Israel
Verifizierter Nutzer auf LinkedIn
Gesundheit, Wellness & Fitness, 11-50 Mitarbeiter
Verwendete die Software für: 6-12 Monate
Good value for money and overall a good experience
Kommentare: Good rates and deliverability with good CS
A big solid company, just make sure it answers all your requirements
Vorteile:
Their pricing and routs are good and working well in the united states Customer support and customer success is very responsive and replies very quickly
Nachteile:
The API account type is very unfriendly and although meant for developers, is not very nice for marketers
Internet, 2-10 Mitarbeiter
Verwendete die Software für: Mehr als 1 Jahr
Twilio
Kommentare: Twilio helps me send transactional SMS messages to my users, which is its important role for my business and it nails this. However, to get more out of it, I use it for marketing to certain user segments as well and it performs brilliantly. Overall, I am happy with Twilio.
Vorteile:
Twilio easily integrates with multiple 3rd party services out there. With a simple Zap in Zapier, you can build multiple workflows that trigger operations on your Twilio accounts such as sending out mass SMS or transactional SMS to customers. Twilio has exceptional deliverability in so many countries around the world. So no matter where your recipient is, Twilio can pretty much reach them.
Nachteile:
Twilio has a steep learning curve if you do intend to get the most out of the products. You can cover a lot with simple API and Zapier, but to get the most from it using "Programmable Communications" needs some level of expertise. And this is where Twilio really showcases its powers. Unfortunately without a certain level of expertise, you will not get to that. Personally, as a NoCode builder, to overcome this I had to hire an expert to help me get the most out of Twilio.
In Betracht gezogene Alternativen: MessageBird
Gründe für den Wechsel zu Twilio: Twilio was much easier to integrate with my existing stack of Bubble, Zapier, and Airtable.