Was ist Gather?
Gather helps Interior Design teams specify, communicate, and manage complex residential and commercial projects in the cloud.
Our intuitive but powerful platform helps thousands of design teams like yours build shared digital resource libraries in the cloud, and manage projects from any location.
- Source materials online 400% faster
- Track details and dates
- Produce thorough and beautiful FF&E documents
- Manage materials and assets across locations
- Chat and discuss everything
Wer verwendet Gather?
Professional Interior Design, Architecture, and Design-Build firms.
Gather – Details
Gather
2015 gegründet
Gather – Details
Gather
2015 gegründet
Gather – Videos und Bilder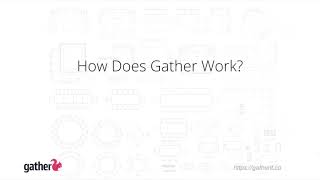 Kosten ähnlicher Produkte wie Gather vergleichen
Startpreis
199,00 $/Monat
43,00 $/Monat
250,00 $/Monat
10,00 $/Monat
Gather – Bereitstellung und Support
Kundenbetreuung
E-Mail/Helpdesk
Telefon-Support
Chat
Training
Live Online
Dokumentation
Videos
Funktionen von Gather
2D-Zeichnung
3D-Imaging
API
Abfassung
Abrechnung & Rechnungsstellung
Aktivitäts-Dashboard
Angebote / Schätzungen
Anpassbare Berichte
Anpassbare Vorlagen
Aufgaben-Fortschrittsverfolgung
Aufgabenmanagement
Aufgabenplanung
Auftragskostenrechnung
BMI-Modellierung
Berichterstattung und Statistik
Daten-Import / -Export
Datenvisualisierung
Design-Management
Dokumentenmanagement
Dokumentenspeicher
Drag-and-Drop
Drittanbieter-Integration
Echtzeit-Benachrichtigungen
Echtzeit-Daten
Für die AEC-Branche
Kommentare / Notizen
Kommunikationsmanagement
Kontaktmanagement
Kontrolle des Genehmigungsprozesses
Kundenspezifisches Branding
Material-Rechnung
Mehrere Projekte
Mobiler Zugriff
Planungs-Tools
Prognosen
Projekt-Nachverfolgung
Projekt-Workflow
Projektmanagement
Projektplanung
Projektzeiterfassung
Präsentations-Tools
Rechnungsmanagement
Rollen-basierte Genehmigung
Sichere Datenspeicherung
Statusverfolgung
Suchen / filtern
Timesheet Management
Vertrags-/Lizenz-Management
Vorlagen-Management
Zusammenfassende Berichte
Sharon C.
Interior Designer and Owner in USA
Verifizierter Nutzer auf LinkedIn
Architektur & Planung, 2-10 Mitarbeiter
Verwendete die Software für: Mehr als 1 Jahr
The perfect presentation and purchasing program for designers
Kommentare: When I set up shop as a interior designer a friend recommended Gather software to me and I found them on facebook. Its an excellent program I found. I was able to pull furniture, accessories and lighting for clients. I was able to build my finds into professional presentation binders or PDFs via email and give them pricing on the items. You are able to add specs like size, color and how many. Now if you buy from market or shows you can add markup to the pieces and the clients have the option to buy directly from you or retail from the vendor. The clients are able to give their input, say yes or no. Then I as the designer can make selects and options prior to finalizing build and pricing. No interior designer should be without this program. I love it!!!
Vorteile:
It was easy to log, to build sheets and easy for your clients view and approve. The cost is reasonable and you have someone to talk you through. I love how you can use the gather extension to pull in different pieces from any vendor from the web. Very handy to build presentations and tear sheets.
Nachteile:
I really don't have a con. The pricing is good, the software is solid, the customer service could a be a little bit better. Thats all it a great tool for designers!!
Camille H.
Principal Designer and Owner in UK
Verifizierter Nutzer auf LinkedIn
Design, 2-10 Mitarbeiter
Verwendete die Software für: Mehr als 2 Jahre
Couldn't do my job without Gather
Kommentare: The challenge of providing great customer service as an interior designer is that it can be death by details. Having a single place that stores each detail about a specification, gives me a thumbnail image of each item, allows me to see how we're using our clients' budgets and each logistical detail that may come up from specification to installation has been tremendous. When we began using Gather to create invoices seamlessly in Quickbooks, I was in heaven.
Vorteile:
I've been lucky enough to use Gather since it was in it's beta phase and love the many ways it's evolved. What is most helpful about the software is the ability to see all elements of an interior design project at once, whether you're managing the logistics of an order, determining how pieces look when assembled together, need to quickly reference a detail regarding the specification, or the client needs a budget update. All of this is easily accessible and straightforward.
Nachteile:
I can't say there haven't been things I didn't like about the software but the Gather team is so responsive to feedback that they've never lasted long.
Sallie K.
CEO/Interior Designer in USA
Verifizierter Nutzer auf LinkedIn
Design, 2-10 Mitarbeiter
Verwendete die Software für: Mehr als 2 Jahre
Design Time Saver
Kommentare: This has made it so easy for clients to send us notes and updates to keep on top of projects.
Vorteile:
Gatherit.co is very user friendly & does a lot of work for us. It auto loads information which is a time saving dream!
Nachteile:
I wish that it could have everything included, invoicing, importing, exporting, vision boards that can print. Basically, it is so helpful, I just want more!
Amanda G.
Owner, Lead Aesthetic Designer in USA
Verifizierter Nutzer auf LinkedIn
Design, 2-10 Mitarbeiter
Verwendete die Software für: Mehr als 2 Jahre
Gather makes us profitable!
Kommentare: Gather allows me to work on projects anywhere, and is now our primary collaboration tool within our business and our primary presentation tool for clients.
Vorteile:
It allows us to communicate with our busy Silicon Valley clients about individual items 24 hours a day. They love the control and feedback options they get, and we love minimizing meeting time and arriving at decisions more quickly. This way we can handle more clients at a given time, which makes us more profitable.
Nachteile:
Because they're improving all the time, there are occasionally little clunks with certain functions, but customer service is phenomenal.
Jenny B.
Interior designer in USA
Architektur & Planung, Selbstständig
Verwendete die Software für: 6-12 Monate
Great tool for interior designers
Kommentare: It is nice that you, as a user, can shape futures by providing an opinion with always received with respect by creators.
Vorteile:
As a visual person(as most of the clients) I appreciate the most the look of Gather. Time-saving options, like a picture and product details clipping, are wonderful. Proposal ready in seconds, invoices, vision board... I like that I can get easily in touch with the program creators and get answers and help. As a small bussines owner, I respect and appreciate the work that representative are doing and wish them all the best.
Nachteile:
The program still needs some work, like a mobile app. Hope, the creators will gain enough budget soon to jump to the next level.