Was ist Sellpro?
SellPro empowers retailers and retail brands to foster a knowledgeable, loyal, and motivated workforce through ongoing engagement.
The platform fuses micro-learning and gamification with rewards, communications tools, job aids and more in a modern app that retail personnel want to use every day.
SellPro administration and content management are made easy through automation, actionable analytics and an intuitive online interface that takes only minutes to master.
Wer verwendet Sellpro?
Product brands selling non-commodity products and services through the retail channel. Retailers looking for a one-stop SaaS solution to help engage, train, reward and inspire their workforce.
Wo kann Sellpro bereitgestellt werden?
Cloud, SaaS, webbasiert, Windows (Desktop), Android (mobil), iPhone (mobil), iPad (mobil)
Über den Anbieter
SellPro
Ansässig in Woodland Hills, USA
2009 gegründet
Telefon-Support
Chat
Erhältlich in diesen Ländern
Kanada, Vereinigte Staaten, Vereinigtes Königreich
Über den Anbieter
SellPro
Ansässig in Woodland Hills, USA
2009 gegründet
Telefon-Support
Chat
Erhältlich in diesen Ländern
Kanada, Vereinigte Staaten, Vereinigtes Königreich
Sellpro – Videos und Bilder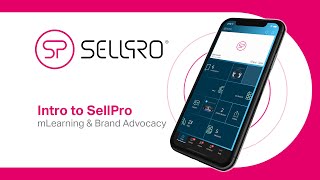 Kosten ähnlicher Produkte wie Sellpro vergleichen
Sellpro Funktionen
Autorensysteme
Benchmarking
Berichterstattung / Analyse
Berichterstattung und Statistik
Bestenlisten
Bonus-Verwaltung
Content-Management
Drittanbieter-Integration
Feedback-Management
Fortschrittsverfolgung
Gamification
Inhalt-Bibliothek
Integrierter Autorensystem-Kurs
Kurs-Tracking
Leistungskennzahlen
Lernmanagement
Mitarbeiteranerkennung
Mobiler Zugriff
Pulsbefragungen
Tests/Bewertungen
Werkzeuge zur Zusammenarbeit
Wettbewerbs-Management
Zertifizierung und Lizenzierung
Zielsetzung / Nachverfolgung
interaktive Inhalte
Peter
Digital Training Manager in USA
Verifizierter Nutzer auf LinkedIn
Unterhaltungselektronik, 1.001-5.000 Mitarbeiter
Verwendete die Software für: Mehr als 2 Jahre
Reach all your retailers with a single mobile app
Kommentare: In a Covid world we are able to reach thousands of sales associates with the use of modules, videos and job aides. We've transformed our training team into a best in class digital training team within the consumer electronics industry and we couldn't have done it without the team at Sellpro and their platform.
Vorteile:
The ease of use and implementation across multiple retailers. The ability to run live sessions, on the fly adjustment of content and the ability to measure ROI with an in depth dashboard.
Nachteile:
Wish there was more fonts and better image sizing but nothing we couldn't overcome with some pre production planning.
Antwort von SellPro
vor 2 Jahren
Thanks for the great review and feedback, Peter! Happy to announce that we have recently deployed functionality to add custom fonts and more image sizing options in the SellPro OMS Content Builder. Please reach out to your direct client services contact for more details.
Julie
Sales Development Consultant in USA
Unterhaltungselektronik, 10.000+ Mitarbeiter
Verwendete die Software für: Mehr als 2 Jahre
Outstanding Platform!
Kommentare: My experience with SellPro has been stellar. I've been a client for many years and have marveled at how quickly the platform has exploded in popularity. It is a go-to training platform for numerous sales associates at major retailers throughout the country, capturing mindshare and driving sales. All levels of leadership are responsive and truly talented at SellPro.
Vorteile:
SellPro is best-in-class software. It facilitates training retail sales associates throughout the US and world with features that are user friendly, mobile, and cutting edge. With the COVID-19 pandemic, SellPro adapted quickly and has helped lead the way in the retail digital transformation with surveying capabilities, chat functionality, and live webinars all from a mobile device. Although mobile first is often the mantra, SellPro also offers desktop functionality to accommodate users with that preference.
Nachteile:
I enjoy everything about this software. Customization and client requests are always considered and often honored, which allows training and campaigns to be tailored to our user base. The challenge will be to continue developing and expanding capabilities to ensure SellPro remains ahead of the pack. This is a challenge that all best-in-class organizations face, and I anticipate SellPro will continue to outthink, outpace, and outperform.
Antwort von SellPro
vor 2 Jahren
Thank you for the great review, Julie! We are very happy the platform is working well for you and your team, and motivated to always do better!
Daniel
Instructional Designer in USA
Einzelhandel, 10.000+ Mitarbeiter
Verwendete die Software für: Mehr als 2 Jahre
Reliable and on the right track
Kommentare: Software continues to improve and I feel like my feedback is listened to. Some asks are easier than others. I wonder how many more companies ask for SCORM .zip file upload capabilities. It seems like it really wouldn't work with a lot of the way the app is set up. You'd be hosting one file with all the elements, rather than dropping all the elements into topics using the OMS. So I see how adding the .zip capability may seem like a good idea to developers, but really it's only a good idea for developers - not for the end user - bc it really just saves the developer time, but the user prob has - ironically - a lower UX compared to using the OMS tools and topics. So - add more interactive elements overall. Allow designers to recreate that experience with interactive tools. Otherwise, as designers looking to provide the best UX to our users, we will continue to explore workaround solutions until they are provided within the app. Collectively everyone wants this, IMO, and it's more a matter of time and resources. Continue to invest in more interactive elements and you will see it harder for me to justify why I spend more time in other apps developing, and I'll start using your app for our solutions more.
Vorteile:
It's reliable. The materials we load onto the app for consumption are received and experienced without issue in almost all cases. It has ways to segment and assign content to tiers and users, and customize visibility to a very specific or impressively large audience. Metrics are reliable as well, with dashboards allowing real time calculation, as well as customized widgets for quick looks.
Nachteile:
I would like the ability to add more file types, specifically a .zip SCORM file. I also like that SP has a 'build your own' content type, and features are added, but I want to be able to copy entire topics I build within a course, because course topics are intentionally short, because of the micro learning approach, which is entirely valid in today's industry and our audience type. Not having that feature means creating courses takes a long time. If designers could save topics they create to drop into other courses, or copy topics made within a course, those would be improvements.
Antwort von SellPro
vor 2 Jahren
Daniel - thank you very much for taking the time to write a detailed review about your experience with SellPro. We really appreciate the candid feedback and we are on it! We are happy to say that ability to save and copy course topics is already on our roadmap, along with an array of other time-saving features for content developers. More content interactivity elements are also coming soon. Regarding SCORM and .zip file upload capabilities, you are spot-on in your comments. When we develop functionality on the content developer end, we are always most concerned as to how it would impact the end-user experience in our apps as at the end of the day, the end-user experience is what drives engagement, learning retention, advocacy, and ultimately, sales. Our R&D team is working around the clock to continue expanding the toolset and back-end flexibility of the SellPro platform. Thanks again for your feedback and continued support - stay tuned!
Norman
National Field Manager in Kanada
Computer-Hardware, 1.001-5.000 Mitarbeiter
Verwendete die Software für: Mehr als 2 Jahre
Logitech Review
Kommentare: AMAZING!!! Shout outs to [SENSITIVE CONTENT HIDDEN] for being amazing and helping our Logitech team get the most out of the Sell Pro App. I can't say THANK YOU enough to Sell Pro for providing a tool that allows my training team to be A)relevant and impactful in the retail environment that has been very challenging to navigate through due to all the obstacles presented due to COVID & B) Providing us the ability to connect with even more retail staff & retailers across the US & Canada.
Vorteile:
I don't like, I LOVE the Sell Pro platform. I have personally been using the Sell Pro tool for HP and Logitech for over 4 years with great results. For example, in our current reality of COVID the Sell Pro platform has made all the difference in the world coming up in the clutch to use a sports analogy. Sell Pro has allowed our team the ability to continue to be engaged with retailers across the US & Canada in a time where it is very challenging to have the traditional one on one or one to may training experience due the social distancing restrictions that is the new normal over that last 6 months and will continue to be our current reality for the present and neat future. Have access to a tool like Sell Pro has allowed our team at Logitech to maintain it's retail training presence and even expand our Logitech training reach and influence in a current landscape that makes this very challenging. Sell Pro has allowed Logitech the ability to pivot from the analog world to the digital world in a quick turn around time. The real MVP for us was Sell Pro Live over the last 6 months of COVID. The Sell Pro Live feature allowed our trainers at Logitech to continue to provide a great in person training, but in a safe social distancing environment. Sell Pro Live has given us the ability to conduct over 198 Sell Pro Live session training over 3,906 retail staff from 13x different retailers in the last 6 months and have been a factor in increasing the sales of various Logitech products.
Nachteile:
Honestly I can say that all the dashboards on Sell Pro from the user end and admiration side is very user friendly. This can be attributed to the Sell Pro Team constantly always looking for new ways to improve their dashboards for all the users and vendors partners to provide the best and most seamless experience possible
Antwort von SellPro
vor 2 Jahren
Norman - we really appreciate the great feedback and the kind words! Thank you very much for your review.
David
Senior Product Trainer in USA
Elektrische/elektronische Fertigung, 10.000+ Mitarbeiter
Verwendete die Software für: Mehr als 2 Jahre
To get a broad reach to train sales associates quickly....there is no better solution
Kommentare: Amazing. I can honestly say I'm not sure I would have a job if not for SellPro...especially during this Pandemic of 2020.
Vorteile:
The number one reason we use SellPro is the quick turnaround. We are able to get a course launched within hours. Having that immediate control is probably the most useful aspect of the program. The analytics provided too (called dashboards) are simply amazing and allow you to look for trends, ROI's, etc.... in a field (training) that is normally very difficult to show "numbers". In addition, the client/customer service is second to none. I have NEVER worked with a team so willing and able to help out DAILY and go above and beyond. You really feel the sense that they want YOU to be successful.
Nachteile:
My biggest con is that it is hard to get "new users" and that it is difficult to prevent users from simply "running through" to win prizes. While the cost of SellPro itself is decent, the amount of SWAG and Prizes needed to "attach" to courses and events is nearly the same or higher of the costs of being on the platform itself. The "success" of how well a course or an event does is almost entirely determined by the prizes attached to it. I honestly don't know a better way to do it, but we wish it could be better. We also wish, in a weird way, that more brands used SellPro. As of now there doesn't seem to be a ton of content other than two brands really pushing out content.
Antwort von SellPro
vor 2 Jahren
David - thank you very much for your feedback and for the kind words!!! We are always working to bring new brands and retailers on the platform, and we have developed a great client referral program. Please reach out to your client services contact for more info on the referral program and for best practices on optimizing your content, and rewards strategy.