Was ist Novocall?
Novocall ermöglicht Unternehmen einen sofortigen Rückruf potenzieller Kund*innen, die Interesse an ihrem Produkt oder ihren Dienstleistungen gezeigt haben basierend auf der Analyse ihres Website-Verhaltens. Die Anwendung hilft Unternehmen, unentschlossene Besucher*innen in eingehende Verkaufsgespräche mit echten Vertriebsmitarbeiter*innen umzuwandeln. Anrufe, Leads und Verkäufe können um 50 bis 70 % steigern.
Wer verwendet Novocall?
B2B-Unternehmen, B2C-Unternehmen, E-Commerce-Shops, die komplexe Produkte oder Dienstleistungen verkaufen, Marketingagenturen
Wo kann Novocall bereitgestellt werden?
Cloud, SaaS, webbasiert, Android (mobil), iPhone (mobil), iPad (mobil)
Über den Anbieter
Novocall
2017 gegründet
Telefon-Support
24/7 Live-Support
Chat
Erhältlich in diesen Ländern
Singapur
Sprachen
Nicht vom Anbieter bereitgestellt
Über den Anbieter
Novocall
2017 gegründet
Telefon-Support
24/7 Live-Support
Chat
Erhältlich in diesen Ländern
Singapur
Sprachen
Nicht vom Anbieter bereitgestellt
Novocall – Videos und Bilder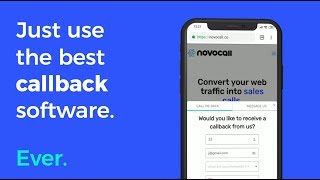 Kosten ähnlicher Produkte wie Novocall vergleichen
Novocall Funktionen
Anruf-Transkription
Anrufaufzeichnung
Aufzeichnung
Automatisches Telefonwahlgerät
CRM
Call Tracking Metrics
Kampagnenmanagement
Konversion-Tracking
Leadmanagement
Management der Anruflisten
Multi-Channel-Kommunikation
Stichwort-Nachverfolgung
Weiterleitung von Anrufen (Call Routing)
Alternativen für Novocall
Bewertungen über Novocall
Egor
CEO in Kanada
Verifizierter Nutzer auf LinkedIn
Marketing & Werbung, Selbstständig
Verwendete die Software für: Mehr als 2 Jahre
Helps to connect with potential customers
Kommentare: Novocall helps me a lot to get my phone ringing by pro-actively prompt the set visitors to contact me with their booking requests.
Vorteile:
The Novocvall puts a widget with the phone icon on it on the screen (bottom right for example) and clients can connect to an agent by entering their phone number and asking to Call them now or they can schedule a call later. They also can message from there instead. The best part is that you can set up this as a popup on scroll, or after a certain time, on idle. Therefore you proactively prompt your site visitors to connect with you.
Nachteile:
No voicemail Can not import and host your own numbers Call recording is only available on a Business plan Only works as a website widget. Can not be set up as a direct call dial to the agents' numbers Can no the used as a call tracking
Victor
Digital Marketing Specialist / User Experience Designer in Kanada
Verifizierter Nutzer auf LinkedIn
Einzelhandel, 2-10 Mitarbeiter
Verwendete die Software für: 1-5 Monate
One of the best app investments I've ever made
Kommentare: I set up Novocall the very first day I got it. It was great. After using it for a couple days I started getting more customer to speak with and made more sales. I ended up upgrading because the proof was there and it worked. Using the Novocall app my sales have increased and in the first two months alone the amount of sales it brought in paid for the Novocall app 10x over. Thanks JJ and everyone at Novocall. Please keep improving and innovating.
Vorteile:
It gives the ability for my online customers to easily get in touch with myself or my staff. We use FAQs and bots but when people shop online, they often have questions that need immediate personal one-on-one answers and Novocall gives an instant solution that FAQs or bots just can't do. On the back end, the ability to easily setup, customize, add other users was a great experience.
Nachteile:
I use another type of software similar to Novocall. It would be nice if after the call customers would receive a notification by sms, email or right through the app to leave a review for our business or just a rating for feedback of the call. But I'm sure they working on this. I use Shopify, and while installation was a fairly easy (just insert a line of code), it would be nice if there's a Shopify integration. But I think this is on Novocall's roadmap as are calendar integrations and more.
Verifizierter Rezensent
Founder in Indien
Verifizierter Nutzer auf LinkedIn
Versorgungsunternehmen, 11-50 Mitarbeiter
Verwendete die Software für: 6-12 Monate
Good value prop
Vorteile:
I like the service offering and simplicity in implementation to our multiple website.
Nachteile:
It has technical issues when it comes to call routing (e.g. try disconnecting the call when you get)
Mark
Managing Partner in Niederlande
Verifizierter Nutzer auf LinkedIn
Informationstechnologie & -dienste, 2-10 Mitarbeiter
Verwendete die Software für: 1-5 Monate
Experience the Joy of Novocall
Kommentare: Getting my customers to get in touch with me without them needing to dial a number or paying for the call is obviously what Novocall does. It does this very well. My experiences so far are only superb. Very excited about the upcoming features mentioned in the roadmap.
Vorteile:
It is incredibly easy to set up! I did have some minor question and they were quickly addressed by a real friendly support team. For a relatively new product, the feature set is amazing. Novall is very stable and I have not encountered any glitches in the system. Very excited to have a good alternative for CallPage, which unfortunately has let me down a couple of times. Now in the process of switching my whole setup to Novocall! Definitely recommend. Try it yourself.
Nachteile:
The roadmap is very ambitious. This is not a negative point really. I do expect that their team will roll out new functionality in a fashionable time without disrupting the quality of the service. But that is something only the future will tell.
David
Vice President, Sales in USA
Verifizierter Nutzer auf LinkedIn
Computer-Software, 11-50 Mitarbeiter
Verwendete die Software für: 1-5 Monate
It works!! But....
Kommentare: See the information above about my customer service experience. I purchased this from App Sumo for a one time price--based on the customer service I have received thus far I am not sure that I would become a monthly subscriber.
Vorteile:
I like that the widget is easy to set up and configure. i like the idea that I can place a really big CALL TO ACTION (call us...literally) on my site.
Nachteile:
I asked a customer service question during regular US Business hours and I was told they were off line. The question was "Can I set up more than one widget". The answer I got back, by email 8 hours later was YES. While that technically was the answer, I don't know how to do it. So, my bad for asking, maybe a poor question. But their bad for not anticipating my real need...the HOW to set up a second wdiget.
Antwort von Novocall
vor 4 Jahren
Hi David, I'm sorry for the poor support reply. I've dropped you more information answering your question and let me reassure you that it should not happen again. Also, reviewing our support protocols and guidelines now. Thanks for telling us!