Was ist Chanty?
Chanty ist eine einfache und schnelle Team-Chat-App zur Steigerung der Kommunikation und Produktivität in Teams aller Geschäftsbereiche. Es ist in Ordnung, wenn du nicht viel von Technik verstehst, denn Chanty ist äußerst einfach zu verwenden.
Keine Nachrichtenhistorie-Begrenzung. Keine versteckten Kosten. Integrierte Aufgaben.
Wer verwendet Chanty?
Chanty wurde entwickelt, um die Teamkollaboration in allen Geschäftsbereichen zu fördern.
Wo kann Chanty bereitgestellt werden?
Cloud, SaaS, webbasiert, Mac (Desktop), Windows (Desktop), Android (mobil), iPhone (mobil), iPad (mobil)
Über den Anbieter
Chanty
2016 gegründet
Chat
Erhältlich in diesen Ländern
Vereinigte Staaten
Über den Anbieter
Chanty
2016 gegründet
Chat
Erhältlich in diesen Ländern
Vereinigte Staaten
Chanty – Videos und Bilder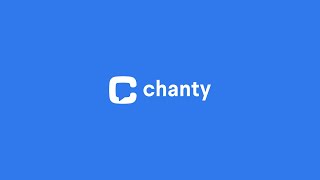 Kosten ähnlicher Produkte wie Chanty vergleichen
Chanty Funktionen
Aktivitäts-/Newsfeeds
Aktivitäts-Dashboard
Aktivitäts-Verfolgung
Alarmfunktion / Benachrichtigungen
Benutzer-Management
Daten-Import / -Export
Diskussionen / Foren
Echtzeit-Benachrichtigungen
Echtzeit-Chat
Filesharing
Mobiler Zugriff
Rollen-basierte Genehmigung
Sprachanrufe
Suchen / filtern
Videokonferenzen
Werkzeuge zur Zusammenarbeit
Zugriffskontrollen / Berechtigungen
Mile
Content Marketing Manager in Serbien
Verifizierter Nutzer auf LinkedIn
Pharmazeutika, 11-50 Mitarbeiter
Verwendete die Software für: 6-12 Monate
My favorite team chat app!
Kommentare: I completely stopped using all other messaging tools since picking up Chanty. I use it on my phone, PC and Mac without any issues. Excellent tool that is only bound to become better in the time to come.
Vorteile:
So easy to set up and use, love the simplicity and the ability to search for unlimited number of messages. The free version is great for any small team looking to replace Slack!
Nachteile:
No support for gif comments, but I hear they're working on it!
Antwort von Chanty
vor 5 Monaten
Dear Mile, Thank you for sharing your thoughts on Chanty! We have now added the gifs and you can easily use them in your conversations now!
Hugo
General Manager in Peru
Verifizierter Nutzer auf LinkedIn
Gastgewerbe, 2-10 Mitarbeiter
Verwendete die Software für: 6-12 Monate
Simply but lacks of integrations
Vorteile:
Simplicity is one of the most important features this software has Ease of use as well, my team adapted rapidly Voice messages are the most important tool we have to communicate between us, no third party as sleack.
Nachteile:
Integrations (It lacks integration with third parties: Calendar, Pcloud, and more)
Antwort von Chanty
vor 3 Jahren
Thank you for the review! We do our best to develop Chanty and make it more convenient and useful for you. And we are grateful for reasoned feedbacks that help us understand your expectations and needs better. For your convenience, we have created the Chanty Community on Facebook to get you informed about the latest updates, the hottest deals, and discounts, and help with all the possible concerns you might have so far. Join the community on FB (@TeamCollaboration) and have a nice day!
Verifizierter Rezensent
CEO in USA
Verifizierter Nutzer auf LinkedIn
Informationstechnologie & -dienste, 2-10 Mitarbeiter
Verwendete die Software für: 1-5 Monate
In Betracht gezogene Alternativen:
Use something else, anything else
Kommentare: These folks seem very shady. They have a horrible 14-day return policy, which they enforce even on an annual subscription, meaning I can't get a partial refund even though we won't be using their software at all for the remaining 6 months of the subscription. Hundreds of dollars wasted. There's no way to cancel my account, the support phone number that appears on my invoice is disconnected, and I'm really concerned they're just going to automatically charge my card again in 6 more months. This company
Vorteile:
It's cheaper than Slack. That's about it.
Nachteile:
Lack of features, integrations, terrible company behind it.
Antwort von Chanty
vor 2 Jahren
Hi Troy, Thank you for the feedback. Like we mentioned, Chanty offers the 14-day return policy after every billing transaction to make sure our services work for your use case. As also mentioned in private communication before, your subscription for Chanty Business plan has been canceled. Your card will not be charged for the Chanty Services at the end of your billing cycle. You can continue using Chanty or request deleting your team space any time and erase all your data from Chanty. Finally, the contact phone is fully operational, you can schedule a call to make sure yourself. Thanks, Chanty Team
Aysel
Data Protection Officer in Deutschland
Verifizierter Nutzer auf LinkedIn
Marketing & Werbung, 51-200 Mitarbeiter
Verwendete die Software für: 6-12 Monate
Easy in use team chat
Kommentare: Probably, the most intuitive and easy to use chat for teams, valuing collaboration and effective communication. I am huge fan of tasks features - it really helps to organize workflow and save time.
Their awesome blog is a real storehouse of tons of useful and unique information. Besides Chanty Team is the most involved and passioned about their product team, I have ever seen. They always provide actual information about the development process on Facebook group and instantly answer all users questions, objections and wishes.
Vorteile:
- Unlimited messages - Easy in use - Great Customer Support. It is even possible to reach them via Facebook Group and get quick response! - Convenient tasks management - Intuitive Interface and great design
Nachteile:
It will be awesome to add such feature as audio messages, but I have heard they are hardly working on it.
Antwort von Chanty
vor 3 Jahren
Hi Aysel and thanks for your feedback! We have great news, voice messaging is already available in Chanty. Feel free to give the new app version a try :) https://www.chanty.com/downloads.html
Vladyslav
BDM in Ukraine
Verifizierter Nutzer auf LinkedIn
Computer-Software, 51-200 Mitarbeiter
Verwendete die Software für: 6-12 Monate
Didn't know I needed it so badly!
Kommentare: Can't believe we wasted time using Messenger for work. Chanty brings team communication to a whole new level - not going back to any other tool with my team.
Vorteile:
A friend talked me into using Chanty for our company - we were most communicating through Messenger before. Such a huge difference in the way we communicate, it brought our team productivity to a whole new level. The interface and layout are great - they're simply made to support work.
Nachteile:
GIFs! One of the best parts about Messenger that's still missing in Chanty. Developers, hurry up with GIFs please!
Antwort von Chanty
letztes Jahr
Hi Vladyslav, Thank you for your feedback. We really appreciate it. Now you can insert GIFs in your chats. We hope that it will make your Chanty usage experience better.