Was ist Plutio?
All-in-one-Business-Management-Plattform für Freiberufler*innen und kleine Unternehmen.
Von Projekten und Aufgaben bis hin zur Zeiterfassung und Fakturierung bietet die Anwendung dir alles, was du brauchst, auf einer intuitiven Plattform.
Wer verwendet Plutio?
Freiberufler*innen und kleine Unternehmen
Plutio – Details
Plutio
2015 gegründet
Plutio – Details
Plutio
2015 gegründet
Plutio – Videos und Bilder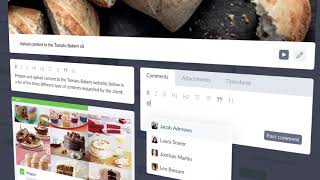 Kosten ähnlicher Produkte wie Plutio vergleichen
Startpreis
15,00 $/Monat
13,49 $/Monat
5,00 $/Jahr
5,00 $/Monat
Plutio – Bereitstellung und Support
Einsatz
Cloud, SaaS, webbasiert
Mac (Desktop)
Windows (Desktop)
Android (mobil)
iPhone (mobil)
iPad (mobil)
Funktionen von Plutio
API
Abrechnung & Rechnungsstellung
Aktivitäts-Dashboard
Aktivitäts-Verfolgung
Angebote / Schätzungen
Anpassbare Berichte
Anpassbare Felder
Anpassbare Vorlagen
Aufgabenmanagement
Aufgabenplanung
Auftragsmanagement
Berichterstattung und Statistik
Bestandsverfolgung
Bestell-Management
Buchhaltung
CRM
Daten-Import / -Export
Dokumentenmanagement
Dokumentenspeicher
Drag-and-Drop
Drittanbieter-Integration
E-Mail-Management
Echtzeit-Berichterstattung
Echtzeit-Daten
Einkauf & Empfang
Elektronische Zahlungen
Erinnerungen
Finanzmanagement
Integration in die Buchhaltung
Inventarverwaltung
Kalenderverwaltung
Kontaktmanagement
Kundendatenbank
Kundenmanagement
Kundenportal
Kundenspezifisches Branding
Leistungskennzahlen
Lieferanten-Management
Marketing-Automatisierung
Mitarbeitermanagement
Prognosen
Projektmanagement
Projektzeiterfassung
Rechnungsmanagement
Terminplanung
Trainingsmanagement
Verkaufspunkt POS
Workflow-Management
Zeit & Kosten Verfolgung
Zugriffskontrollen / Berechtigungen
Michael B.
CEO in USA
Verifizierter Nutzer auf LinkedIn
Marketing & Werbung, 2-10 Mitarbeiter
Verwendete die Software für: Mehr als 2 Jahre
Yes, you should get it.
Kommentare: Here is an honest review of Plutio. I have been a user of Plutio for my business since December 23, 2017. I run a marketing company, and I always struggled to find a system that worked well for my business. Once I found Plutio, it was in its just-released stage of life, and as you can imagine, there were a few things that didn't work the way you would think it might. However, this is the actual review; when you have an issue or are faced with a problem in the system, the team that works for Plutio will bend over backward for you to help make it right. In my experience with many companies over the years, there are good and bad. I know that [SENSITIVE CONTENT HIDDEN] and his fantastic team at Plutio are there when I need them. The customer service is better than 95% of the other companies I have worked with in the past. The system is always improving; they are not the type that builds something and works to fix it regularly while taking your money NO! They release updates and new features all the time. In summary, if you are trying to find that one great system to help you manage your business, QUIT looking at reviews. You found it! You would have to be an idiot not to use this team. They are absolutely the best in the market and great people to boot. In your service,
Michael Bridges
CEO
Digital Venture LLC.
Digitalventuredesign.com
Vorteile:
Dependability Easy to Use Integrations Automation
Nachteile:
There is really nothing that I do not like about this product.
Kim H.
Founder/Creative Director in USA
Marketing & Werbung, 2-10 Mitarbeiter
Verwendete die Software für: Mehr als 2 Jahre
Excellent business management software
Kommentare: I started as a one-woman operation and have tried more than 50 apps. I've used multiple tools to patch together solutions for all of my needs. Plutio has allowed me to bring everything related to running my business into one platform, and has made it easy to grow and scale as I have added team members. They're actually EXCITED to use it.
Vorteile:
Plutio's interface is clean and easy to navigate without being flashy or cumbersome. It's easy to create custom views or set your filters and preferences to make it work however you like. I LOVE having everything in one spot, so it's easy to manage my customer lifecycle. I can send a proposal, get a signed contract, set up payment, send forms, and do everything in one place to manage by business and my team. The development team is highly engaged, looking for user feedback and improving the product.
Nachteile:
Features are solid. The few things that aren't already present are on the roadmap. Sometimes support requests are answered quickly - within an hour or so, but sometimes it could be days. As Plutio grows, I hope to see additional support.
Kimberly C.
Certified Online Business Manager in Kanada
Unternehmensberatung, Selbstständig
Verwendete die Software für: Mehr als 2 Jahre
Plutio is a terrific customizable project management tool
Kommentare: [SENSITIVE CONTENT] is an amazing tech tool founder with a lot of energy and passion and is willing to listen to people using his tool to help shape improvements. Plutio has come so far in the past few years and I am sure it will continue to grow.
Vorteile:
I love the project management aspect of Plutio. It's highly customizable, including adding visual covers and custom colours to projects and tasks. I like to create a separate board for each of my one-off project clients and customize with their brand colours.
Nachteile:
While I love that it is possible to create proposals in Plutio, and I sometimes do, I find it frustrating to try and make them attractive using the available templates. These templates are often impossible to customize, so if your company or project diverges from that of the template, you have to give up and use the default simple outlay instead.
Verifizierter Rezensent
CEO in USA
Verifizierter Nutzer auf LinkedIn
Computer- & Netzwerksicherheit, 2-10 Mitarbeiter
Verwendete die Software für: Mehr als 2 Jahre
Focused on new features that sound cool while 3yr old UX issues remain unaddressed
Vorteile:
Look and feel are fairly nice. Visually, Plutio is pretty great.
Nachteile:
UX issues are never addressed. Bugs last for years. Meanwhile, they've developed live chat and fancy rich text editors that don't address Plutio's core functionality issues.
Alfredo J.
Founder & Consultant in Panama
Verifizierter Nutzer auf LinkedIn
Informationstechnologie & -dienste, 2-10 Mitarbeiter
Verwendete die Software für: 1-5 Monate
In Betracht gezogene Alternativen:
Simple but complete portal for your project collaborators and clients
Kommentare: Right now I've been using it with my collaborators with no issues to test things out before inviting clients. I've been sending proposals to clients and it has helped close deals.
Vorteile:
I've been able to unify different sales tools to handle tue process of capturing prospects info, creating proposals for them and then creating all the project management boards for follow up. Having used more advanced and powerful software such as clickup, I can see the value in providing a more simple portal for clients and collaborators. There is a lot of features still pending, but the team seems responsive and keeps working to make a better platform. Integrations through their api, zapier and integromat can fill the gaps on functionality.
Nachteile:
My main issues with Plutio are incomplete/incorrect Spanish translations, certain bugs that require workarounds or reloading the page, and mainly a lack of native import functions. The last one can be worked around using zapier/integromat but it still requires you to set things up or pay for these extra services depending on how many records you will be working.