Was ist Tribal Habits?
Online learning that's easy to create, engaging to learn and simple to manage.
If you can create PowerPoint slides, you can create engaging interactive online learning in Tribal Habits.
Our easy to use training creator, combined with world-class training libraries, provide a complete solution to digitise training processes, deliver compliance training, optimise employee induction and share best practices.
Wer verwendet Tribal Habits?
LMS + Course Authoring All-in-one platform. Manage compliance, events and external training. Powerful reporting data—Plus 100s of fully editable library modules. Suits any sized organisation or NFP.
Wo kann Tribal Habits bereitgestellt werden?
Cloud, SaaS, webbasiert, Android (mobil), iPhone (mobil), iPad (mobil)
Über den Anbieter
Tribal Habits
Ansässig in Brisbane, Australien
2017 gegründet
Chat
Erhältlich in diesen Ländern
Australien, Fidschi, Neuseeland, Singapur, Sri Lanka
Über den Anbieter
Tribal Habits
Ansässig in Brisbane, Australien
2017 gegründet
Chat
Erhältlich in diesen Ländern
Australien, Fidschi, Neuseeland, Singapur, Sri Lanka
Tribal Habits – Videos und Bilder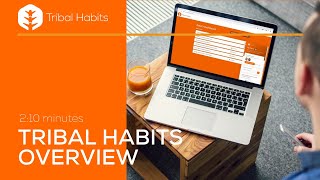 Kosten ähnlicher Produkte wie Tribal Habits vergleichen
Tribal Habits Funktionen
Ablaufplan
Aktivitäts-Dashboard
Alarmfunktion / Benachrichtigungen
Anpassbare Berichte
Anpassbare Fragen
Anpassbare Vorlagen
Asynchrones Lernen
Autorensysteme
Benutzer-Management
Berichterstattung / Analyse
Compliance-Verfolgung
Content-Management
Daten-Import / -Export
E-Commerce-Management
Fortschrittsbericht
Fortschrittsverfolgung
Gemischtes Lernen
Inhalt-Bibliothek
Integrierter Autorensystem-Kurs
Interaktives Lernen
Kundenspezifisches Branding
Kurs-Tracking
Kurs-Veröffentlichungen
Kursverwaltung
Lernmanagement
Lernpfade/-verläufe
Mobiler Zugriff
Mobiles Lernen
Multimedia-Unterstützung
Portal für Lernende
PowerPoint-Konvertierung
Quiz
SCORM-Compliance
Selbst-Lernen
Soziales Lernen
Synchrones Lernen
Tests/Bewertungen
Trainingsverwaltung
Video-Management
Zertifizierung und Lizenzierung
Alternativen für Tribal Habits
Bewertungen über Tribal Habits
Amy W.
Community Relations Officer in Australien
Verifizierter Nutzer auf LinkedIn
Regierungsbeziehungen, 11-50 Mitarbeiter
Verwendete die Software für: Mehr als 1 Jahr
Thanks for making our eLearning lives so much easier!
Kommentare: [SENSITIVE CONTENT HIDDEN] and the team are a delight to work with. They are extremely personable and timely in their responses and are constantly looking at ways to improve the platform to suit our ever changing needs. We have used the platform to host existing modules and to create new modules for our clients. Keep up the good work Tribal Habits!
Vorteile:
This platform allows us to have as much or as little input as we like. I particularly like the fact that we can go in and edit our own modules ourselves - this allows us to respond to client feedback and/or change content at a fast pace without having to rely on the TH team to do this for us. It is also very refreshing how the TH team respond to any feedback we receive about the functionality of the platform. The team are always looking at ways to improve functionality and add new features to suit our varied needs and sometimes obscure requests.
Nachteile:
I would like the reporting elements to be a little easier to navigate so potentially some extra filter options so that we can just pull the data we want from the platform rather than having to export to excel and then do further filters.
Antwort von Tribal Habits
vor 2 Jahren
Thanks for the review Amy! We think our ability to easily edit the training you've created is something that sets us apart from our competition, so it's great to see that you feel the same way. Client support is a big point of pride for us as well. We're happy to hear that you've felt supported through your journey. In terms of our reporting, watch this space as we've got some big developments coming soon.
Max R.
Senior Learning and Development Advisor in Australien
Tiefbau, 5.001-10.000 Mitarbeiter
Verwendete die Software für: Mehr als 2 Jahre
eLearning With Ease
Kommentare: Tribal Habits is a fantastic company to work with. They put a high priority on customer service and client satisfaction which is clearly evidenced in all interactions I have with them. They offer an excellent product at a great value and I highly recommend them.
Vorteile:
Tribal Habits is an extremely intuitive product to use and administer. It makes building new course topics and deploying them to your business a breeze. No knowledge of course design software is required to build highly interactive topics, and courses can be updated and maintained into the future with ease. From a technical perspective, it integrates extremely well with other systems and has a very straightforward administrator interface. The course technology itself is also reliable, and I can't recall a time where we've had any amount of platform downtime. Finally, the customer experience provided by Tribal Habits is truly second to none. Support is lightning fast, and the team are always working to include new features. I'm very impressed with what has been achieved since I began using this product.
Nachteile:
As a platform designed to make it easy for anyone to build and administer a course, there are some understandable restrictions to the amount of customisation possible and occasionally I have to think outside the box to work around these limits. To the team's credit, they have worked to expand these since the product launch, and are very responsive and open-minded when considering change requests. Even if the answer is 'no', you'll be provided with a thorough explanation behind the reason.
Antwort von Tribal Habits
vor 2 Jahren
Thank you Max, that's an amazing review! We're really happy you're enjoying the platform and it's helping you achieve your learning and development objectives.
Lamey G.
Senior Account Trainer in Philippinen
Verifizierter Nutzer auf LinkedIn
Outsourcing/Offshoring, 501-1.000 Mitarbeiter
Verwendete die Software für: Mehr als 1 Jahr
Huge help in our digitalisation!
Kommentare: Overall satisfied! Personally had some hesitations in changing from the classroom type to electronic, thought it might interfere with our trainees' learning. Very happy that we are now producing more capable graduates with the combination of our content and Tribal Habits. This platform has been a huge part of our Training Team. Also made sure we had a practical subscription suitable to our needs. Plus, I cannot stress enough how great their customer and technical support is. In this day and age of high technology, human connection still wins and Tribal Habits is leading.
Vorteile:
It's truly effortless to use! Our transition from pure traditional training to digital was smoother than expected - one factor would be the exemplary customer service of Tribal Habits. Rep. team are awesome. I especially love how welcoming they are in receiving feedback and suggestions.
Nachteile:
Like any product, it does have areas to improve and functions that need to be explored. So far, the assessment zone is where I see they can invest more time in. We currently have an accreditation in place and it would be super awesome to have more types of examinations, especially on task simulations.
Antwort von Tribal Habits
vor 3 Jahren
It's great to hear we were able to help you successfully roll out digital training across your organisation and that your graduates are getting up to speed in record time. We've got a lot planned in the area of assessments of the coming months, so watch this space!
Michelle P.
Policy, Risk & Compliance Manager in Australien
Verifizierter Nutzer auf LinkedIn
Bildungsmanagement, 51-200 Mitarbeiter
Verwendete die Software für: 1-5 Monate
Great LMS
Kommentare: Right from the start, Tribal Habits have always been available to help with the implementation of this program. The information offered during the initial trial is most helpful and makes you feel you are in the hands of professionals who know their product. I really love what the product can do and I think it will make our transition to online professional learning seamless.
Vorteile:
Tribal Habits is fantastic, the content offering and the ability to edit their content to make it your own is a big plus in a LMS. I love that you can allocate other staff to be co-creators of any content. Also the option of using the platform to deliver training to those outside of your organisation is a big win for us. The online chat option is wonderful, allowing you to keep moving rather than waiting days for a response from a helpdesk.
Nachteile:
There are always improvements that can be made but Tribal Habits is happy to receive feedback and consider these for the next product release.
Antwort von Tribal Habits
vor 4 Monaten
Thanks for such a lovely review Michelle! Being able to personalise content to make it more relevant is one of the best ways to keep learners engaged. We're so glad you're finding great uses for the platform, especially with those outside your organisation!
Melissa H.
Leader, Learning & Development in Australien
Finanzdienstleistungen, 1.001-5.000 Mitarbeiter
Verwendete die Software für: Mehr als 2 Jahre
Innovative tool to tap into the Experts
Vorteile:
I love that we can draw on the expertise of others so easily and that they can record content themselves - we've created templates which allow others to contribute in a way that aligns with L&D principles. In a digital (and now remote) environment, this has been critical. L&D colleagues can now transfer ownership of content back to SME's and focus instead on supporting the business with their own expertise, and understanding of the design process - rather than trying to become experts at each and every topic. The tool is quick and easy to use, publish and report on. It has no limitations and the team at Tribal Habits are not only innovative, but they are willing to hear your feedback and develop enhancements that solve for the problems you have as a learning organisation. Thanks so much.
Nachteile:
I'd like an evaluation feature, apart from that I cannot think of anything else! I am very happy with this product.
Antwort von Tribal Habits
vor 2 Jahren
Thanks for the review Melissa. We agree that sharing the knowledge and insights of your staff across the entire organisation is a massive game-changer. Your suggestion of an evaluation feature is duly noted.