Was ist PayPal Commerce Platform?
Die neue PayPal-Kaufabwicklung bietet Zahlungsoptionen, mit denen Käufer*innen ganz einfach nach Belieben bezahlen können, ohne deine Website zu verlassen.
Wer verwendet PayPal Commerce Platform?
Nicht vom Anbieter bereitgestellt
Wo kann PayPal Commerce Platform bereitgestellt werden?
Cloud, SaaS, webbasiert, Android (mobil), iPhone (mobil), iPad (mobil)
Über den Anbieter
von PayPal
Ansässig in San Jose, USA
1998 gegründet
Chat
Erhältlich in diesen Ländern
Vereinigte Staaten
Über den Anbieter
von PayPal
Ansässig in San Jose, USA
1998 gegründet
Chat
Erhältlich in diesen Ländern
Vereinigte Staaten
PayPal Commerce Platform – Videos und Bilder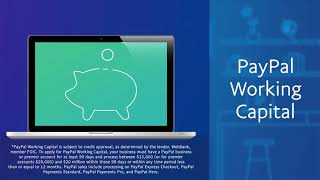 Kosten ähnlicher Produkte wie PayPal Commerce Platform vergleichen
Startpreis
Nicht verfügbar
Nicht verfügbar
29,00 $/Monat
N/A
Funktionen von PayPal Commerce Platform
API
Abgebrochene Verkaufsprozesse wiederherstellen
Aktivitäts-Dashboard
Angebotsmanagement
Anpassbare Berichte
Anpassbare Felder
Anpassbare Formulare
Anpassbare Vorlagen
Auftragsmanagement
Auftragsverfolgung
Berichterstattung und Statistik
Bestandsführung
Bestandskontrolle
Bestandsverfolgung
CRM
Daten-Import / -Export
Datensynchronisation
Drag-and-Drop
Drittanbieter-Integration
E-Commerce-Management
E-Mail Marketing
E-Mail-Vorlagen
Echtzeit-Daten
Einkaufswagen
Elektronische Zahlungen
Inventarverwaltung
Katalogisierung / Kategorisierung
Kreditkartenbearbeitung
Kundenaufträge
Kundenkonten
Kundensegmentierung
Kundenspezifisches Branding
Mehrere Standorte
Mehrere Währungen
Multichannel-Management
Produktbewertungen / Berichte
Produktkatalog
Produktkonfigurator
Rabattmanagement
Rechnungsmanagement
Retourenmanagement
Rückerstattung-Management
SEO-Management
SSL-Sicherheit
Social-Media-Integration
Steuermanagement
Umsatzentwicklung-Analyse
Versand-Management
Vorlagen-Management
Zugriffskontrollen / Berechtigungen
Sandra H.
health care in Kanada
Verifizierter Nutzer auf LinkedIn
Krankenhausversorgung & Gesundheitswesen, 501-1.000 Mitarbeiter
Verwendete die Software für: Mehr als 1 Jahr
PayPal keeps your money safe
Kommentare: I have been using the PayPal platform for two years and I have not had any problems accessing my earned money, I do have to say I understand the 1% on the transfer of money because like any business they too have to make money.
I have enjoyed my time with this platform and will continue to use it.
Vorteile:
It gives customers the payment capabilities they need to help create revenue stream for your supplementary income. They have a trusted technology as well as managing risk with a single global platform that has an ease of a trusted technology stack. Paying for online purchases could not be easier. They keep your information safe as you shop online and have preferred payment options used by millions of consumers around the world. I enjoy that knowing my earned money is well protected and easily accessible.it integrates very well with many survey sites and I find that there are always another survey site signing up with PayPal. The platform is very easy to navigate.
Nachteile:
Some of the cons of PayPal is while it's free to use, if you are sending money as a transaction there is a fee. if you want instant access to your money they charge you 1% in bank transfers, they do have a reputation for being aggressive if they feel the need to freeze your account, you have a fight on your hand to prove that you are in the right when it comes to your money.
Sven H.
IT Admin in Deutschland
Bildungsmanagement, 51-200 Mitarbeiter
Verwendete die Software für: Mehr als 2 Jahre
Reliable payment provider - no credit card needed, but adding one is still possible.
Kommentare: PayPal is a fantastic gateway to allow payments in foreign currencies. As a school, we don't have access to a credit card and so using PayPal has helped us on numerous occassions where payment via simple bank tranfers was not an option.
Vorteile:
I love the fact that you can accrue money on PayPal without actually linking it to your bank account or a credit card. If you sell services or goods online (say via ebay.com) you can accept payment via PayPal and your credit is added to your account. That way you can have a wallet that is not at all connected to any of your other financial areas. I use one of my PayPal accounts for leisure arcticles: whenever I sell some used goods I don't need anymore, I allow myself to spend whatever I made that way on further leisure articles. That keeps me motivated to keep my house clean and not have it get all cluttered up. Pro tip: If you accrue money in a foreign policy you can even add digital credit cards with foreign currency to your PayPal wallet and use them to pay for things in your currency. I haven't yet come across another free service provider that offers the same service.
Nachteile:
I can't think of any negative aspect I've come across in the past decade. PayPal has always done exactly what I needed it to do.
Marketing & Werbung, Selbstständig
Verwendete die Software für: Mehr als 2 Jahre
sending money via paypal
Kommentare: 12/31/21 sending funds of $100 to my daughters for New Years, i attempted to send funds $100 to my other daughter, but was declined, so concerned i called my bank and was informed that there were NO holds and plenty of sufficient funds so they had NO idea why PayPal would not do this transaction so i called PayPal on Friday, Dec. 31, 2021 and spoke with rep, she checked my daughters email and said it was valid and she tried helping me, but said she could not do anything and suggested that i use another service to send these funds? so i requested to speak with a supervisor which i was connected with [ sensitive content ] i immediately asked[sensitive content ] that she must know why i'm referred to her and she said "NO"? and asked for my information and without hesitation said that there was a block on my account and could not help me any further and she also suggested that i use another Service to send my daughter living in New Zealand these funds? i was completely shocked. This morning i attempted again and was declined? One interesting fact that i recommend for all PayPal users sending monies is the fees for 2022? 2021 fees reflected $0.00 fees is you sending direct from your bank account and $3.99? if you were sending via Credit Card/Debit Card , but 2022 fees sending from your bank account now $4.99 and $8.21 if sending from your Credit Card /Debit Card this is a HUGE fee increase, so now looking at Venmo and other options moving into 2022, but these are huge Corporations looki
Vorteile:
The value and customer service that PayPal had provided up the end of 2021, fees to send money were phenomenal and NO brainer
Nachteile:
Fees for 2021, sending money fees went up from $0.00 using your bank direct or even Credit Card /Debit Card fees from $3.21 to Fees for 2022 using bank direct $4.99 and Credit Card /Debit Cards $8.21 so fees increasing at a HUGE rate moving into 2022
Gary G.
Marketing Director in USA
Verifizierter Nutzer auf LinkedIn
Einzelhandel, 10.000+ Mitarbeiter
Verwendete die Software für: Mehr als 2 Jahre
Good payment processor
Kommentare: Undoubtedly my experience has been good, except for a limitation of my account due to the negligence of a buyer of my company's products. I love using PayPal because it allows me to associate the account in e-commerce service platforms, this makes it easier for consumers to make a payment. At the business level, having this platform is essential.
Vorteile:
I really love this platform for fast and secure payment processing. I like it a lot because you can add bank accounts to withdraw money or send to other users, in addition to credit or debit cards, this makes payments easier. International shipments can be sent at an attractive exchange rate between currencies. This platform is used to pay for services automatically and keep accounts up to date, and has good security to protect both the seller and the buyer of the products.
Nachteile:
I think the commissions are a bit high, especially when shipping internationally. Sometimes payments are withheld as a security measure, this can certainly affect the performance of a secure transaction as it can slow down the process. Account blocks or limitations can be seen very frequently.
Andrea V.
Artista Textil in Ecuador
Verifizierter Nutzer auf LinkedIn
Bekleidung & Mode, Selbstständig
Verwendete die Software für: Mehr als 2 Jahre
Paypal protege mis ingresos.
Kommentare: Uso Paypal desde hace mucho tiempo, pero en estos meses he estado desarrollando mi tienda online y resulta super fácil integrarlo a ésta. Mi experiencia con Paypal ha sido excelente, tanto para recibir ingresos como para hacer pagos a otras tiendas.
Vorteile:
Me gusta mucho el poder gestionar mis pagos e ingresos de forma sencilla. La interfaz es totalmente intuitiva. Puedo emitir facturas, enviar ordenes de pago con el monto exacto y mis clientes pueden pagar desde cualquier parte del mundo. Además puedo integrarlo a mi página web y mi tienda online. Las pocas veces que he tenido algún problema, el servicio de atención al cliente ha respondido eficientemente.
Nachteile:
Definitivamente las comisiones que cobran por transacción son algo costosas, sin embargo, creo que la protección de mi dinero y mis datos lo vale. A veces retienen el dinero de algún pago unos días, por lo que los clientes se ponen nerviosos.