Was ist Wherewolf?
Wherewolf ist die einzige Lösung für digitale Verzichtserklärungen, die speziell für Abenteuertourismusbetreiber entwickelt wurde. Die Anwendung optimiert deinen gesamten Ankunftsprozess und ermöglicht es dir, unschätzbare Marketingdaten zu erfassen, die dir die schnellsten Wege zum Wachstum zeigen. Wherewolf enthält auch eine personalisierte, automatische E-Mail an deine gesamte Kundschaft mit Links zu deinen Social-Media-Plattformen, um die Anzahl deiner Nutzerbewertungen zu erhöhen. Das Unternehmen ist in Denver, Colorado, ansässig und hat auch Niederlassungen in Queenstown, Neuseeland und Dublin, Irland.
Wer verwendet Wherewolf?
Tour- und Aktivitätsbetreiber, die ihren Check-in-Prozess für Gäste verkürzen möchten, indem sie Verzichtserklärungen auf Papier in elektronische Verzichtserklärungen konvertieren und dann den Betreibern umsetzbare Marketinginformationen bereitstellen.
Wo kann Wherewolf bereitgestellt werden?
Cloud, SaaS, webbasiert, iPad (mobil)
Über den Anbieter
Wherewolf
Ansässig in Queenstown, Neuseeland
2013 gegründet
Chat
Erhältlich in diesen Ländern
Australien, Kanada, Neuseeland, Vereinigte Staaten
Über den Anbieter
Wherewolf
Ansässig in Queenstown, Neuseeland
2013 gegründet
Chat
Erhältlich in diesen Ländern
Australien, Kanada, Neuseeland, Vereinigte Staaten
Wherewolf – Videos und Bilder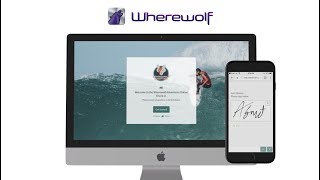 Kosten ähnlicher Produkte wie Wherewolf vergleichen
Alternativen für Wherewolf
Bewertungen über Wherewolf
Stacey S.
Operations Manager in Neuseeland
Freizeit, Reisen & Tourismus, 11-50 Mitarbeiter
Verwendete die Software für: Mehr als 2 Jahre
Wherewolf is the easy choice
Kommentare: The Team here at EcoZip and I love using Wherewolf - we used to do the work manually so the upgrade is a life saver. Easy, fast, reliable and super efficient.
Vorteile:
Wherewolf was extremely easy to connect with and super easy to use, the support team always promptly reply to any queries, the customer interface is also easy to use for all walk of life!
Nachteile:
I can't think of any con's off the top of my head. Whenever we have any issues we create a support ticket which is promptly actioned. If the issues was not resolved right away then we are updated as the issue progresses to it's completion point. Maybe one con is where the system sometimes freezes; however I am not sure if that is at times our internet. I guess at times it take a while to sync, however again this could be out internet.
Patrick A.
Manager in USA
Unterhaltung, 11-50 Mitarbeiter
Verwendete die Software für: 1-5 Monate
Patrick Alexander, Rockaway
Kommentare: Just need to speed up the process, but otherwise good.
Vorteile:
Data Collection, Intuitive Design, Few Connectivity Issues
Nachteile:
We need a box for the east coast states that are small and hard to hit on an iPad or iPhone with your finger. The email you are sending has been finding its way into some spam folders, not sure how if that can be fixed. Please include a message about how the person who gets the initial email can forward it along to the rest of the group, or at least make it more prominent. We have some people filling it out themselves and then making the others do it in-store so let's connect the dots for people. The biggest thing we need to fix is the amount of time it takes to fill out the form. The app moves slowly when in between guests and if I had a 12 person group it will literally take 15-20 minutes before everyone is done, and that messes up my entire schedule for the day.
Antwort von Wherewolf
letztes Jahr
Hi Patrick. Thanks for submitting your review. These are all items we can definitely help with. If your main objective is to increase the speed of your check-in process, we can customize the solution and remove any unnecessary questions you might be asking as part of your waiver. We can also change the language in the email that gets sent to the person who made the reservation so they have clear instructions to forward to the rest of the group. Can you send your requests to support@getwherewolf.com? Thanks, Phil
Jeremiah F.
Owner & Lead Guide in USA
Gastgewerbe, Selbstständig
Verwendete die Software für: Mehr als 2 Jahre
In Betracht gezogene Alternativen:
Bad fit for my company
Kommentare: I reached out to Wherewolf on the recommendation of a friend - because I wanted to move away from paper waivers and collect customer email addresses to use later with marketing apps like MailChimp. In retrospect I could have accomplished this in other ways at a much lower cost. I expressed concern that I didn't think Wherewolf made sense for a company as small as mine, considering the start up and monthly costs, and when you consider how few waivers I would be using every month. [SENSITIVE CONTENT HIDDEN], who seemed to listen initially, turned out to be another smooth talking salesperson in the end. I told him the size of my company and how many waivers a month I would be using. He agreed on a special price for me then promptly disappeared from communication and had the price changed on me. I explained that even with the discount I was paying over $3 per waiver. Customer Success Manager [SENSITIVE CONTENT HIDDEN] accused me of insinuating blackmail when I told her I would cancel my account and share my experiences online if Wherewolf was not willing to honor the contract I had signed. Resolving anything took weeks and many back and fourth emails. I held off on cancelling at first b/c I had already invested in the initial start up cost and lots of time getting everything set up - I did not want the whole thing to be a total loss. A much better outcome would have been achieved if they listened better /didn't "push for the sale" regardless of my particular situation.
Vorteile:
I like the liability waiver graphics (what the customer sees filling out the form), how customizable everything is, and the fact that you can collect demographic and email information for all clients that opt in. Their customized "request for online review" automatic emails look great too. [SENSITIVE CONTENT HIDDEN], who works tech support (contracted out it seems), works hard to resolve issues and is the most responsive person working for the company in terms of getting back to inquiries.
Nachteile:
The value just wasn't there for me and my small company. The initial rate I was quoted, and that was written into my contract, suddenly changed after one year. I also had trouble transferring my client list to MailChimp in a useable format as well which was a huge deal as that was one of the major reasons I signed up for the software. After months with tech support we were finally able to get it to work. I had trouble reaching anyone by phone when I needed help - for example, then I wanted to cancel my account the phone number on my bill was to a non-working number. It took several emails to different people before my account was finally cancelled months, and hundreds of dollars, later.
Luke F.
Founder/Captain in USA
Erholungseinrichtungen & -dienstleistungen, 2-10 Mitarbeiter
Verwendete die Software für: Mehr als 1 Jahr
Great Product, Great Service
Kommentare: Love it. Using it again.
Vorteile:
As a boat tour operator it's important to have my customers fill out a waiver for the protection of my LLC. It's even better though to be able to gather all their contact info for future promotions and return business.
Nachteile:
Bit of a learning curve but no big deal.
Tanya C.
Manager in Turks- und Caicosinseln
Freizeit, Reisen & Tourismus, 11-50 Mitarbeiter
Verwendete die Software für: Mehr als 2 Jahre
Fantastic
Kommentare: This software and the team behind it have been a great pleasure to work with and would highly recommend
Vorteile:
this software is so great for keeping liability forms, the reports and information gained without having to store papers for years. The support team are phenomenal. I have never had a question unanswered, they are quick to respond and don't disappear. They even did a custom build for allowing pre-arrival sign in. This software also links to my booking software making it even easier.
Nachteile:
It does have some constraints, but nothing I haven't been able work over. Nothing enough to make me unhappy.