Was ist Bokun?
Die einzige Online-Buchungssoftware, die du zum Verwalten deiner Touren und Aktivitäten benötigst. Bokun ist die führende Buchungsverwaltungstechnologie und Reservierungssoftware, die speziell für Reiseveranstalter, Aktivitäten- und Attraktionenbetreiber in der Reisebranche entwickelt wurde. Es ist eine Buchungsmaschine, ein Inventarmanager, ein Channel-Manager, ein Preismanagement-Tool für Mehrfachwährungen – und das in einer einzigen Software.
Wer verwendet Bokun?
Das Unternehmen bietet Software für alle Arten von Unternehmen in der Erlebnisbranche, von kleinen Einzelreiseanbietern bis hin zu großen internationalen OTAs und Wiederverkäufern.
Wo kann Bokun bereitgestellt werden?
Cloud, SaaS, webbasiert
Über den Anbieter
Bokun, A TripAdvisor Company
Ansässig in Boston, USA
2012 gegründet
Telefon-Support
Chat
Über den Anbieter
Bokun, A TripAdvisor Company
Ansässig in Boston, USA
2012 gegründet
Telefon-Support
Chat
Bokun – Videos und Bilder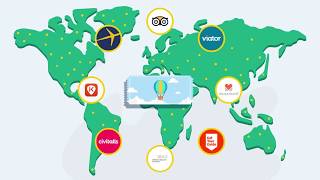 Kosten ähnlicher Produkte wie Bokun vergleichen
Bokun Funktionen
CRM
Paketerstellung
Preismanagement
Reiseplan erstellen
Reservierung von Akitivtäten
Reservierung-Management
Ressourcenmanagement
Zahlungsabwicklung
Maarten
Partner in Malaysia
Verifizierter Nutzer auf LinkedIn
Gastgewerbe, 2-10 Mitarbeiter
Verwendete die Software für: 6-12 Monate
Best way to grow our business
Kommentare: If you run a small tour operation I would certainly recommend getting onto Bokun, it gets you started faster and at the same time set you up for bigger stuff in the future.
Vorteile:
Bokun delivers a system that integrates just about every functionality we need as a Food Tour company. I particularly like how we can easily find new partners to hook up to the same functionality. Using bokun we can give our clients a seamless experience and at the same time keep administration on our end as lean as possible.
Nachteile:
Cons isn't the right word, the company has a few places to work harder on. - Support could respond faster - Support and new feature roll-out has to get more transparent - E-commerce integration has to be enhanced. Up selling, down selling, cross selling are all in its infancy at this moment. - Partner integration needs more work, the software currently doesn't work well with a model where brick-and-mortar tour agencies sell tours on behalf of us. (Ticketing displays incorrect messages to the end user, invoices can only be sent to one party, not to a different invoicing department, payments are not assumed to come in just before or just after the tour date).
Antwort von Bokun
vor 3 Jahren
Hi Maarten, Thank you for your feedback. We hear you loud and clear about each of your suggestions for improvement, and we thank you for taking the time to let us know. We are working on improving support response time, our new feature communications, and many product enhancements. Please do not hesitate to reach out to the support team with any other suggestions or ideas. Best, Bokun Support
Verifizierter Rezensent
Online Business Director in Ungarn
Verifizierter Nutzer auf LinkedIn
Freizeit, Reisen & Tourismus, 11-50 Mitarbeiter
Verwendete die Software für: Mehr als 1 Jahr
In Betracht gezogene Alternativen:
Great features, with some annoying bugs
Kommentare: Good value for money, good connectivity, good support. Product owned by large OTA is a minus in the long-term when operators are fighting to minimize OTA dependence.
Vorteile:
The best part of this reservation software is the marketplace that allows you to contract directly with other suppliers and resellers of tours and activities. Live support is also a good feature that most other reservation systems don't have. The help articles are quite extensive as well. Product import from Viator is a great feature.
Nachteile:
There are some annoying bugs and features that can leave you clicking around furiously to find a solution for quite some time, eg. the setting up pricing was a mess. The software is being developed constantly and it's possible that these issues have been fixed since, but I got quite frustrated a number of times when setting up the products. Also, raising the commission from 0.1% to 2.9% without any prior notice was not cool -- I thought the agreement was that we were paying with data to Viator... and now we're paying both ways. The OTA-owned reservation systems are creating data oligopoly situations similar to that of Google which is not the right direction in my opinion.
Alfredo
Manager in Spanien
Unterhaltung, 2-10 Mitarbeiter
Verwendete die Software für: Mehr als 2 Jahre
In Betracht gezogene Alternativen:
A good solution for ACTIVITIES or single option products, not bundles
Kommentare: I LOVE Bókun... was my first option when I change my old tailor-made (and expensive) booking solution. In the beginning, all was marvellous. We are a Travvel Agency, creating our own products with very local providers. We use it for "little" one day experiences, and it was great. But when we need more flexibility to create bundles, mixing tickets, hotels, trains... things began to change...for the worse
Vorteile:
The options to define product. The website creator (which is a Duda solution). The powerful of managing products.
Nachteile:
Lack of flexibility for complex products (bundles)
Verifizierter Rezensent
Massage therapist in Island
Verifizierter Nutzer auf LinkedIn
Krankenhausversorgung & Gesundheitswesen, Selbstständig
Verwendete die Software für: Mehr als 2 Jahre
Where shall one begin...?
Kommentare: Bókun is hard to avoid in Iceland if one is working in tourism - sadly, there is way more room for it to improve than would be desirable after so many years, especially when accommodation and transport also come into play... Still, hopefully, the current down time has been used to efficiently improve the program.
Vorteile:
In the Icelandic tourism industry, in which I used to work for 5 years, Bókun seems to be insurmountable when it comes to booking activities related to a trip, be it individual or (small) group excursions. It is a wonderful attempt at pooling all operators into one platform.
Nachteile:
Maintenance during business hours without any notification toward operators, resellers, and administrators. Synchronisation issues between Bókun and operators on what is available and what is not (group size/vehicle capacity etc.) resulting in extremely iffy situations with clients as well as between operators and resellers. Less enthusiastic customer support, available only during banking hours, definitely not on weekends. No updates on changes regarding bookings in the system - unless one does everything in triples: updating Bókun, notifying the operator, wait for confirmatiom from operator, notify client. Key-word search is quite cumbersome. Software getting less and less user-friendly with every update. Inability to edit certain aspects of bookings and the invoice, so one has to cancel everything, and re-book, while keeping their fingers crossed that the re-booking will work and no one will take the seats while Bókun is thinking its life through.
Antwort von Bokun, A TripAdvisor Company
letztes Jahr
Hello there, thanks for your review and we're happy to hear that you think our platform is a good tool to have all operators in one platform, however, we're sorry to hear that there're a couple of things you don't appreciate. We're always trying to improve the platform and value the feedback we receive from our customers and we're sorry that you feel that our support hasn't been as enthusiastic, however, we do provide 24 hr chat support if needed. We weren't able to identify you via the info provided but please feel free to share any additional improvement ideas with us. You can always reach out to us via support@bokun.io and we'd be happy to discuss any of the points you've mentioned with you. Many thanks, Michaela - Bokun Support
Viktoria
Customer Support in Kroatien
Informationstechnologie & -dienste, 11-50 Mitarbeiter
Verwendete die Software für: Mehr als 2 Jahre
In Betracht gezogene Alternativen:
The only booking software with options to match all needs
Kommentare: We used it as an operator (selling our products), as a reseller (selling others products) and through the API which we used in the software we were building. It was very easy to use and set up and offered help whenever we needed. As we were using the API we talked to both developers and customer support often and they were kind and helpful.
Vorteile:
Whatever we needed it to do, it did. Rare were the cases when we could not set up products as we wanted them and then the developers listened and made the options available. If you are looking for software to offer your tours or sell other companies' products, Bókun is the way to go.
Nachteile:
Sometimes it had down time that lasted for longer periods of time.