Was ist QueuePad?
Waitlist app that enables small businesses to inform their customers about queue status and waiting time via mobile devices.
Wer verwendet QueuePad?
For small businesses. It is suitable for restaurants, bakeries, beauty shops, clinics, spas, etc., wherever customers need to join a wait list and queue in line.
QueuePad – Details
IVANT Technologies and Business Solutions
QueuePad – Details
IVANT Technologies and Business Solutions
QueuePad – Videos und Bilder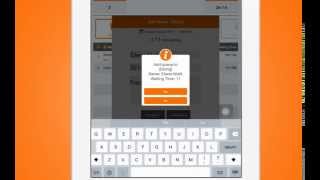 Kosten ähnlicher Produkte wie QueuePad vergleichen
Startpreis
19,99 $/Monat
59,00 $/Monat
299,00 $/Monat
69,95 $/Monat
QueuePad – Bereitstellung und Support
Einsatz
Cloud, SaaS, webbasiert
Android (mobil)
iPhone (mobil)
iPad (mobil)
Funktionen von QueuePad
API
Ad-hoc-Berichterstattung
Alarmfunktion / Benachrichtigungen
Anpassbare Berichte
Aufgabenplanung
Berichterstattung und Statistik
Besucherregistrierung
Daten-Import / -Export
Datenbank-Unterstützung
Datenspeicher-Management
E-Mail Erinnerungen
E-Mail Marketing
E-Mail-Benachrichtigungen
E-Mail-Management
Echtzeit-Aktualisierungen
Echtzeit-Benachrichtigungen
Echtzeit-Berichterstattung
Echtzeit-Daten
Echtzeitüberwachung
Elektronische Zahlungen
Erinnerungen
Kalenderverwaltung
Kommunikationsmanagement
Kontakt-Datenbank
Kreditkartenbearbeitung
Kundenaktivitäts-Tracking
Kundendatenbank
Kundenerlebnis-Management
Kundenhistorie
Kundenkonten
Kundenprofile
Mehrere Standorte
Mobile Benachrichtigungen
Online-Buchung
Priorisierung
Registrierungs-Management
Reservierung-Management
Reservierungs-Management
SMS-Nachrichtenversand
Self-Check-in/-Check-out
Social-Media-Integration
Statusverfolgung
Terminverwaltung
Verkaufspunkt POS
Wartelistenstatusverfolgung
Warteschlangenmanagement
Wartezeit-Nachverfolgung
Zusammenfassende Berichte
für Restaurants
Öffentliche Warteliste
Siehe die vollständige Warteschlangenmanagement Systeme Liste