Was ist Commissionly?
Commissionly ist die erste cloudbasierte Web-Anwendung für Verkaufsprovisionen und Verkaufsvergütungsmanagement, die zu 100 % auf kleine und mittlere Unternehmen ausgerichtet ist. Dank unkomplizierter Datenimport-Tools, assistentenbasierter Tools zur Ziel-/Vergütungsplanung und Provisionsfestlegungstools kannst du in wenigen Minuten loslegen.
Du und deine Zahlungsempfänger können von überall aus über das Web-Dashboard auf ihre Daten zugreifen. Außerdem kannst du einfach Berichte erstellen, um Provisionsauszahlungsbeträge schnell zu generieren.
Heute anmelden!
Wer verwendet Commissionly?
Der Zielmarkt sind kleine und mittlere Unternehmen in den unterschiedlichsten Geschäftsbereichen.
Wo kann Commissionly bereitgestellt werden?
Cloud, SaaS, webbasiert
Über den Anbieter
Commissionly.io
Ansässig in London, UK
2017 gegründet
Telefon-Support
Chat
Erhältlich in diesen Ländern
Australien, Kanada, Vereinigte Staaten, Vereinigtes Königreich
Über den Anbieter
Commissionly.io
Ansässig in London, UK
2017 gegründet
Telefon-Support
Chat
Erhältlich in diesen Ländern
Australien, Kanada, Vereinigte Staaten, Vereinigtes Königreich
Commissionly – Videos und Bilder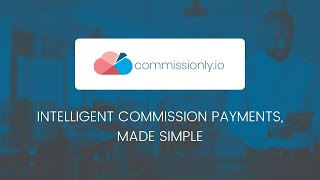 Kosten ähnlicher Produkte wie Commissionly vergleichen
Commissionly Funktionen
Aktivitäts-Dashboard
Aussagen zu Entschädigungen
Berichterstattung / Analyse
Entschädigungsplan-Modellierung
Integrationsmanagement
Kommissions-Terminplanung
Kommissionserklärungen
Kommissionsrechner
Kommissionsregeln/-konditionen
Provisionsmanagement
Self-Service Portal
Verwaltung von Unterstützungsleistungen
Wirtschaftsprüfung-Management
Alternativen für Commissionly
Bewertungen über Commissionly
Justin
Co-Founder in UK
Verifizierter Nutzer auf LinkedIn
Informationstechnologie & -dienste, 11-50 Mitarbeiter
Verwendete die Software für: Kostenlose Testversion
Finally!
Kommentare: Easy to get started and the team are all excited.
Vorteile:
Commissions are a huge pain for us. So glad we found Commissonlly. Its great for our sales people and for us.
Nachteile:
It's great. I haven't disliked anything
Antwort von Commissionly.io
vor 4 Jahren
Thanks Justin. It's a pleasure working with you and you application tyto.me really helps us here at Commissionly.
Verifizierter Rezensent
IT System Administrator in Kanada
Verifizierter Nutzer auf LinkedIn
Psychische Gesundheitsfürsorge, 11-50 Mitarbeiter
Verwendete die Software für: 1-5 Monate
Best value for money
Vorteile:
If you are a small to medium sized company and till date you calculate the comissions for your employees manually just because all the softwares out there are either very complex to use or come with a hefty price, then Commissionly is defintely the solution you have been looking for. With a very small price on a contract free, monthly basis you can get this software to calculate the commissions for your employees. Every employee can check their commision real time and how close they are to meeting their targets. The report also shows how much commission they made in the previous months to keep track of themselves. On top of this, it also shows the employee their average commission compared to other employees for any specific month. You can easily import data from any source which makes it alot easier instead of manually writing entries. It also has a great CRM feature that comes in quite handy. For the employers or a manager, it is just as easy creating a target based on revenue or profit for the employers, a quick step by step wizard has been created that guides on how to create monthly or quaterly targets on a monthly or quaterly basis for your employees. Worst case scenario, if there is something you don't seem to understand they have great customer support that will definately solve any issues you might have. Highly Recommended!
Nachteile:
For the time I have been using this, I have not come across any cons so far.
Verifizierter Rezensent
Full Stack Developer in UK
Verifizierter Nutzer auf LinkedIn
Krankenhausversorgung & Gesundheitswesen, 51-200 Mitarbeiter
Verwendete die Software für: Kostenlose Testversion
Review of Commissionly
Vorteile:
For our small team we wanted to automate the way we calculate commissions within the business. There is a lot of software for big businesses however this is the only one we found targeted at small business with a cost that was reasonable. Thereafter adding targets and commission percentages was easy. My team can also now login and track their own progress and work towards the goals that have been set.
Nachteile:
Connecting to our CRM would be great so there is a bit of manual work tracking leads and customers to actual sales, however the reporting and layout of Commissionly is such that tracking these things is easy. They are aware of this and upon speaking to live support on their website have said that this feature is in the pipeline.
Pierre-Yves
CEO in Frankreich
Computer-Software, 11-50 Mitarbeiter
Verwendete die Software für: 1-5 Monate
Definitly a great tool
Kommentare: I'm running a mid size company in France and all my 15 sales people are English speaking. Commissionly rapidly became their best friend : it allows them to know everything about there commission in real time and wherever they are! No need to train them, no need for them to use a specific private Network to access the app.
And it allows me to define precisely the sales objectives and follow them when needed.
Really helpfull! Just go!
Vorteile:
It's ideal for small to medium business It's really cost-effective:after a benchmark of many other commission tools we never found an equivalent You don't need any contract to use it It's so user-friendly : you don't need any training, there are many help boxes in the pages You can import data from many different sources and also export data if you need more advanced Excel-based analysis for instance CRM features are really convenient and can avoid using another software for that need Reports are often based on graphs you can parameterize to have a good overview of your business
Nachteile:
Hard to find cons as it fits my needs... Let's say multilingual and multicurrency if you need those features!
Quinn
Director in Südafrika
Sport, 51-200 Mitarbeiter
Verwendete die Software für: 1-5 Monate
Simple, Affordable, Effective...Amazing
Kommentare: Finally I have software that allows me to manage commissions on a spreadsheet that isn't tedious. No more annoying requests from sales reps asking me for an update because with Commissionly they can login and access to all the information whenever they want. And on top of all this it is very affordable.
Vorteile:
I have searched extremely hard for a piece of software that would replace our commission spreadsheet however everything I have found has been far too expensive. I run a small business that that doesn't run on an unlimited budget but I still require software that is easy to use, functional and allows me to manage my commissions on a spreadsheet effectively. Commissionly achieves all these things and more. Commissionly has really had a huge effect on my business.
Nachteile:
My business has its own CRM but with Commissionly it does not connect to it directly. It does however have its own roadmap and it is also easy to export the data to CSV for now.