Was ist Dentrix Ascend?
Dentrix Ascend bietet eine intelligentere, natürlichere Nutzeroberfläche, die einfach zu erlernen und zu meistern ist. Mit Zugriff auf Patienteninformationen in nur einem Klick und nutzerdefinierten Workflows schaffst du mehr in kürzerer Zeit.
Wer verwendet Dentrix Ascend?
Einzelpraxen, Gruppenpraxen, Unternehmer*innen, DSO-Organisationen
Wo kann Dentrix Ascend bereitgestellt werden?
Cloud, SaaS, webbasiert
Über den Anbieter
Henry Schein One
Ansässig in American Fork, USA
1982 gegründet
Telefon-Support
Erhältlich in diesen Ländern
Vereinigte Staaten
Über den Anbieter
Henry Schein One
Ansässig in American Fork, USA
1982 gegründet
Telefon-Support
Erhältlich in diesen Ländern
Vereinigte Staaten
Dentrix Ascend – Videos und Bilder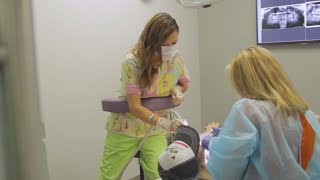 Kosten ähnlicher Produkte wie Dentrix Ascend vergleichen
Dentrix Ascend Funktionen
Bestätigung / Erinnerungen
Bildgebung und Röntgenstrahlung
Diagramm-Erstellung
Kundenmanagement
Medizinische Abrechnung
Terminverwaltung
Verwaltung von Patientenakten
Zahnarztpraxis-Verwaltung
Alternativen für Dentrix Ascend
Bewertungen über Dentrix Ascend
Krista I.
Dental Hygienist in USA
Verifizierter Nutzer auf LinkedIn
Medizinische Praxis, 11-50 Mitarbeiter
Verwendete die Software für: Mehr als 2 Jahre
Good software
Kommentare: Good to fair. I use it at offices when I temp
Vorteile:
I first was introduced to dentrix in dental hygiene school. At the time, It was the only dental software I knew of and felt as though it was pretty easy to use. In hygiene school, you do not use the software to its' best ability because we are limited to what we do w the dental charting, etc. I have used dentrix often during temping and do find it a little confusing, but I seem to manage pretty well with help from staff.
Nachteile:
I am not a big fan of dentrix, I think it can be confusing and non-user friendly at times.
Bevin
Owner/pediatric dentist in USA
Gesundheit, Wellness & Fitness, 11-50 Mitarbeiter
Verwendete die Software für: 6-12 Monate
In Betracht gezogene Alternativen:
Dentrix Ascend review
Kommentare: overall i like the product but correcting the accounting issues is something that is very frustrating and would possibly cause our practice to return to Dentrix
Vorteile:
like that its cloud based and always evolving with updates as users make recommendations to improve. I like that I can access it anywhere.
Nachteile:
I do not like the line item accounting and that credits can not be left on the ledger without affecting provider totals. A/R from previous months changes based on patient over-payments. We have all our fee schedules in and we do write offs at time of service /claim generation but there are still instances where we have over-collected and the only way to have the adjustment for the patient over-payment is to put the EOB in as insurance over-payment which is not accurate or refund the patient directly when the EOB is received, which is not practical
Jesse
Insurance Specialist in
Medizinische Praxis, 2-10 Mitarbeiter
Verwendete die Software für: 6-12 Monate
Quelle: SoftwareAdvice
Gutless
Kommentare: Our office made the switch from Viive, which itself was a very frustrating piece of software as it would constantly drop connection to the server even after several "fixes" and technical support sessions with both Mac and Viive. I was excited for Dentrix Ascend, being a long-time Dentrix veteran, knowing the power of the Dentrix applications. However, in my experience with Dentrix Ascend so far, it is clear that Ascend is a gutless wonder, especially compared with how powerful Dentrix Proper is (and even Eaglesoft, for that matter!), and as such, is has been an utter disappointment. Full disclosure: I handle the front office/insurance/accounting end of things, so I cannot speak to the clinical end of things. My review is solely of the front office and accounting end of things. Keep in mind it may be delightful for the clinician. I am pleased with the fact that we no longer have to deal with constant server connection fails, so that is nice. But still not enough to make up for Ascend's other shortcomings. My first gripe is that once an insurance carrier is established, you cannot edit the payor ID. And once groups are established under a carrier, you cannot move the groups. This means, if a carrier is set up incorrectly (say, with payor ID 06126 that directs the clearing house to print and mail all claim) with several groups, you have to manually recreate the carrier and each group underneath, which is a cumbersome and time-consuming process. Secondly, with the procedure codes, many of them default to "mouth" for treatment area, even for common codes that virtually every insurance company requires more specific information. If the procedure code is used a single time, you lose the ability to edit even the treatment area. This was a big problem for us, as treatment plans converted over with several codes that are uneditable because they are "in use." We have had to create several "alias" codes, which the clinical side now has to remember to choose. Third, Viive allowed for payment tables under each group (similar to Dentrix Proper and Eaglesoft and several other software options), that would allow any exceptions in payment to be logged for future prediction. This is not the case in Ascend. This was an important Viive feature for us because we participate with an insurance company who calculates payment based on two fee schedules: maximum allowable per provider contract and maximum allowable according to policy contract. With Ascend, you are at the mercy of coverage percentages and cannot account for the two separate yet inseparable fee schedule. I got excited when I saw the "copay" field in the coverage table and spent a large amount of time updating this field for each group, only to find out from technical support that this is not a covered feature. So, ultimately we have had to develop external tools to help us predict patient responsibility. Dentrix Ascend has completely failed us in this area. Finally, we have hit a roadblock with NEA attachments. We are having to continue using Viive because of the inability of ledgers to be transferred over to Ascend (ledgers include open claims). To make a long story short, because we are maintaining a subscription to NEA through Viive in order to be able to keep sending attachments for unresolved claims, we are unable to send attachments through Ascend. Our only options are 1) to terminate our NEA subscription under Viive and print and mail all claims requiring attachments, 2) to manually move treatment over to Ascend and resume claim troubleshooting under Ascend, or 3) print and mail all claims from Ascend requiring attachments. We are probably going to go with option (1), but really, any option is a huge inconvenience. Bottom line, as the numbers and insurance person, I would never recommend this software in its current state. I am a huge Eaglesoft critic, but I would wholeheartedly recommend even that software over Dentrix Ascend. Ascend, you have a long way to go before you will get my vouch.
Vorteile:
Access from anywhere, line-item accounting, some user-defined reports, everything is backed up in the cloud. There is potential.
Nachteile:
Just about everything else: confusing ledger, user-unfriendly insurance setup, inability to edit procedure codes, inability to override insurance payments at a group level and on a procedure code level, NEA attachment failures.
Susan
Director of Business Administration in USA
Krankenhausversorgung & Gesundheitswesen, 2-10 Mitarbeiter
Verwendete die Software für: Mehr als 1 Jahr
Five Stars for Ascend!
Kommentare: Better communication among staff and between the office and patients over all our office has become much more efficient!
Vorteile:
How easy the software is to learn and use. Our staff was very concerned about the transition because we had been using the other software for years and they still had so many problems using it. Ascend is user friendly it's as easy to use as an app on your phone. I asked the team what they like most and these where their answers: 2 way texting, electronic sending for insurance, reliability, ability to access anywhere, time clock (new), how fast it runs compared to our old system and the amazing reports you can run (daily huddle)
Nachteile:
In the perio charting it would be awesome if there was a way that implants are marked so both charts don't have to be open at the same time.
James
Practice Owning Dentist in USA
Krankenhausversorgung & Gesundheitswesen, 11-50 Mitarbeiter
Verwendete die Software für: Mehr als 2 Jahre
In Betracht gezogene Alternativen:
Satisfied from the start
Kommentare: We have always been happy with Dentrix Ascend. Our IT needs and budget are a fraction of what they otherwise would be. We can always access and stay up to date with no additional cost or waste of time. Ascend continues to get better and better.
Vorteile:
Intuitive. It has eliminated wasted time and money on training.
Nachteile:
While being next generation technology and cloud based it has been very slow to publish APIs and become operable with so many other businesses that can enhance dental practice management.