Was ist ShortPoint?
Hilf den Teams beim Aufbau von großartigen Intranets, ohne dass diese aus ihren bestehenden Content-Systemen, wie Office 365, SharePoint und SAP Portal, kodiert werden müssen.
Wer verwendet ShortPoint?
Jedes kleine oder große Unternehmen auf der Welt, das ein Intranet auf SharePoint, Office 365 oder SAP hat.
ShortPoint – Details
ShortPoint
2015 gegründet
ShortPoint – Details
ShortPoint
2015 gegründet
ShortPoint – Videos und Bilder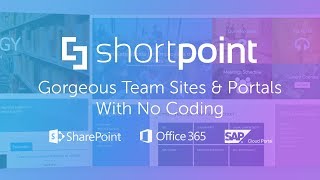 Kosten ähnlicher Produkte wie ShortPoint vergleichen
Startpreis
2.998,00 $/Jahr
Nicht verfügbar
Nicht verfügbar
Nicht verfügbar
ShortPoint – Bereitstellung und Support
Kundenbetreuung
E-Mail/Helpdesk
FAQ/Forum
Wissensdatenbank
Telefon-Support
24/7 Live-Support
Chat
Training
Persönlich
Live Online
Webinare
Dokumentation
Videos
Funktionen von ShortPoint
@mentions
API
Aktivitäts-/Newsfeeds
Aktivitäts-Dashboard
Aktivitäts-Verfolgung
Alarmfunktion / Benachrichtigungen
Anpassbare Formulare
Anpassbare Vorlagen
Aufgabenmanagement
Berichterstattung und Statistik
Blogs
Chat / Messaging
Content-Management
Datei-Verwaltung
Dateitransfer
Diskussionen / Foren
Dokumentenmanagement
Dokumentenspeicher
Drag-and-Drop
Drittanbieter-Integration
Echtzeit-Benachrichtigungen
Einmalige Anmeldung
Engagement-Tracking
Etikettierung
Forum / Diskussionsforum
Inhalt-Bibliothek
Integration des aktiven Verzeichnisses (AD)
Kalenderverwaltung
Kommentare / Notizen
Kundenspezifisches Branding
Live-Chat
Mehrsprachig
Mitarbeiter-Datenbank
Mitarbeiter-Gemeinschaften
Mitarbeiter-Onboarding
Mitarbeiterportal
Mitarbeiterprofile
Online-Foren
Personalisierung
Privates Netzwerk
Prognosen
Richtlinien Managemen-
Suchen / filtern
Umfragen & Feedback
Veranstaltungskalender
Werkzeuge zur Zusammenarbeit
Wiki
Wissensbasis-Management
Workflow-Management
Zugriffskontrollen / Berechtigungen
API
Aktivitäts-Dashboard
Aktivitäts-Verfolgung
Alarmfunktion / Benachrichtigungen
Angebotsmanagement
Anpassbare Felder
Anpassbare Formulare
Anpassbare Vorlagen
Auftragsmanagement
Automatisches Aktualisieren
Bearbeiten in Echtzeit
Berichterstattung / Analyse
Berichterstattung und Statistik
Besucher-Nachverfolgung
CRM
Chat / Messaging
Content-Management
Daten-Import / -Export
Design-Management
Drag-and-Drop
Drittanbieter-Integration
E-Commerce-Management
E-Mail Marketing
Echtzeit-Aktualisierungen
Echtzeit-Analytik
Einkaufswagen
Elektronische Zahlungen
Formularverwaltung
Inhalt-Bibliothek
Inventarverwaltung
Kundenspezifisches Branding
Medienbibliothek
Mehrsprachig
Newsletter-Management
Online-Buchungstools
Online-Shop-Designer
SEO-Management
SSL-Sicherheit
Social-Media-Integration
Umfragenerstellung
Vorgefertigte Vorlagen
Vorlagen-Management
WYSIWYG-Editor
Web-Formulare
Webseitenintegration
Website-Analytik
Website-Management
Widgets
Zielseiten / Web-Formulare
Zugriffskontrollen / Berechtigungen
Alastair R.
Independent Consultant in UK
Verifizierter Nutzer auf LinkedIn
Computer-Software, 501-1.000 Mitarbeiter
Verwendete die Software für: 1-5 Monate
ShortPoint gets fast, great looking results
Kommentare: Excellent - this product allowed me to complete a very challenging rebranding exercise in a very short amount of time. Without it, I wouldn't have been able to complete the project and would still be writing custom web parts using SharePoint framework. Customer support was also excellent. I logged an urgent ticket and had someone on a call within half an hour - and the support person really knew their stuff. Normal requests are answered within a few hours.
Vorteile:
It's fast to get a great looking website up and running in no time. The components it has look great and having the ability to copy elements from their example sites really speeds things up. Most of their web parts can be connected to lists or libraries which is necessary as a license is needed to edit these web parts so using connected lists/libraries puts some control back into users hands. Very flexible and powerful software collection and there's really not much it can't do to a SharePoint site to make it look the way you want.
Nachteile:
Requiring a license to edit is a bit of a downer - wish there was some intermediate license or method for others to edit pages with ShortPoint elements on them without requiring the full blown license. Although you can add ShortPoint web parts to modern pages, you can't use the site customiser if your home page is not a classic page. Looking forward to the site customiser for modern pages - once that arrives, will really be pleased.
Antwort von ShortPoint
vor 3 Jahren
Hi Alastair, Thank you for your feedback. We are about to release the Theme Builder (Site Customizer) for Modern Pages in next few days. After that you will be able to customize each and every aspect of Modern SharePoint Sites with precision. We have added even more features in Theme Builder for Modern Pages.
Stephanie C.
Senior Instructional Designer in USA
Möbel, 1.001-5.000 Mitarbeiter
Verwendete die Software für: 6-12 Monate
In Betracht gezogene Alternativen:
Improved Access to SharePoint with ShortPoint
Kommentare: ShortPoint has enabled us to create internal SharePoint sites that are user friendly and attractive for our multi-generational group of Associates. It has provided us with the opportunity to show how flexible SharePoint can be and how accessible for company-wide information that is important to all Associates. As a company, ShortPoint has been supportive from the time we purchased our subscriptions and all the way through development and learning how to use the software by being quick to respond when we had questions.
Vorteile:
ShortPoint has an extensive group of features that are easy to understand and use with SharePoint Online. Since we wanted to create modern sites, it was important that the software we selected work well with that format. In addition, the selection of demo sites and features are great with the ability to copy from the ShortPoint page right into our own site - making it so easy to develop a page quickly.
Nachteile:
The ability to embed html code or widgets into a ShortPoint widget would be a great feature to add. There are other minor properties in some features that could be improved but, all in all, the software doesn't have any major cons as we've used it.
Jason A.
Principal Architect in Australien
Bau, 201-500 Mitarbeiter
Verwendete die Software für: Mehr als 1 Jahr
Probuild Intranet site
Kommentare: ShortPoint has enabled Probuild to easily insource our intranet management.
Vorteile:
The ease of use is the most critical element. We have non IT staff creating, managing and updating the site. Even when we get new staff they learn quickly how the platform works and start to mange the site within the hour.
Nachteile:
Ongoing cost was more then the competitors
Irfan S.
System Administrator in Kanada
Industrieautomation, 10.000+ Mitarbeiter
Verwendete die Software für: Kostenlose Testversion
Excellect Product-Worst Customer & Tech Support Service
Kommentare: Good potential in the product it, but people behind it needs to go through Sales and Customer Service Training. It's not a free product, so if the customer paid for it, they also need some tech support.
SLA process needs maturity.
Tested trail version for evaluation of the product and drop it after some unprofessional emails been send out through Tech support.
Vorteile:
Ease of Use Rich in Features On-premise deployment No Subscription model
Nachteile:
Horrible Tech Support and Customer Service SLA is based as per there own convenience, even for a Customer who is Enterprise base organization, they don't offer value-added service. Support Ticketing system is 'Fresh Desk' where you submit your Ticket, and level of urgency is been determine by Shortpoint. No phone support. No Point of contact. Only an Online Ticketing system through that end user can communicate to them. Very Few employees, CEO and Tech support are the same people, sending communication through different emails.
Antwort von ShortPoint
vor 3 Jahren
Hi Irfan, Thank you for downloading a Free Trial of ShortPoint and trying the product out. We're glad that you liked the product. We at ShortPoint choose our customers very carefully, and ShortPoint decided not to onboard you as a paid customer at the end of the trial period. We are very sorry to hear about your unusual experience with our customer support, despite providing you with Onboarding Sessions and multiple support calls. We would like to highlight that we have one of the highest customer satisfaction rate in the industry and very large enterprise customers across the globe. While we try to support our Paid customers under agreed SLAs, there could be certain requests from Free Trial users that do not fall under the SLAs. If the requests are unrealistic and unjustified from our Free Trial users, unfortunately, we cannot support them, but inform the customer that this is outside the scope of evaluation. Thank you.
Samantha L.
Internal Communications Manager in Australien
Bildungsmanagement, 1.001-5.000 Mitarbeiter
Verwendete die Software für: 1-5 Monate
Great option for a new design
Kommentare: Overall the software is fantastic and the service calls and support from the ShortPoint team was awesome. There is a lot of support offered to ensure you have a great experience.
Vorteile:
Shortpoint provides such broad options for mixing functionality and design. The copy and paste options from the website were a fantastic tool that allowed me to rebuild our Intranet design quickly and with ease.
Nachteile:
The software can be hard to get used it for some users.