Das könnte dich auch interessieren:
Was ist Bolt?
Bolt is the world's first checkout experience platform, connecting millions of shoppers to retailers in a unified cross-brand network. Forward-thinking retailers like Forever 21, Swiss Gear, and hundreds of others rely on Bolt to convert, retain and delight shoppers. Bolt solves the complicated technological challenges involved in checkout, fraud detection, and digital wallets so that retailers can devote their energy to what matters—growing their product, brand, and customer base.
Wer verwendet Bolt?
Bolt works with US online retailers on all major shopping carts. A minimum annual processing value of $3M is required.
Bolt – Details
Bolt
2014 gegründet
Bolt – Videos und Bilder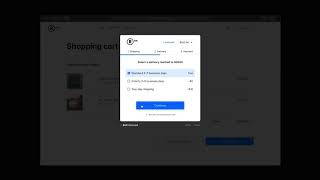 ▶︎
Bolt – Details
Bolt
2014 gegründet
Kosten ähnlicher Produkte wie Bolt vergleichen
Startpreis
Nicht verfügbar
499,00 $/Monat
Nicht verfügbar
Nicht verfügbar
Bolt – Bereitstellung und Support
Kundenbetreuung
Telefon-Support
24/7 Live-Support
Einsatz
Cloud, SaaS, webbasiert
Mac (Desktop)
Windows (Desktop)
Android (mobil)
iPhone (mobil)
iPad (mobil)
Training
Persönlich
Webinare
Dokumentation
Funktionen von Bolt
API
Aktivitäts-Dashboard
Aktivitäts-Verfolgung
Aktivitätsüberwachung
Alarmfunktion / Benachrichtigungen
Anomalieerkennung
Anpassbare Betrugsregeln
Audit Trail
Authentifizierung
Berichterstattung und Statistik
Betrugserkennung
Compliance Management
Data Mapping
Daten-Identifizierung
Daten-Import / -Export
Datenerfassung und Übertragung
Datensynchronisation
Datenvisualisierung
Datenüberprüfung
Drittanbieter-Integration
Echtzeit-Aktualisierungen
Echtzeit-Analytik
Echtzeit-Daten
Echtzeit-Warnungen
Echtzeitüberwachung
Elektronische Zahlungen
Fall-Management
Finanzanalyse
Für E-Commerce
Für Versicherungsbranche
Für das Bankwesen
Genehmigung finanzieller Transaktionen
Interne Betrugsüberwachung
KI/Maschinelles Lernen
Kundenkonten
PSD2-konform
Prädiktive Analytik
Prävention von Zahlungsbetrug
Risiko-Warnungen
Risikoanalyse
Risikobewertung
Scheckbetrugserkennung
Suchen / filtern
Transaktion-Überwachung
Transaktionshistorie
Verhaltens-Tracking
Warnungen / Eskalation
Workflow-Management
Zugangsmanagement
Überwachung
API
Aktivitäts-Dashboard
Alarmfunktion / Benachrichtigungen
Angebotsmanagement
Anpassbare Vorlagen
Auftragsabwicklung
Auftragsmanagement
Auftragsverfolgung
Berichterstattung und Statistik
Bestandsverfolgung
Bestell-Management
Bestückung
CRM
Content-Management
Datensicherheit
Datensynchronisation
Drag-and-Drop
Drittanbieter-Integration
E-Commerce-Management
E-Mail Marketing
Echtzeit-Daten
Einkaufswagen
Einzelhandel-Lagerverwaltung
Elektronische Zahlungen
Inventarverwaltung
Kampagnenmanagement
Kanalmanagement
Katalogisierung / Kategorisierung
Kreditkartenbearbeitung
Kundenaufträge
Kundenkonten
Kundenspezifisches Branding
Mehrere Geschäfte
Mehrere Standorte
Mehrere Währungen
Mobiler Zugriff
Multichannel-Management
Multichannel-Marketing
Produktdatenmanagement
Rabattmanagement
Retourenmanagement
Review Management
SEO-Management
Social-Media-Integration
Treueprogramm
Umsatzentwicklung-Analyse
Versand-Management
Vorlagen
Vorlagen-Management
Website-Management
ACH Zahlungsabwicklung
API
Abrechnung & Rechnungsstellung
Aktivitäts-Dashboard
Alarmfunktion / Benachrichtigungen
Anpassbare Berichte
Belegmanagement
Berichterstattung / Analyse
Berichterstattung und Statistik
Betrugserkennung
Buchhaltung
Compliance Management
Daten-Import / -Export
Datensicherheit
Debit-/Kreditkartenverarbeitung
Drittanbieter-Integration
Echtzeit-Analytik
Echtzeit-Berichterstattung
Echtzeit-Daten
Einkauf & Empfang
Elektronische Unterschrift
Elektronische Zahlungen
Erinnerungen
Integration in die Buchhaltung
Integration von Zahlungsabwicklungsdiensten
Kreditkartenbearbeitung
Kreditkartenmanagement
Kundenportal
Kundenspezifisches Branding
Mehrere Währungen
Mehrere Zahlungsmöglichkeiten
Mobile Zahlungen
Mobiler Zugriff
Online-Zahlungen
PCI-Compliance
Persönliche Zahlungen
Prävention von Zahlungsbetrug
Rechnungsmanagement
Rechnungsverarbeitung
Self-Service Portal
Statusverfolgung
Suchen / filtern
Teilzahlungen
Transaktion-Überwachung
Transaktionshistorie
Verarbeitung von Kryptowährungen
Verkaufsberichte
Verkaufspunkt POS
Wiederkehrende- / Abonnement-Abrechnung
Zahlungsabwicklung
Justin D.
Director of E-commerce and Marketing in USA
Verifizierter Nutzer auf LinkedIn
Einzelhandel, 201-500 Mitarbeiter
Verwendete die Software für: Mehr als 1 Jahr
TYLER'S x Bolt
Vorteile:
Bolt has been a huge win for TYLER'S. From the quick and easy integration to their on going development efforts to ensure a fast, secure, simple checkout. We used to waste tons of time scanning for fraud orders with our old, inherited checkout, but now we're able to double down on true customer base. Any issue we've had has been resolved quickly by the Bolt support team, and they've come in clutch on more than one occasion for our customer support team. That's easy to say from a high level perspective, but my team constantly mentions how responsive and professional their staff is. This has easily been one of the smartest solutions we've deployed since I've been managing the e-commerce department at TYLER'S. We run an extremely lean team so finding solutions like Bolt is crucial to ensure we beat our customer expectations, while also maintaining strategic long term growth.
Nachteile:
I think this boils down to perspective. Anytime I've had a notion that maybe I should change something or see another feature added on, Bolt has come through with a mindful solution that keeps the end consumer as the focal point of our mission. Our account manager has been stellar at ensuring we understand why one idea might seem good on paper, or at first glance, but that it could ultimately deter a customer or increase cart abandonment. The solution we were using before, would barely even respond to our requests, nonetheless give that level of detailed insight.
Josh C.
Accounting Supervisor in USA
Sportartikel, 11-50 Mitarbeiter
Verwendete die Software für: 6-12 Monate
Exceptional Customer Service, Checking Out Made Easy
Kommentare: Overall experience has been great. If you look back at my pros and cons, the pros heavily outweigh any negative aspects of Bolt. Since the launch of Bolt, our entire process on our online retail site has been heavily simplified. Customer places order, we fulfill the order, orders are automatically processed in our accounting software (NetSuite), and funds are automatically transferred to our bank. It has been pleasant for us and our customers alike.
Vorteile:
As someone who uses this product to provide a better experience for customers to purchase products, I love how simple it is to start and finish a purchase. The Bolt software provides a complete checkout in much less clicks and types than most other checkout platforms. They take care of reviewing all orders for accuracy, fraud, security measures, etc., so the burden is never on my company to make the tough decisions. If the Bolt team approves a fraudulent order, they are responsible for any charge back fees from the bank. Better yet, if Bolt approves a fraudulent order and then you reach out for them to take a closer look, they will CREDIT YOU money back on your next bank transfer as a "thank you" for catching a fraudulent order. The customer service and our account managers have been super helpful. We haven't really had any issues, but when we do, they are quick to provide a solution and get back within a very short time. All in all, the entire Bolt platform has been very pleasant for the first 6+ months and have definitely improved our checkout success rate.
Nachteile:
There's really not much to dislike. One thing that could be better is the daily settlement reports, in my opinion. I am in charge of posting deposits daily in our accounting system, so I need to ensure they match the dollar amount that Bolt is transferring to our account. In the main summary, Bolt will just give you the net amount they are transferring (this is the total amount the customer was charged, minus the fees Bolt removes for using their platform). Obviously, I need to book those fees during the deposit process, but it can be tricky to gather the information for those fees. I need to download a detailed report which has all of different types of fees, credits, transfers, etc. and manually sort them in an excel sheet in order to get the fee amount. This is the only thing that bugs me about Bolt's platform at this moment. They actively listen to customer suggestions, so I am hoping this will be one they consider improving on.
Verifizierter Rezensent
VP e-commerce in USA
Verifizierter Nutzer auf LinkedIn
Luxusgüter & Schmuck, 11-50 Mitarbeiter
Verwendete die Software für: Mehr als 1 Jahr
Great 1 stop checkout solution
Kommentare: Complete checkout solution from day 1 never really spent time or developer resources on checkout due to having Bolt installed and allowed our attentions to be focused elsewhere.
Vorteile:
CX is lean and quick, almost all options included in the modal, most of the testing has already been done for you. Great support team to work with for any testing options you would like to run within the modal, never really had an issue with functionality that needed support. Also, Bolt is involved in the chargeback process you submit through their portal and they handle the back and forth.
Nachteile:
Fees per order were higher than some other options
Verifizierter Rezensent
Student in Polen
Verifizierter Nutzer auf LinkedIn
Hochschulbildung, Selbstständig
Verwendete die Software für: 1-5 Monate
Make your online businesses simply and secured by bolt
Kommentare: I have digital products which are in store on different online shopping platform and I was looking for a place to expand my opportunity and decide to try bolt ,even if I didn't make transactions soon but I have confidence in the app and it's so problem solving and life changing for most business, I recommend it with my 10 fingers
Vorteile:
I like all about this appp, it is full of amazing feature ,first when I decided to use it I read and search more information about it and I don't even want to check another app because it have all quality that anyone want. When in want to login I don't have have to write all that long login details which makes it so simple and you don't have that insecurity about your customers order because it's all set by the app,
Nachteile:
Although it's interesting and comfortable app but it's not a place for a very small beginners, special for the people who can't make business on the community who are using this app
Mireille D.
Director of operations in USA
Essen & Trinken, 11-50 Mitarbeiter
Verwendete die Software für: 6-12 Monate
The best business decision we've made
Kommentare: We came across Bolt while looking for a solution to our growing fraud problem. They promised to not only eliminate fraud for good but also increase our conversion rate by simplifying the checkout process. This sounded too good to be true but fortunately for us, it was all they promised and more! Their team is extremely responsive and helped guide us through the integration process. Our shipping model is very complex and utilizes a few different plugins but Bolt found a way to make it all work together seamlessly. I couldn't recommend Bolt highly enough!
Vorteile:
Their team is extremely responsive and always very helpful. They are always open to new ideas and customizations. Their fraud detection basically eliminated our fraud problem. This simplified our checkout process and helped us increase our revenue.
Nachteile:
Once in a while we'll run into some glitches/problems but they are always very quick to respond and help us fix them.