Was ist Vibe?
Die Vereinfachung visueller Kommunikationen – Vibe ist eine moderne Plattform für visuelle Kommunikationen, die die Art und Weise verändert, wie Organisationen mit der Belegschaft von heute kommunizieren. Sie lässt sich nahtlos in deinen digitalen Arbeitsplatz (d. h. Sharepoint, Power BI, Yammer, Outlook, Google Sheets usw.) und Social-Media-Plattformen (Facebook, Twitter, Instagram und LinkedIn) integrieren, um Informationen zu automatisieren, die über Großformat-Bildschirme, Bildschirmschoner und Mobilgeräte angezeigt werden.
Wer verwendet Vibe?
Organisationen mit Kommunikationsherausforderungen wie etwa: wie 'erreicht' man eine große Belegschaft, die mobil oder über mehrere Standorte verteilt ist; fragmentierter oder inkonsistenter Nachrichtenaustausch.
Wo kann Vibe bereitgestellt werden?
Cloud, SaaS, webbasiert, Mac (Desktop), Windows (Desktop), Linux (Desktop), Windows (On-Premise), Chromebook (Desktop), iPhone (mobil), iPad (mobil)
Über den Anbieter
Vibe.fyi
Ansässig in Orewa, Neuseeland
2001 gegründet
Telefon-Support
Chat
Erhältlich in diesen Ländern
Australien, Neuseeland, Singapur, Vereinigte Staaten
Sprachen
Nicht vom Anbieter bereitgestellt
Über den Anbieter
Vibe.fyi
Ansässig in Orewa, Neuseeland
2001 gegründet
Telefon-Support
Chat
Erhältlich in diesen Ländern
Australien, Neuseeland, Singapur, Vereinigte Staaten
Sprachen
Nicht vom Anbieter bereitgestellt
Vibe – Videos und Bilder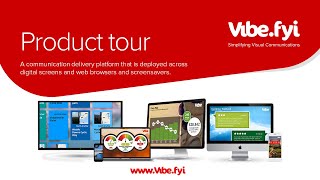 Kosten ähnlicher Produkte wie Vibe vergleichen
Vibe Funktionen
Aktivitäts-/Newsfeeds
Alarmfunktion / Benachrichtigungen
Anpassbare Vorlagen
Automatisches Aktualisieren
Benchmarking
Chat / Messaging
Inhalt-Bibliothek
Inhalte planen
Kommunikationsmanagement
Layout und Design
Medienbibliothek
Mitarbeiter-Datenbank
Mitarbeiterfotos
Multi-Channel-Kommunikation
Remote-Display-Management
Spiellisten-Management
Support mehrerer Bildschirme
Visueller Editor
XML / RSS
Janice M.
Learning and Development Manager in Neuseeland
Baumaterial, 501-1.000 Mitarbeiter
Verwendete die Software für: Mehr als 1 Jahr
We are Vibing
Kommentare: Their customer service is exceptional. From our very first introductory meeting, they have always been on hand to offer information, help and support. The implementation went really well, even when there were roadblocks, they proactively stepped in to help and found ways to make things work. They are all so friendly, knowledgeable and very responsive.
Vorteile:
Our biggest need was to be able to communicate with our hard to reach people in a timely, accurate and engaging way. Vibe has provided that solution for us. Vibe is a useful communication tool with an intuitive user interface, a seamless space for creating, updating and managing slides and playlists. It is now one of our most effective communication tools. It is easy to get messages out to many people using this fast and engaging method, and is quickly replacing the boring static noticeboard.
Nachteile:
It can be frustrating trying to fit our content into set template layouts. It would be really handy if we were able to add, remove or adjust certain placeholders in order to get a better fit for our content. Having said that, there always seems to be a work around or another choice of template that overcomes this issue. It can be a bit time consuming when you first get started.
David H.
Marketing Coordinator in Neuseeland
Logistik & Lieferkette, 51-200 Mitarbeiter
Verwendete die Software für: Mehr als 1 Jahr
GS1 New Zealand: 18 months later
Kommentare: This software has helped stop geographical office separation and team siloing. The next development steps we want to take on this software will help those be solved even further. Meetings are shorter and we can get immediate reporting to the whole business on performance without having to send more and more emails to get the data required.
Vorteile:
It is easy to update data through Google Sheets and customer support is really easy to get a hold of. If I want to talk to someone, one of the team will answer the phone and they also make a point of regular catch-ups which counts for a lot. In terms of software we asked for a lot originally and Vibe did a really good job of bringing those visions to life as we had imagined them. If I want to add a quick slide in for a birthday or whatever then that's easily done too, which is cool, you're not stuck with what you ordered out of the box if you quickly need an extra.
Nachteile:
There are some functionality issues, with the latest being particularly problematic, where the screens won't function as they're meant to or data doesn't pull through. Every few months I will have to ask Support to re-establish me as an administrator or I cannot make changes, it's the little things liked that which become annoying over time. There are some character issues too, where I can't see if I'm going past the point of it being a readable headline in the news section.
Jacqui R.
Account Manager in Neuseeland
Logistik & Lieferkette, 501-1.000 Mitarbeiter
Verwendete die Software für: 6-12 Monate
Vibe Review
Vorteile:
Share information to staff across New Zealand that isn't always available to them easily. Different slide templates available - something always that works with what you want to share.
Nachteile:
Theres little that we can change about existing slides, e.g. move bubbles, change size of pictures, stop moving pictures. We want to use the template but update small things. Slides in portal are very slow to update which makes it difficult to use. Have error messages in admin section.
Antwort von Labyrinth Solutions
vor 2 Jahren
Hi Jacqui, thank you for your feedback and outlining your concerns about the existing slides. As part of our upgrade to the Vibe interface, which will be released at the end of this quarter, we are building in more flexibility into our slide templates to allow for greater customisation. The issue you have experienced with slides being slow to update, was due to performance issues we experienced after the migration of our Vibe cloud infrastructure to Microsoft Azure. We are happy to report these issues have been resolved and you should be seeing big improvements in the speed in which slides are updating. Our support team will have been in touch with you about the error message in the Admin section, which we are monitoring.
Wayne L.
Manufacturing Manager in Neuseeland
Bau, 51-200 Mitarbeiter
Verwendete die Software für: Mehr als 1 Jahr
Good vibes
Kommentare: Have really enjoyed working with Vibe on a number of engagement campaigns. I love the way they take a concept and are able to visually represent it in a powerful digital format.
Vorteile:
I find this platform very cool and a great way to communicate with and engage my non-wired employees. The range of digital templates is extensive and the Vibe team support is outstanding. Vibe have customised a number of engagement campaigns far beyond my expectations. The feedback I get from my team tells me we are on the right track.
Nachteile:
The playlist is being developed so that it shows the sequence of slide more visually, rather than a text description. This will be very useful.
Natasha R.
H&S Coordinator in Neuseeland
Bau, 10.000+ Mitarbeiter
Verwendete die Software für: Mehr als 1 Jahr
Review - Ryman Healthcare
Kommentare: [SENSITIVE CONTENT] and the team are wonderful! they are always willing to help us out with loading new content onto our boards when we have no capacity to do so. I appreciate that [SENSITIVE CONTENT] keeps in touch often and she is always flicking new content ideas my way to help make things smooth sailing
Vorteile:
Using Vibe is a really simple and effective way to help Ryman communicate key messages to all workers on our construction sites. Rather than settling for basic posters that most likely do not get updated as often, moving imagery and fun colors and imagery catches the eye
Nachteile:
The only problem I tend to encounter is he speed of new content upload. For example, when I am wanting to see the preview, it can sometimes take up to a 40+ seconds for the content to load which can be a pain when you are wanting to make lots of changes. Not sure if thats an internet issue? but does tend to happen when I am making edits at home and at the office