Was ist Roivenue?
Roivenue ist eine Marketing-Intelligence-Suite zur Verwaltung der Kanalzuordnung, um Multi-Touch-Journeys zu verstehen und den ROI von Online-Kampagnen zu maximieren. Mithilfe von datengesteuerten Attributionsmodellen können Vermarktungsteams Kampagnen mit einer schlechten Performance identifizieren, sich mit überinvestierten Kanälen befassen und das Werbebudget für die Beschleunigung des Wachstums neu zuweisen.
Wer verwendet Roivenue?
E-Commerce- und Einzelhandelsunternehmen, die den tatsächlichen Beitrag jedes Marketingkanals verstehen, den ROI ihrer Kampagnen maximieren und ihr Wachstum beschleunigen möchten.
Wo kann Roivenue bereitgestellt werden?
Cloud, SaaS, webbasiert
Über den Anbieter
Roivenue
2018 gegründet
Telefon-Support
Chat
Roivenue Kosten
Startpreis:
99,00 €/Monat
Keine kostenlose Testversion
Ja, Gratisversion verfügbar
Roivenue bietet eine Gratisversion, aber keine kostenlose Testversion. Die kostenpflichtige Version von Roivenue ist ab 99,00 €/Monat verfügbar.
Preismodelle
Über den Anbieter
Roivenue
2018 gegründet
Telefon-Support
Chat
Roivenue – Videos und Bilder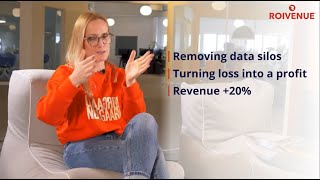 Roivenue Funktionen
Aktivitäts-Dashboard
Cross Channel Attribution
Customer Journey Mapping
Dashboard
Datenvisualisierung
Dynamische Inhalte
Kampagnenanalysen
Konversion-Tracking
Leistungskennzahlen
Marketing-Automatisierung
Multi-Channel-Attribution
Multi-Touch-Attribution
Multichannel-Marketing
ROI-Tracking
Social Marketing
Suchen / filtern
Website-Analytik
Zeit auf der Website nachverfolgen
Alternativen für Roivenue
Bewertungen über Roivenue
Martin Š.
Freelance Marketing Consultant in Tschechien
Verifizierter Nutzer auf LinkedIn
Marketing & Werbung, Selbstständig
Verwendete die Software für: Mehr als 2 Jahre
Roivenue helps us evaluate every step in marketing
Kommentare: We were searching tool that will help us integrate all the data from marketing platforms, analytical softwares and CRM into one place. And we found it in Roivenue.
Vorteile:
We can evaluate every test in marketing (marketing spend increase, freeshipping, improved product page, different pricing,..) and learn from in. It is very easy to evaluate tens of ecommerce sites within literally few minutes.
Nachteile:
Setting up traffic channels would be better if sitespeed is faster.
Antwort von Roivenue
letzten Monat
Hi Martin, Thank you for the review!
Denis N.
Online Sales Analyst in Slowakei
Verifizierter Nutzer auf LinkedIn
Telekommunikation, 201-500 Mitarbeiter
Verwendete die Software für: Mehr als 1 Jahr
A perfect choice for data-driven marketing, data integration and attribution
Kommentare: I highly recommend Roivenue as a data-driven marketing tool for ecommerce businesses for its perfect data integration, marketing analysis and atrribution modeling.
Vorteile:
The most useful feature for our company was integration data from all marketing platforms. Roivenue is the right tool for this purpose, wide scale of connectors with many export options is exactly what we need. The second most important thing is well-designed attribution modeling including custom models. After upgrade to Roivenue2 there is also very comfortable work on frontend.
Nachteile:
Considering we are not standard ecommerce sales, there are some limitations in using few features, because of problematic data integration. UI bugs may be a little disturbing but this should be a temporary issue as Roivenue2 is a relatively new environment.
Antwort von Roivenue
vor 8 Monaten
Thank you so much for a great review, Denis.
Ondřej W.
Product Manager in Tschechien
Informationstechnologie & -dienste, 11-50 Mitarbeiter
Verwendete die Software für: 1-5 Monate
Control your ROAS, costs and revenues throughout multiple marketing sources
Vorteile:
We usy Roivenue mostly for one reason and that is they are one of few apps that provides a lot of connectors to marketing sources and also has a mutimple ways to export the data. You can add dozens of marketing sources and pair it with Google Analytics and have a clear view of your bussines costs to roivenue ratio. They newly provide export to Google Data studio so you can easily vizualise the data. Or you can just view the raw data at their app if necessary.
Nachteile:
Basically just one thing and that is the problem with exporting a lot of data is really problematic here, having 20+ Google Analytics accounts exported to GDS is really problem and every reload takes a few minutes to view the graphs.
Antwort von Roivenue
letzten Monat
Hi Ondej, Thank you for your review!
Libor P.
Marketing Manager in Tschechien
Onlinemedien, 11-50 Mitarbeiter
Verwendete die Software für: 1-5 Monate
Reivenu could be great but it depends on your business situation
Kommentare: It is a great tool, but our agencies did not want to use it, otherwise I believe it would helped our business to grow.
Vorteile:
I liked all kinds of reports to DataStudio. I used analytics prospector, that helped me analyze gaps in our campaignes.
Nachteile:
It is great tool, maybe a bit expensive. But it does a lot of things for its price.
Antwort von Roivenue
letzten Monat
Thank you for your review, Libor!
Matteo T.
Senior Digital Marketing Manager in Vereinigte Arabische Emirate
Einzelhandel, 51-200 Mitarbeiter
Verwendete die Software für: 1-5 Monate
Great marketing attribution solution
Vorteile:
It's a very intuitive platform at an affordable price. The setup is easy and has great support. It provides the ability to slice and dice the data and compare different attribution views at a granular level. It gave us the confidence to push channels that otherwise were deemed low-performing according to the Google Analytics default attribution. With great results!
Nachteile:
Eagerly waiting for their app integration.
Antwort von Roivenue
letzten Monat
Hi Matteo, We are very happy you enjoy working with us! Thank you for a great review.